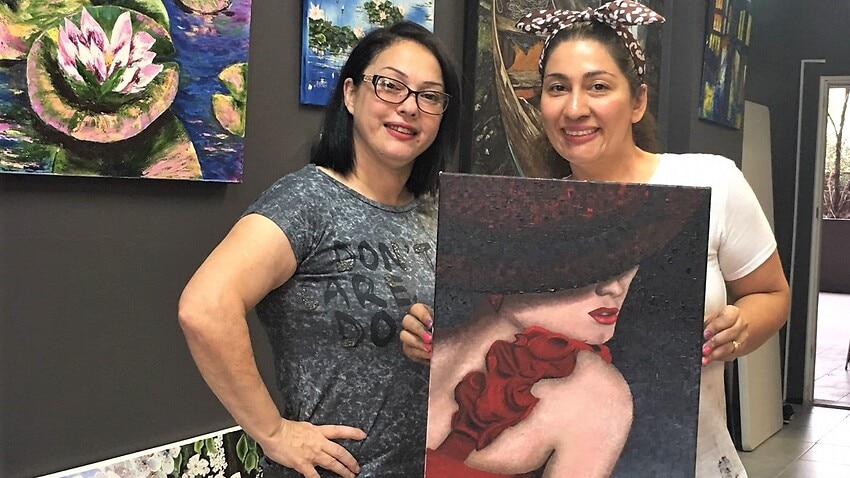 Atefeh Hekmat is a striking 49-year-old artist with a small art school in Sydney's west.
Like many businesses relying on face-to-face contact, the refugee entrepreneur has been forced to close her doors for the past fortnight during Greater Sydney's lockdown.
The government's stay-at-home orders were initially scheduled to lift on 9 July but they have now been extended for at least another week, keeping Ms Hekmat in a tough position.
"I cannot teach, so I cannot make money," she says, sitting in her empty studio.
"It is very hard for me, because the bills are coming in and I have to pay rent on the shop, and for my home and also electricity and insurance.
"This [lockdown] is a very big problem and a very hard time for me."
After converting to Christianity, Ms Hekmat felt unsafe in the Iranian capital Tehran and in 2017 fled her homeland to Indonesia. From there, she crossed the sea to Australia.
Her boat was intercepted by Australian authorities and she spent 45 days in detention, before being granted a temporary protection visa and coming to Sydney.
Ms Hekmat has a degree in psychology from Azad University in Tehran and has trained, exhibited, and taught art for 20 years. She has also worked as a professional photographer.
At the start of 2020, weeks before COVID-19 hit Australia, she took a risk and opened the Ati Art School and Centre in Wentworthville near Parramatta.
When Sydney first went into lockdown last year, she negotiated three months of free rent at the studio.
But she has not been able to do so during the most recent lockdown and has already borrowed several thousand dollars from a friend to pay her bills.
"Now I am struggling to buy food, and it's really stressful because I love my job and I can make money when the business is open," she says.
Sydney struggles
Ms Hekmat is typical of thousands of business owners, including sole traders, impacted by Sydney's lockdown, especially those operating in the CBD.
"There are a lot of business owners, particularly in the hospitality sector, who are losing money every week," Sydney deputy lord mayor Jess Scully says.
"Many have already burned through their reserves so they need substantial support."
The NSW government has set aside $1.4 billion to support small business owners cope with lockdown losses, but some sole traders and recent startups do not meet the criteria.
"Some sectors are also more severely impacted than others," Ms Scully says. "Those in hospitality, events, live performances, and festivals have never really recovered from the first lockdown. 
"They continued operating under severe restrictions and additional costs to comply with COVID safety for the last 15 months and now many are in a really difficult situation. A lot of them are telling me that they can't even get insurance, so there's no way that they can actually keep trading."
Ms Hekmat says she is unsure whether she qualifies for NSW business support grants.
"If lockdown continues and the government doesn't help me, I really don't know what will happen."
Fika Swedish Kitchen in Bondi is among the hospitality venues facing an uncertain future.
"Business is down 50 per cent and I feel so sad for our casual staff," co-owner Diana Chirilas says.
"We are only able to scrape through with paying our full-timers and we just don't pay ourselves to make sure we can meet as many of our costs as possible. 
"I don't know how long we can keep it up for. I've already started calling suppliers to ask if I can put bills on credit cards to buy us some time."
Fika's original cafe in Manly was forced to pivot to take-away only during the Northern Beaches lockdown over the summer.
"This time I'm just angry. I can't believe we're back here. How much more can small business pivot and take on personal debt to make ends meet?" Ms Chirilas says.
Overall, NSW Treasury estimates three weeks of the Sydney shutdown will cost the NSW economy $2.5 billion.
"Sydney represents seven per cent of the Australian economy. If we don't have strong economic activity in the city of Sydney, it has a ripple effect in the rest of Australia," Ms Scully says.
Rural ripples
Chef Nathan Tomkins is among thousands of rural business owners impacted by the lockdown, with few tourists visiting the seaside town of Port Macquarie during the usually busy school holidays.
"Once the latest COVID lockdown was announced, we went from basically 200 people per day down to 50 immediately. It was just an absolute disaster," he says.
"There's no one coming out of Sydney. There's no one coming out of Queensland. There's no one coming from anywhere else."
The NSW floods in March cost Nathan lost $1 million in lost turnover and damage when water inundated his riverfront Whalebone Wharf Seafood Restaurant.
After borrowing to rebuild in less than a month, Mr Tomkins hoped for a bumper school holiday season to help pay down debt. 
"If the lockdown continues for a period of time, I'm not sure whether I'm going to be able to come out of this," he says.
He hopes government support will enable him and others to keep going.
"Small business is the backbone of this country, so come on guys, give us a fair go, somehow?"
For Ms Hekmat, while she has struggled to build a new life in Sydney, she hopes one day to open an art institute and remains upbeat about the future.
"I'm sure about myself and this country. And I don't want to close my business. It is very important for me," she says.
"I have big goals for the future. I don't want to lose hope."
Source link