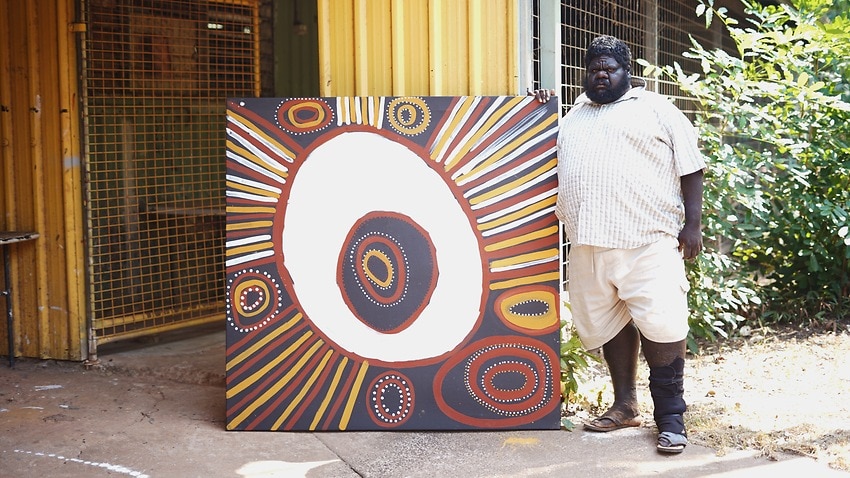 Pedro Wonaeamirri has been an artist for 30 years and says his natural surroundings inspire his art.
Walking along the cool sand on the shores of Melville Island, the bigger of the two islands that make up Tiwi, the 47-year-old searches for the perfect rock to collect materials to make his work.
"When I paint, I like to come out here and collect ochres or earth pigments. Ochres have always been used, not just for our art but in ceremony as well," he explained.
"We sand down the pigments and mix them with water and PVA glue. The only difference with ceremony is that we don't use glue, we keep it natural."
While Melville is the larger of the Tiwi Islands, its population is only small, with only 1,049 residents split between Milikapiti, Pirlangimpi and small outstations.
Mr Wonaeamirri will join six other artists from Melville as part of the 65 finalists in this year's National Aboriginal and Torres Strait Islander Art Awards (NATSIAA).
He says while he's been nominated seven times prior to this, every nomination is special in its own way.
"It's a great honour for me as an artist, I feel very proud of my culture," he said.
"It's also very powerful to have five artists from Mili and two artists from Pirli nominated this year."
Mr Wonaeamirri typically produces his work at Jilamara Art Centre in Milikapiti and says the centre is a good place to inspire and teach the younger generation.
"It's very important that we carry on our tradition," he said.
"We want to encourage young Tiwi to understand who they are and also understand the art, the language and the song."
Dino Wilson, 37, has been painting for the past three years. The artist says he'll be exhibiting his work in Melbourne soon and has received his first nomination in the NATSIAA this year.
"I feel alright, I feel happy cause I love it."
Kaye Brown, 67, has been nominated in the awards a few years prior but said that art has given her a sense of purpose.
"You can show the family what we can do," she explained.
"It's better than staying at home and doing nothing."
Jilamara Art Centre's studio and workshop coordinator Will Heathcote said it's not surprising that Tiwi is producing high quality work.
"Tiwi culture is a rich visual culture, the artwork itself is often based ceremony, but also Jilamara body paint design," he said.
"A lot of these cultural activities are still practiced today, and I think those visual elements carry through the contemporary artwork."
NATSIAA will set up a virtual gallery space for the exhibition, in the hope of bringing the work of the 65 finalists from across Australia to the rest of the country and globally.
The exhibition has traditionally been held at the Museum and Art Gallery of the Northern Territory but has had to go online due to the pandemic.
"I think organisations and events like the NATSIAA and the Darwin Aboriginal Art Fair (DAAF) have been really great at going online and getting the story of the amazing things that artists are doing out here," said Mr Heathcote.
"But what's really lacking is that these events are great opportunities for everyone to come together from remote communities across Australia.
"These are the big challenges in terms of professional development and general experience because the events aren't just about making money but about people coming together from distinct places and sharing stories."
Winners in the NATSIAA will be announced on Friday 6 August.
Source link