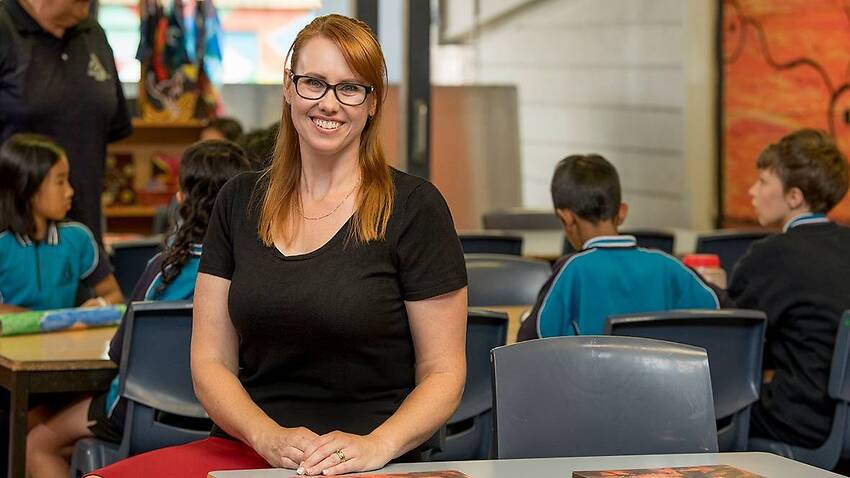 That approach has included using play-based, experiential and game-based learning. For example, children in her classes help develop their reading and writing skills after Mrs West turned a writing task into a role-playing exercise based on the game Dungeons and Dragons.
Seventy per cent of the school's students speak English as a second language. Source: Supplied
---
Despite the COVID-19 pandemic and remote learning, at the end of last year three-quarters of her kindergarten students measured at or above expectations in reading and 85 per cent in both writing and numeracy.
Meanwhile, 95 per cent of her class also achieved their numeracy targets early.
Her innovative approach is also shaping minds far and wide through her YouTube channels "Clever Pickles," and "Talkin' Chalk", with the channel watched by students and teachers in the United States, New Zealand, Canada and Singapore, as well as Australia. 
Former Bonnyrigg Public student, Thomas Hunt, now 14, says Mrs West was always there for him.
"She was one of those teachers that would always be there when we ever needed help," Thomas said.
"She would always be kind to us, she would treat us well, she was never ever mean. She made us happy, whenever we're sad. I know that one time I was sad she made me happy, even in public."
Former students, Joanne Tran and Monique Trang, also told SBS News about the importance of having a good teacher like Mrs West.
"So she can be supportive, " Joanne said.
"If there's a bad teacher, you're not really going to listen to the teacher," Monique said.
Inspired by community
Mrs West's journey into teaching started 22 years ago. She originally had her sights set on military law, with teaching as a backup.
"We had our first teaching prac, where I walked into a kindergarten classroom and something on that day just clicked with me and I knew that was exactly where I needed to be. It felt right," Mrs West said.
With a sister who was bullied at school for what was later diagnosed as aural dyslexia and having two children of her own on the autism spectrum, Ms West has long been determined to see that all student needs are met.
Her passion for teaching continues to grow every day as she aims to help disadvantaged children reach that "lightbulb" moment she once had.
Mrs West, who has been a Bonnyrigg Public since 2016, says she has been inspired by the Bonnyrigg community.
Three of Ms West's former students, Monique Trang, Joanne Tran and Thomas Hunt. Source: Supplied
---
"The community here are just really supportive. There's no barrier they don't seem to want to crumble in front of them," she said.
"We have language barriers here, there's different socio-economic backgrounds here in this community, different cultural backgrounds – but regardless of those differences everyone always comes together to works towards something that is really good for our students and our community as well."
The Varkey Foundation UNESCO-sponsored award means Mrs West is in the running to win $US1 million ($1.3m) for going above and beyond in her teaching career. The top 10 entrants were whittled down from a top 50.
The award attracted entrants from 121 countries and Mrs West's fellow finalists include teachers from countries across the globe, including Ghana, Mexico and the Philippines, where a teacher has been nominated for building both a school and a curriculum.
Mrs West says there are some amazing teachers nominated who have to deal with minimal resources. 
"Some schools are struggling to even get books, " Mrs West said.
"We have a great little program called "brekkie and a book" and they don't even have books for a library over there [the Philippines]. That really highlights that we do have some amazing assets in our country to be able to provide these kids with these amazing opportunities but it's good to be able to support one another across those countries as well.
"I think it means a great opportunity to be able to learn from all the other finalists around the world, to see all the great things that they're doing, I love the fact that I can showcase what Australian teachers do as well because we have some phenomenal teachers in our system." 
She said if she was to win the award, she would devote the prize money to improving student outcomes.
"It's a great way to just to be able to keep projecting the great things that teachers do, " Mrs West said.
"We do know that teachers dig deep into their own pockets to support their student's needs. We do have wonderful support from our schools but we need to support additional student needs.
"We know that coming out of lockdown and home learning that there are a lot of mental health and wellbeing needs in our community and across our schools. We don't know what that will look like, so being able to have something like this is an amazing asset.
"From this process as well I've learnt it is great to connect to our colleagues, to be able to use finances like that to build connections with other schools to visit other schools and see what other teachers are doing, that kind of money can go a long way."
Bonnyrigg Public School principal Voula Hatzidimitriou says Mrs West is already a winner.
"On behalf of Bonnyrigg Public School I extend my heartiest congratulations to Rebecca for her inclusion in the Top 10 of the Global Teacher Prize," she said.
"Championing and nurturing students towards being good human beings has always been what inspires her journey in education. This is recognition of the hard work and dedication to inspire and support all the teachers at our school and beyond. She is already a winner" 
Mrs West says being nominated has been a group effort with her fellow colleagues, and that she's just happy that the amazing work Australian teachers do is being acknowledged. 
"We don't always see those things getting recognised so I'm taking the opportunity to obviously be very grateful for the opportunity to be recognised, but its just that great way to share and showcase and keep collaborating with my fellow colleagues."
The winner will be announced on 10 November in Paris.
Source link