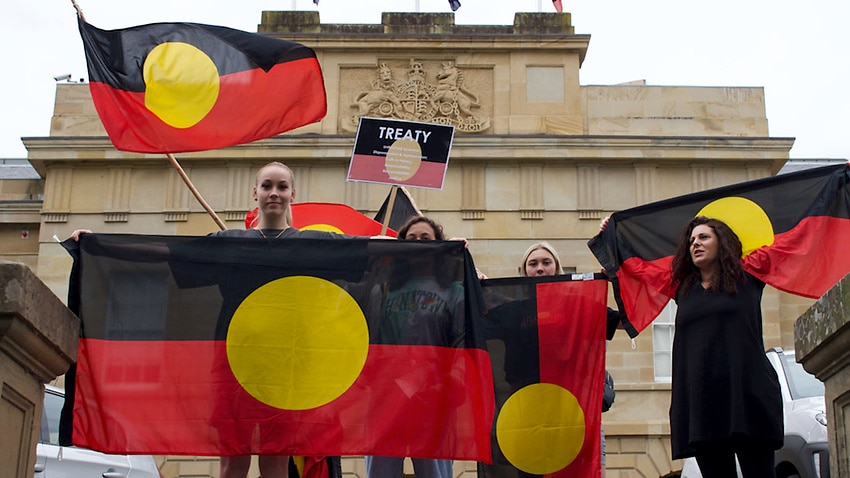 Nala Mansell, a palawa woman from the Tasmanian Aboriginal Centre, said the report was "well overdue".
"The Tasmanian Aboriginal community have fought hard for over 200 years for the state government to acknowledge the wrongdoings of the past," she said on Thursday.
palawa woman Kitana Mansell.
---
The report has recommended the truth-telling commission be made up of a majority of Tasmanian Aboriginal people, make recommendations on matters to be included in treaty negotiations, and determine representatives of Aboriginal people to negotiate the treaty with the government.
The authors of the report said it should be up to Tasmanian Aboriginal people to decide who is Aboriginal and who is not. 
"We discovered through conversations with multiple people that the distinction between identity – who and who is not Aboriginal – and eligibility – who is entitled to vote to elect representatives – is a very, very important distinction to make. It has been made a number of times before, and we think this time it should be made by Aboriginal people, rather than non-Aboriginal people," Professor McCormack said. 
The government has also been urged to establish a Tasmanian Indigenous education consultative body, create more Aboriginal protected areas, and develop a commercial cultural fishery. 
Kitana Mansell, a 21-year-old palawa woman, said it was a significant day for her community. 
"I believe that getting a treaty is so important for our people and our land," she said.
"We've had so much of our land be destroyed, and it's about time that we started being able to have full ownership of our cultural landscapes, our own food resources and our connection to Country." 
Premier Peter Gutwein said the government will consider all the report's recommendations.
"The next steps of this journey will be complex, as there are many Tasmanian Aboriginal voices, and not all of those voices align. But importantly, all of these views need to be heard," he said. 
"Importantly, we must keep listening to, and be guided by, Tasmanian Aboriginal people."
However he stopped short of promising the report will lead to a treaty. 
"I am not going to get into that game today. We will consider all of the recommendations, and we will consider them in full, and I will respond next year," he said.
Victoria first established a truth-telling and treaty process five years ago, Queensland and the Northern Territory are currently holding discussions, while South Australia engaged in a treaty process between 2016 and 2018.
New Zealand signed a treaty with Māori chiefs in 1840.
Source link