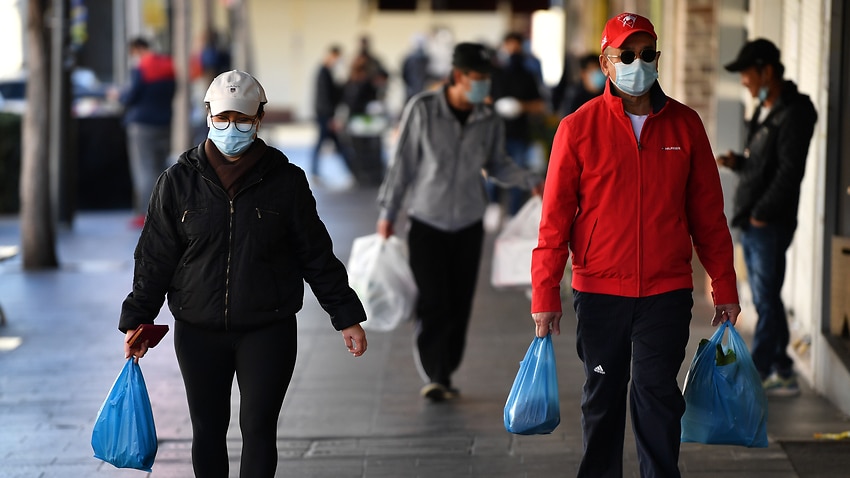 Suburbs in Sydney's COVID-struck south-west have some of the lowest vaccination rates in New South Wales, according to new Commonwealth data.
Federal government data on regional vaccination rates to 1 August, released on Tuesday, showed that 33.1 per cent of south-west Sydney residents over the age of 15 have had their first coronavirus jab, and only 14.6 per cent are fully vaccinated.
The city's inner south-west has the second-lowest vaccination rate, with 33.5 per cent of residents receiving the first dose and 16.1 per cent receiving two.
By contrast, Sydney's affluent northern suburbs have the highest first-dose take-up rate in NSW, with more than 50 per cent of the North Sydney and Hornsby regions having gotten at least one dose.
First dose rates in the Northern Beaches, Sutherland Shire and Baulkham Hills and Hawkesbury regions fall just short of 50 per cent.
NSW Premier Gladys Berejiklian said the low vaccination rate in Sydney's south-west was partly due to its residents being "younger than the state's average".
"Until recently, the health advice precluded a lot of people [from] coming forward and getting vaccinated," she told reporters on Tuesday.
"That is why we have a concerted effort, whether it's via mobile clinics, going to community hubs to vaccinate and ramping up pharmacy access."
Australian Bureau of Statistics data shows just over 405,000 people live in Sydney's south-west, and the median age is 35, meaning much of the population has not been eligible for the vaccine.
The area has been hit the hardest by the Delta outbreak, with eight local government areas currently subjected to harsher restrictions than the rest of Sydney.
Victoria's vaccination data shows a similar trend, with less than 35 per cent of residents of Melbourne's western and north-western suburbs getting their first jab.
By contrast, 49 per cent of residents in Melbourne's affluent inner-south, and almost 48 per cent in its inner-east, have had at least one jab.
Western Australia's northern outback has the lowest vaccination rate in the country, with 18.2 per cent of residents having received one dose, and 8.6 per cent being fully immunised.
Queensland's Outback, Mackay and Logan regions have had a less than 30 per cent take-up of the first dose.
Young people are 'peak spreaders'
On Tuesday, the federal government also released modelling that found young adults are considered "peak spreaders" of COVID-19 and should be prioritised for the vaccine rollout.
The Doherty Institute modelling, which national cabinet is using as part of its response to the pandemic, calls for a "reorientation" to target "key transmitting groups".
According to the modelling, 70 per cent of people over 16 must be vaccinated before restrictions can be eased on vaccinated Australians and the cap on international arrivals can be raised to 6,000 people a week.
Professor Jodie McVernon from the Doherty Institute said the data showed 20-somethings were "peak transmitters".
"Immunising younger people, reducing transmission is critical to maximising the gains of a whole population," she said.
"This is a strategy that basically follows where we are right now but brings forward immunisation of the 30-39 group to the beginning of September and 16-29 to early in October."
Prof McVernon also said the modelling also showed that communities with higher immunisation rates saw instances of people developing serious symptoms or dying from COVID-19 "decrease across the board".
Prime Minister Scott Morrison said the nation's response to the coronavirus pandemic has had to shift in accordance with "changing circumstances".
"All throughout this year, though, whether it was Delta or Alpha, we've been working to chart the way back to living with the virus," he said. 
"The world is in a serious battle with the Delta strain of COVID-19. This has been a long war against the virus.
"There have been many, many battles and this is a fierce one when it comes to the Delta strain."
Source link