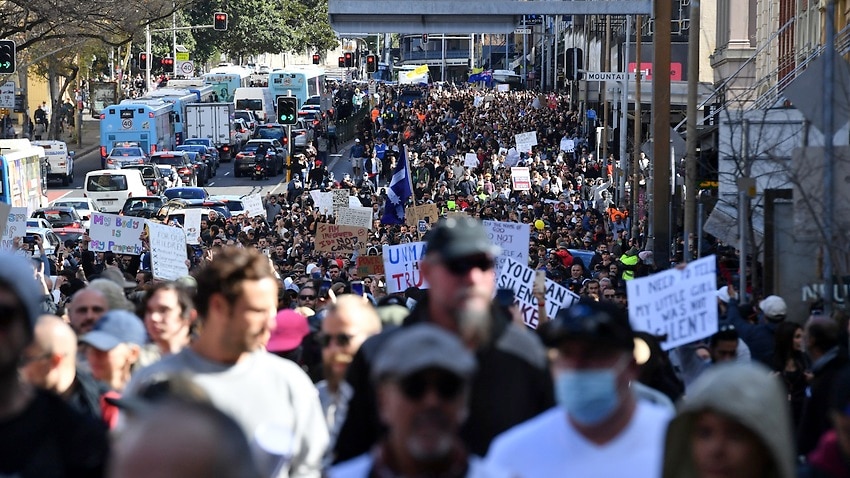 An epidemiologist has warned that an anti-lockdown protest that took place in Sydney over the weekend contains a "real risk" of becoming a super-spreader event.
Epidemiologist Professor Catherine Bennett from Deakin University said contact tracers face a formidable task in containing the very "real risk" of virus transmission arising from the event, which took place in Sydney's CBD on Saturday.
"It is heartbreaking. It is a real risk of super-spreader transmission – and people have to realise that," she told SBS News.
NSW Premier Gladys Berejiklian said authorities are closely monitoring the impact of the protest.
"I think that's why all of us were absolutely disgusted and disappointed because we know that events like that can cause those super-spreading events," she told reporters on Sunday.
"We don't want a setback, and yesterday could have been a setback. Time will tell."
The lack of masks and physical distancing by at least 3,500 protesters who marched through Sydney's CBD on Saturday has Prof Bennett particularly concerned.
"If they're not wearing masks, and they're not minding their distance, then it just escalates the risk."
She said the increased infectiousness of the Delta variant also increases the transmission risk. 
"It is a different virus. This new variant, we have seen it transmit outdoors. We've seen it at the football.
"You don't even have to be very close to each other. You just have to be there long enough in the vicinity.
"And the trouble with a protest is you can be quite up close to people, much closer than you would be in formal setting at a football game. But also people are cheering, they're calling out; when there are scuffles, people are exerting themselves; and there are a lot of people close together."
NSW Police release footage from anti-lockdown protest
Carmen Lazar, an Assyrian community leader based in Sydney, said she was "devastated and disappointed" that people from her community attended the protest.
"I'm very disappointed and devastated as this is not tolerated," she told SBS News. "Not just by the government, but our religious leaders and our community leaders say it's absolutely not tolerated. We are very surprised and shocked for what we saw yesterday.
"Watching what I saw, it really upset me, because at the end of the day, because to me it sounds like more lockdowns."
"[Our community] was doing such an amazing job," she added. "We were acknowledged by the government of the day, that everyone had kept to isolation, getting vaccinated, social distancing – it was going fantastic.
"Then all of a sudden, this happened. I won't say that I wasted my time – I will not stop advocating and talking to our community because I know at the end of the day, as human beings, yes we do get frustrated by isolation, but we must tolerate this, because the more we are isolated, the more we can move on with our lives in future."
Hundreds of protesters identified 
NSW Police said they have identified 200 protesters so far, after receiving 5,500 reports from members of the public contacting CrimeStoppers.
A team of 22 detectives has been tasked with tracking down those involved in the protest.
Police Minister David Elliott said he expects all protesters will be identified and fined – and possibly charged – in coming days. 
"Yesterday cannot happen again," Mr Elliott said. "We saw the [COVID-19] figures, they are not going down at the rate we want to see them go down. And they won't go down if we see the activity we saw yesterday." 
NSW reported 141 COVID-19 cases on Sunday and two deaths, including a woman in her 30s with no pre-existing health conditions.
NSW Police Deputy Commissioner Mal Lanyon said 50 per cent of the NSW Police Force is fully vaccinated, adding that between 350 and 400 officers were deployed on Saturday to monitor the protest.
"What we saw was unprecedented violence. The violence we saw against officers and police horses is something we won't take," he said.
NSW records 141 new local COVID-19 cases and two deaths
He urged protesters against planning future protests.
"Rethink your plans. The police will be waiting for you and we will take action against you."
Prime Minister Scott Morrison said the action of protesters jeopardised the timeline for Greater Sydney to emerge from lockdown.
"It is selfish. It is self-defeating. It achieves no purpose.
"That was a very selfish act and it offended many fellow Sydneysiders.
"In a city under lockdown, to engage in that was reckless, and it was selfish." 
Ms Berejiklian said the protesters have certainly set back the prospect of ending the current lockdown on 30 July.
"Can I say how absolutely disgusted I was. It broke my heart," she said.
"Millions and millions of people across our state are doing the right thing, and it just broke my heart that people had such a disregard for their fellow citizens."
Protesters urged to co-operate with contact tracers 
NSW Health on Sunday said 28 COVID-19 cases alone were linked to a bereavement event attended by around 50 people in Pendle Hill in Sydney's west.
"We have been working with community leaders in that area to make sure that people in that gathering are isolated and getting tested," said Dr Jeremy McAnulty from NSW Health.
Prof Bennett said the key concern is the ability of contact tracers to stay on top of the potential vectors of household transmission from the 3,500 people at Saturday's protest. 

"So in four days time, three days time, we might see people coming forward for testing," she said.
"The most critical thing is that people realise how important it is to let the authorities know that they were at the protest.
"It gives you a different understanding of where transmission is in the community. That is what health authorities are focusing on at the moment: the household-to-household transmission to try and contain that. But most importantly, workplace and other transmission events that take the virus into new households. 
"So this protest could be coming into play in that broader transmission risk." 
Source link