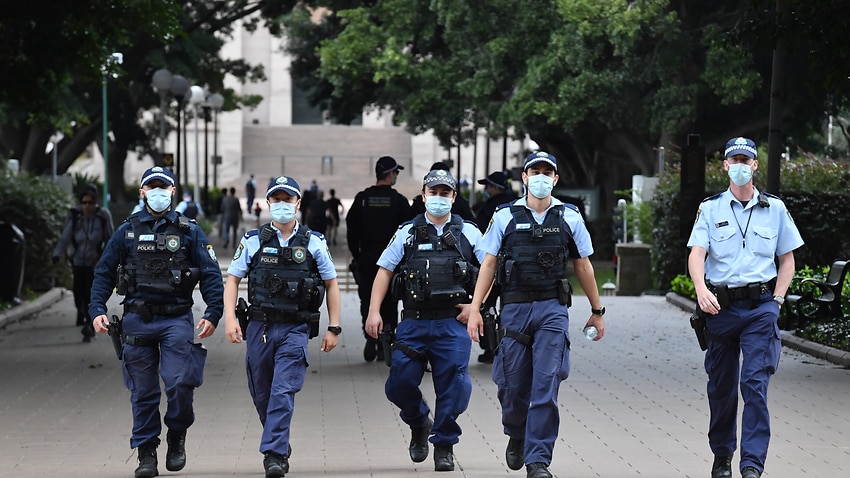 An anticipated anti-lockdown protest in Sydney has fizzled after NSW Police set up an operation involving more than 1,300 personnel aimed at preventing a repeat of last week's large demonstration.
Authorities set up an exclusion zone around the CBD that lasted from 9am to 3pm on Saturday to limit traffic entering the area.
Footage uploaded to social media on Saturday showed the Sydney CBD largely empty and devoid of large numbers of protesters.
NSW Police said on Saturday afternoon eight people had been arrested during the operation, including a 45-year-old man who was taken into custody after travelling on trains outside his local government area without a reasonable excuse.
More than 250 fines were issued for breaches of the public health orders – the vast majority of which went to people leaving their LGAs.
The exclusion zone stretched from the Bradfield Highway at Milsons Point north of the Harbour Bridge, to the City West Link at Lilyfield, to South Dowling St near Todman Ave at Zetland, and east to New South Head Rd near Ocean Ave at Edgecliff.
Police hailed the operation as a success and said more than 70,000 vehicles were checked at 11 designated traffic points.
"NSW Police will continue to monitor and enforce the Public Health Order to ensure the safety of the wider community, and anyone intent on breaching these orders in the coming weeks should be prepared that police will take action," deputy commissioner Mal Lanyon said in a statement.
NSW Police Minister David Elliott said he was relieved there were no demonstrations.
"It was always going to involve a small minority, but they've shown they care for their family and friends and realised this would have the opposite effect of ending lockdown," he said in a statement.
"Every officer from the NSW Police Force should be assured that their efforts today have made Greater Sydney a safer place tonight."
Seven taxi and rideshare services had received a prohibition notice banning them from taking passengers to the CBD over the six-hour period.
A further high-visibility operation is planned for Sunday, police said.
NSW recorded 210 new local cases of COVID-19 and one further death on Saturday.
On Friday, NSW Premier Gladys Berejiklian urged people to think about their loved ones and not protest.
"Can I please warn against anybody taking up illegal activity and protesting?" she said. "Your actions will hurt, forget about the rest of us, but you could be taking the disease home and passing it on to your parents, your siblings, or anybody you might have limited contact with.
"Do not give those you love the most a death sentence."
On Friday night, a 49-year-old Central Coast man was charged for online incitement related to last Saturday's protest.
He is the 85th person to be charged after around 3,500 people attended last weekend's protest. Over 300 fines have been issued.
NSW Health Minister Brad Hazzard said on Saturday he was disappointed that a number of NSW Health staff were reportedly at last weekend's protest.
"Investigations are currently continuing with both health and the police. I understand there was one paramedic and either assistant in nursing or nursing staff; and one other," he said.
Authorities discovered one individual, who had been turned away by police officers at Central Station on the day of the protest and told to return home, had tested positive for COVID-19 the following day.
NSW Chief Health Officer Kerry Chant on Friday said the implications of any super-spreader transmission was highly concerning.
"It just is so thoughtless, inconsiderate and the impact on others so great, and we have no latitude with the Delta strain," she said.
"I just cannot contemplate why people at this point in time would think that gathering together in a space, travelling on public transport from all parts of NSW, would be in anyone's interest at the moment."
With Evan Young.
Source link