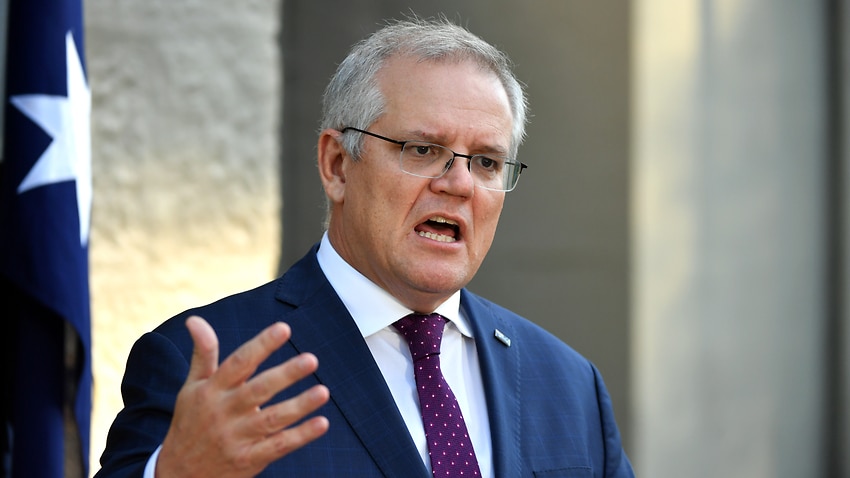 Australia's confidence in the federal government's handling of the COVID-19 pandemic has fallen, with the public holding more faith in the response of states and territories, new research shows. 
The findings, published by the Australia Institute think tank, reveal that the nation is increasingly favouring the approach taken by the states and territories, as NSW and Victoria battle to contain growing surges of the Delta variant. 
As of July this year, the Australia Institute's polling shows just 16 per cent believed the federal government had done a better job against COVID-19, compared to 42 per cent in favour of states and territory governments.
In August last year, 31 per cent of people believed states and territories had outperformed Canberra, compared to 25 per cent of people in favour of the federal government. 
In July, 24 per cent rated their performance as equal, down from the 32 per cent at the outset of the study.
The data surveyed 1,000 people with the apparent decline in public support coming amid criticism of the federal government's handling of the vaccine rollout.
The study comes amid the announcement that one million Pfizer doses will arrive in Australia, with similar-sized shipments are expected to arrive in the coming weeks and months.
COVID-19 taskforce commander Lieutenant General John Frewen said that, starting now, there will be one million Pfizer doses arriving every week.
"The combination of the additional supply and the additional distribution nodes means that we're hoping that we can really start to accelerate the rollout," he told the ABC on Monday.
The additional doses are seen as critical to speeding up the vaccine rollout, with just over 13 per cent of the population currently vaccinated.
Despite increasing the Pfizer vaccine supply, the federal government has indicated it will take months before people under 40 become eligible for widespread access to the Pfizer vaccines. 
Home Affairs Minister Karen Andrews said the arrival of the additional supplies showed there is "light at the end of the tunnel".
"This is not a situation that is going to be resolved overnight," she said.
"It will be over the coming weeks and months that we make sure that as many people who want to get vaccinated have access to a vaccine." 
The Coalition and Labor are also now neck-and-neck in the polls, with both recording 39 per cent of voter support in the latest Newspoll, published in The Australian. 
The government's primary vote fell by two points while federal Labor's rose by the same amount over the three-week period.
This combined four-point shift has Labor now leading the coalition 53-47 on an estimated two-party preferred basis following new lockdowns in NSW and Victoria.
Source link