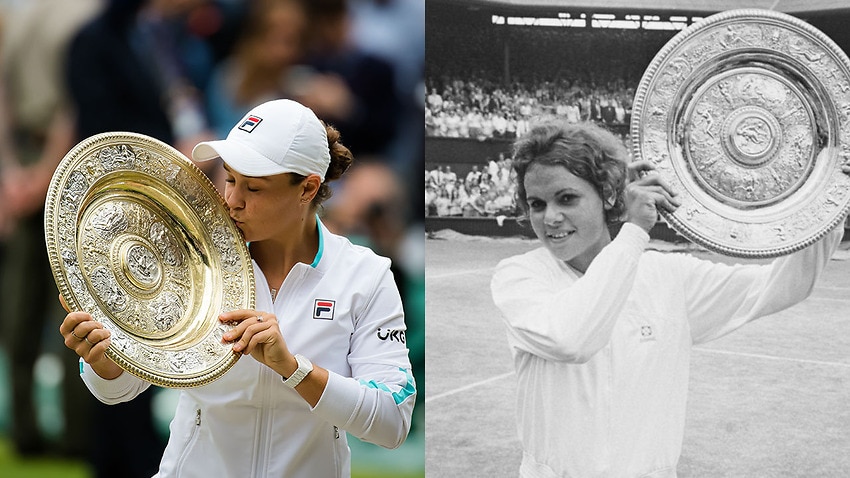 Ashleigh Barty made history on two fronts when she lifted the Wimbledon trophy: the first Australian to win a Wimbledon singles title in 41 years; and also the second Indigenous Australian in Wimbledon's history to win a single's title.
Staying emotionally composed during her victory speech, Ashleigh Barty let that drop for a moment when she revealed she hoped her win would make her Indigenous mentor, Evonne Goolagong Cawley, proud.
"I hope I made Evonne proud," said Barty, choking back tears.
In a matter of hours, the answer to that question would be answered in the affirmative.
"I am just so very much proud of Ash, the way she handles herself, not just on the court, but off the court too," Ms Goolagong Cawley said, referring to Barty as a "sister" and "part of my family".
The Indigenous Australian tennis legend clinched her first Wimbledon victory in 1971, winning the title again in 1980.
Now 50 years on from that 1971 win, Ash Barty has added the Wimbledon title to her list of achievements, which includes a French Open title in 2019 and holding onto the World No. 1 ranking for two years now.
The 25-year-old has won 12 singles titles and 11 doubles titles in the WTA Tour. And with her latest victory, she joins Evonne Goolagong Cawley and Margaret Court as the third Australian in the Open era to win the Wimbledon women's singles title.
Ms Goolagong Cawley said in some ways there are parallels in the trajectory of their sporting careers, with both First Nations athletes winning their first singles title at the French Open.
"It is amazing that she won her first grand slam at the French (Open). That was my first Grand Slam (win as well)."
Later that year in 1971, Ms Goolagong Cawley also won the Wimbledon title – the culmination of her dream as an eight-year-old.
"I read princess magazines of a young girl who was found and taken to this place called Wimbledon, played on this magical centre court and won," she said.
"And so that became my dream. I didn't even know that (Wimbledon Open) existed until somebody told me."
Barty's 2019 win at the French Open made her the second Indigenous Australian to win the title, after Ms Goolagong Cawley.
A Tennis Australia Indigenous ambassador since 2018, Barty started playing the sport in Brisbane at the age of four.
She showed early promise, achieving a ranking of No. 2 in the world after winning the girls' singles title at Wimbledon in 2011.
Ms Goolagong Cawley saw the potential in those early days.
"She made me proud from the first time I saw Ash, and she must have been 13 – and she was playing at the Australian Open.
"She had showed all the skills. She did the slice, the volley, the smash – everything in one game."
It was at that moment, Ms Goolagong Cawley knew here was a world champion.
"(And I said) she's got it. She is going to be our next champion."
A decade on – during NAIDOC Week which celebrates Indigenous achievements – Barty brings home the Wimbledon trophy.
Ms Goolagong Cawley said there is a sense of things coming full circle.
"Everyone reacts differently after they win Wimbledon for the first time," she said of the experience of seeing Barty's emotions in that moment of victory.
"It didn't hit me until later on because you actually turn numb. You are in shock. Just as Ash was at the end there."
"Now I see [it from] the other side of my family – how they were when they watching me win Wimbledon," she said.
"They were jumping up crying and screaming – exactly what we are doing (now)."
Ms Goolagong Cawley said she has never forgotten the feeling of achieving that lifelong dream.
"And it is just magical when you achieve that dream. And I am sure it is magical for her too."
Source link