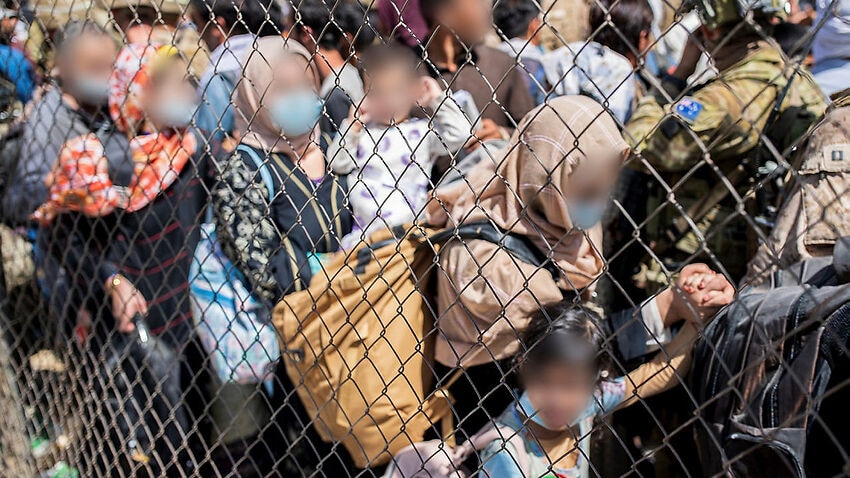 Australia's deployment in two decades of conflict in Afghanistan will be investigated in a Senate inquiry, following the chaotic final days of its military presence in the country.
Scenes of desperation outside Kabul airport in Afghanistan's capital have been beamed across the world since the Taliban's return to power.
The fallout of US President Joe Biden's decision to withdraw from Afghanistan has also prompted fierce debate over its execution and whether the conflict was worth the lives lost. 
Australia's Senate has now unanimously signed off on an inquiry examining the country's 20-year deployment and subsequent withdrawal of its military forces this year.  
Independent Senator Jacqui Lambie, who spearheaded the push for the review, said a clear-eyed investigation was needed to examine Australia's involvement in its longest-ever war. 
"While there is a lot for us to be proud of  – it is clear that we didn't get an outcome that any of us wanted in Afghanistan," she told the Senate. 
"No one wanted to see the Taliban come rushing back into Kabul. No one wanted to see thousands of people flee the country with the withdrawal of the US-led coalition forces.  
"The people that are most disappointed are the people who have fought in that war."
President Biden in April this year announced the United States would withdraw its military from the country by September. 
The decision marked an end to the conflict that began after US forces launched their military offensive in response to the 9/11 terror attacks in New York City in 2001. 
Australia soon followed with its own announcement that the Australian embassy would close in May, four months ahead of the intended US military withdrawal.  
The Senate inquiry led by the Senate Foreign Affairs Defence and Trade References Committee on Thursday gained the support of government, Labor, Greens and crossbench senators.  
The inquiry will review Australia's military, diplomatic and development engagement in Afghanistan over the past two decades and how it should respond to current developments. 
This includes examining the success of the Australian government's objectives, the campaign's costs as well as the subsequent collapse of the Afghan government. 
It will also review the adequacy of Australia's preparation for withdrawal from Afghanistan, including its evacuation of at-risk Afghan nationals, Australian citizens and permanent residents.    
Labor Senator Kimberley Kitching, chair of the Senate Foreign Affairs Defence and Trade References Committee said the inquiry would receive secure briefings from key government departments involved.
"This inquiry necessarily will be looking at who we are as a country, our values and how these guide our foreign, defence and security policies," she told SBS News.
'Freedom is always worth fighting for'
Former US President George W. Bush initially launched the offensive in October 2001 in response to concerns that Taliban-controlled Afghanistan had become a safe haven for Al Qaeda.
Former Australian prime minister John Howard, who committed Australia to the Afghanistan conflict, told SBS News in July that Australia's mission had been accomplished.
"Our original mission was to deny Al Qaeda the capacity to repeat what it did on 11 September 2001 and there's no doubt that was achieved," he said.
Prime Minister Scott Morrison has also defended Australia's involvement in Afghanistan, following the Taliban's resurgence, remarking earlier this month that "freedom is always worth fighting for". 
He has also pointed to the mission's aims of tracking down Al Qaeda's leader Osama Bin Laden, the person behind the 11 September attacks, and blunting the group's capacity to stage terror attacks.
The Prime Minister has also insisted Australia has worked "steadily" to evacuate people from the country who fear reprisal attacks from the Taliban, including Afghans serving with Australian forces.
John Blaxland, a professor of international security at the Australian National University, said the inquiry needed to provide a critical forum to learn from mistakes of the past in the campaign.
"That's a conversation that really has to be had, so bring it on," he told SBS News.
"It is important for us as a nation to take stock and recognise that what's happened has arguably actually been counterproductive from an Australian point of view." 
He said this included considering whether Australia's parliament needed to play a stronger role in the debate before Australia makes military commitments.
"We need to think institutionally about how we approach the use of force," he said.
"This is the final chapter for now but I suspect Afghanistan is going to haunt us for a long time to come."