Australia
Scott Morrison shoots down ideas of stripping benefits from Black Lives Matter protesters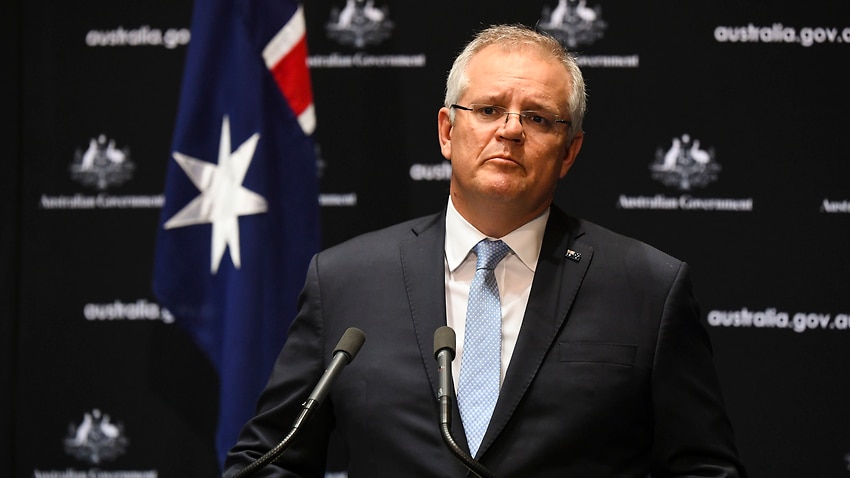 Prime Minister Scott Morrison says the federal government won't strip welfare benefits from people flouting health rules by attending protests.
Ahead of another weekend of planned Black Lives Matter protests, Finance Minister Mathias Cormann said on Friday morning taking unemployment payments from people who defy health orders and participate in rallies was "a conversation worthwhile having".
Shortly after, Liberal MP Andrew Laming said he supported the idea.
"I'm challenging those protesters who are doing that to hand back those payments in advance – you can't collect from the taxpayer with one hand and risk infecting them with the other," he told Sky News.
Mr Morrison quashed the idea when he was asked about it on Friday afternoon.
"We won't do that," he told reporters in Canberra.
"The reason is, enforcement of these matters is for the state and territory governments and so they will apply their fines and their laws on these issues in those jurisdictions. They are dealing with those gatherings in those state laws and state restrictions are a matter for state and territory governments, not the federal government."
On Thursday, Mr Morrison called for people who go to this weekend's protests to be charged after it was revealed a person that attended last Saturday's Melbourne rally had since tested positive for coronavirus.
While many protesters attending rallies over the past week have worn personal protective equipment and used hand sanitiser, large turnouts have made social distancing difficult.
Protest organisers, many of whom have argued the demonstrations are an "essential service", have also urged people who were sick or displaying coronavirus symptoms not to attend.
Last October, in response to climate change protests that stopped Brisbane traffic, Home Affairs Minister Peter Dutton called for disruptive demonstrators to have their welfare payments cut and be subject to mandatory jail sentences.
Then-Greens leader Richard Di Natale accused Mr Dutton of sounding like a "dictator".
Meanwhile, Senator Cormann hasn't ruled out keeping the JobSeeker payment above $40 per day beyond September.
JobSeeker was raised to $1,100 per fortnight in April when the government added a temporary $550 coronavirus supplement.
The enhanced JobSeeker is due to expire in September along with other stimulus measures like the JobKeeper wage subsidies.
"We are clearly now having conversations on how we can most appropriately transition out of the elevated levels of temporary support, including through the enhanced JobSeeker program," Senator Cormann told Sky News.
The coalition government had been adamant it would not raise the dole, formerly called Newstart.
Before the coronavirus pandemic, welfare and business groups, Labor, the Greens, economists and the Reserve Bank had called for a rise in the payment.
Aside from indexation, the unemployment benefit has not increased in 25 years.
People in Australia must stay at least 1.5 metres away from others. Check your state's restrictions on gathering limits.
Testing for coronavirus is now widely available across Australia. If you are experiencing cold or flu symptoms, arrange a test by calling your doctor or contact the Coronavirus Health Information Hotline on 1800 020 080. 
The federal government's coronavirus tracing app COVIDSafe is available for download from your phone's app store.
SBS is committed to informing Australia's diverse communities about the latest COVID-19 developments. News and information is available in 63 languages at sbs.com.au/coronavirus
Source link