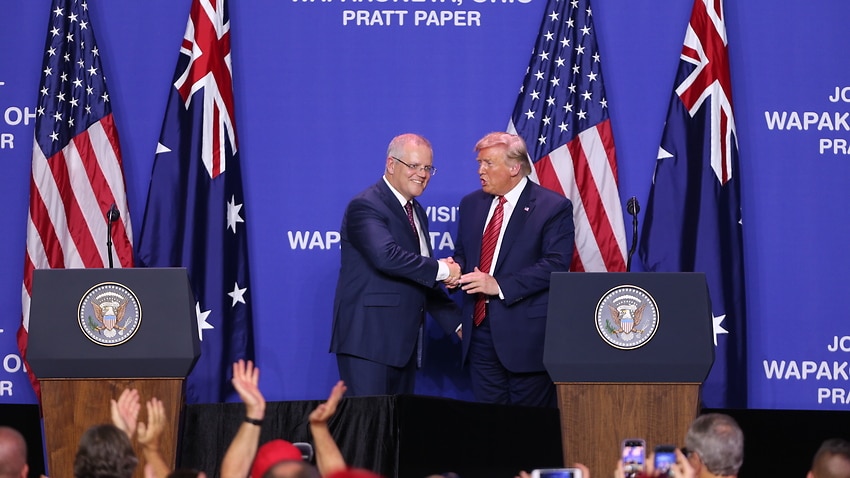 Prime Minister Scott Morrison says he doesn't intend to speak with President Donald Trump before he leaves office amid the fallout of the US Capitol riot.
Mr Morrison hasn't spoken to Mr Trump since before the US President's election loss in November.
But Mr Morrison has been careful not to directly criticise Mr Trump for his incitement of supporters who stormed the US Capitol.
Mr Morrison said he doesn't expect to personally farewell Mr Trump before he exits the White House this week.
"No. I have no plans to do that," he told reporters on Tuesday.
The comments came after Mr Morrison spoke with outgoing Vice President Mike Pence over the phone on Tuesday ahead of the end of the Trump administration.
A government brief of the call stated the pair had thanked each other for their strong partnership, particularly on the Indo-Pacific and agreed there was no more important time for a strong Australia-US Alliance.
Mr Morrison said the leaders have pledged the US-Australia relationship will endure.
"We spoke about how important that relationship is now, probably more important than ever and really welcomed their offers of the engagements they have had with the incoming administration," Mr Morrison said.
"I welcomed the fact that despite all the terrible things we've seen happen there has been that positive engagement between them and those who are coming in after them."
The assurances come ahead of President-elect Joe Biden being sworn in at his inauguration on Thursday.  
Several world leaders have personally rebuked Mr Trump for his involvement in stoking the US Capitol riot – but Mr Morrison has resisted specifically criticising him.
Mr Morrison has rather called the scenes "very distressing" and "very disappointing".
The White House visit and the Trump-style rally
The two leaders have appeared to share a close relationship during Mr Trump's time in office, often lauding the strength of the alliance between Australia and the United States.
This included Mr Trump once dubbing Mr Morrison a "man of titanium" in their first meeting in the president's Oval Office at the White House.
That visit included a state dinner and even a Trump-style rally at the opening of a factory owned by Australian businessman Anthony Pratt in Wapakoneta, Ohio.
Mr Trump also awarded Mr Morrison the prestigious US military honour the Legion of Merit in recognition of his "leadership in addressing global challenges and promoting collective security".
Mr Morrison has said of his relationship with Mr Trump that he has "worked closely with the President as you would expect me to."
Opposition Leader Anthony Albanese has called on Mr Morrison to take a stronger stance on criticising Mr Trump.
"Scott Morrison said a great deal of positive things for Donald Trump. I just wish that Scott Morrison would be prepared to call out by name Donald Trump's actions for what they were," he told 5AA radio.