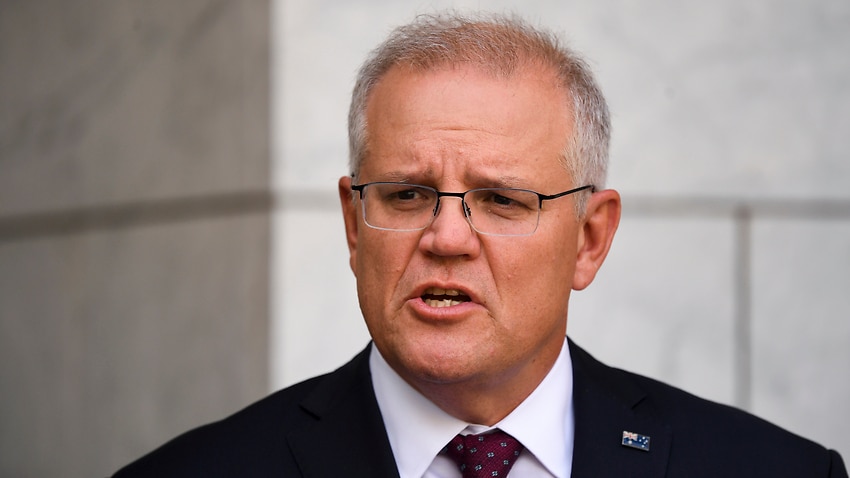 Prime Minister Scott Morrison has denied Australia's travel ban on people returning from India is racist, amid mounting fallout over the government's decision to make it illegal for those stranded abroad to return home.   
There has been rising anger in the Indian community and backlash from human rights advocates and lawyers over the decision to restrict travel from India as the country is ravaged by a mass outbreak of coronavirus infections.
Mr Morrison on Monday defended the response as he addressed the temporary travel ban for the first time – some three days after the decision to criminalise those who try to return home from India.
He had been asked about accusations the policy is racist, which some in the Indian-Australian community have raised concerns about. 
"There is a raging pandemic and we need to just continue to take decisions that are in the best health interests of Australia," Mr Morrison told 2GB Radio.
"This is a temporary arrangement – it is being put in place to ensure we don't get a third wave here in Australia and that our quarantine system can remain strong."    
It was revealed last Friday, that Australian citizens and residents failing to comply with the emergency determination under the Biosecurity Act could attract a $66,600 fine or a five-year jail term.
The government has put in place the travel restrictions to India until 15 May and promised the measures will be reviewed ahead of this deadline. 
But the move to criminalise Australians trying to return home from India has been widely criticised, with opponents pointing to the fact no travel ban was ever imposed on travellers returning from the United States or United Kingdom travellers at the peak of their outbreaks.
Mr Morrison said the decision to impose the hefty penalties did not amount to a misuse of government power.
"I understand the measures have strong sanctions with them – we've had the Biosecurity Act in place now for over a year and no one has gone to jail," he said. 
"There hasn't been any irresponsible use of those powers. My heart breaks for the Indian community – but I assure them I am going to restore those repatriation flights."  
Australia's Chief Medical Officer Professor Paul Kelly earlier said health authorities gave no advice to impose fines and jail sentences for Australians in India who attempt to breach the temporary travel ban.
But Professor Kelly has supported the need to do something about the number of positive COVID-19 cases in hotel quarantine.
"There was no advice given in relation to the fines or jail terms, that's just how the Biosecurity Act works," he told ABC radio on Monday morning.
"Our advice that we needed to do something about the number of positive cases coming into our hotel quarantine because of the risk of incursions."
Professor Kelly said the travel ban was necessary because the COVID-19 positivity rate among returning travellers in hotel quarantine surpassed a two per cent limit for only the second time in the pandemic. The first spike was about six weeks earlier in travellers returning from Papua New Guinea, he said.
Around 9,000 Australians in India are currently registered with the Department of Foreign Affairs and Trade as wanting to return home, including about 650 who are classed as vulnerable.
The move to tighten the travel ban, which will be in place until 15 May, came after two Australian cricketers in India made it home by travelling through Qatar. 
India is recording about 400,000 new coronavirus cases each day but the real number of people contracting it is believed to be higher.
With AAP
Source link