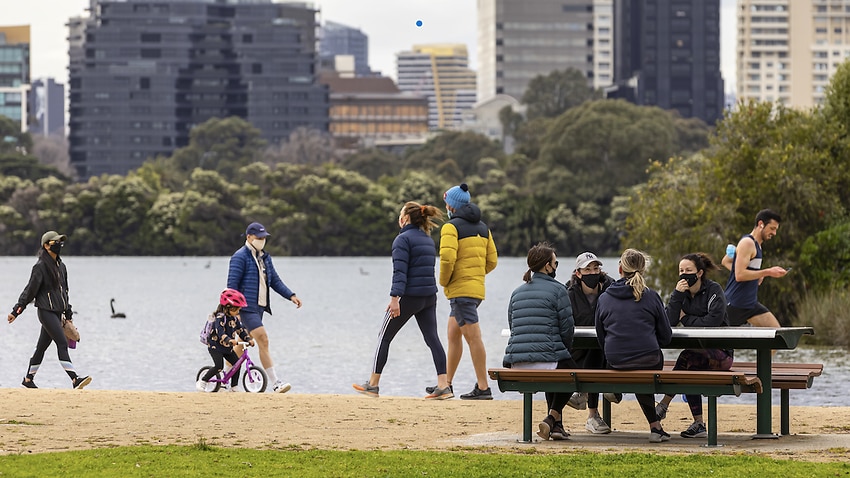 Premier Daniel Andrews on Sunday said it was a "great day" for Victoria and said he was immensely proud of the five million Victorians who had received at least one dose of a COVID-19 vaccine.
"Victorians have sacrificed so much to protect their families, friends and the whole community from coronavirus, and have saved countless lives because of it.
"The milestone we're about to hit marks a new and hopeful path for the whole state – allowing businesses to reopen and Victorians to get back to things they love," he told reporters.
So exactly why has the roadmap changed, what will Melburnians and regional Victorians be able to do from Friday and what comes next?
Why has the roadmap changed?
Victoria's Roadmap to Deliver the National Plan, based on Burnet Institute modelling, has been updated to account for soaring vaccination rates and lower-than-predicted length of stays in hospital among COVID-19 patients.
Mr Andrews said the state has been tracking well on its vaccination rates. As much as 88.05 per cent of Victoria's over-16 population have had one vaccine dose and 65.02 per cent have had two doses.
This has allowed further steps to be taken at the 70 per cent double dose that were not previously outlined in the roadmap, including visitors to the home and larger patron caps in certain businesses.
What will change for Melburnians on Friday?
From 11:59pm on Thursday, Melburnians will be able to welcome up to 10 people per day (including children) to their homes.
To ensure this is done safely, health authorities recommended that Victorians only permit people aged 12 years and over who are fully vaccinated to visit them at home.
Up to 15 fully vaccinated people can gather outdoors, allowing community sport to return in minimal numbers.
In metropolitan Melbourne, the curfew and the 15km travel radius will be lifted, however movement between regional Victoria and metropolitan Melbourne will only be allowed for permitted reasons.
Indoor venues like pubs, cafes and nightclubs will be able to reopen with up to 20 fully vaccinated people indoors and 50 outdoors with density limits.
Melburnians will emerge from their sixth lockdown this Friday. Source: AAP
---
Outdoor physical recreation facilities like pools will also open with up to 50 fully vaccinated people per venue, subject to density limits.
These indoor and outdoor number caps will also apply to religious gatherings, weddings and funerals, where all attendees must be fully vaccinated. If vaccination status is unknown, only 10 people are permitted indoors for funerals, weddings and religious gatherings.
Hairdressing and personal care services will also open for up to five fully vaccinated people.
People in metropolitan Melbourne must continue to work from home if they can, while people considered authorised must have had at least one dose of the vaccine in order to work on-site.
Large-scale construction sites will increase to 100 per cent capacity but only if all workers are fully vaccinated.
Childcare will be open to children who are already attending, as well as children whose parents or guardians are fully vaccinated.
The return to school plan will also be brought forward in line with the rest of these settings, with
the staggered return of Year 3 to Year 11 in metro Melbourne commencing on Friday 22 October.
Masks will still be required both indoors and outdoors for all Victorians.
What will regional Victorians be allowed to do?
In regional Victoria, people will also be able to welcome 10 people per day, including children, to their home from Friday, provided everyone age 12 and above is fully vaccinated.
Up to 20 fully vaccinated people can gather outdoors while community sport can return indoors in minimal numbers.
Indoor settings like restaurants, cafes and gyms will able to increase caps from 10 to 30 fully vaccinated people per venue.
Outdoor venues can raise caps from 20 up to 100 vaccinated people per venue, but only if everyone is fully vaccinated. If the vaccination status is unknown, the venue can only have a total of 20 people.
Funerals and wedding are allowed for 30 fully vaccinated people indoors and 100 fully vaccinated outdoors.
All school students can return onsite for full-time learning from this date.
What happens when Victoria hits the 80 per cent double dose target?
Premier Daniel Andrews said on Sunday Victoria is likely to hit the 80 per cent milestone during the first week of November.
"We are predicting that we will be able to get to 80 per cent double dose on or about Melbourne Cup Day. It could even be a few days before than," he said.
At this point, Melbourne and regional Victoria will come together under the same rules, according to the original roadmap.
The number of vaccinated people allowed to the home will remain at 10 while the number of vaccinated people allowed to gather outside will rise to 30.
Indoor community sport can open for all with minimal numbers, while masks will only be required inside.
Pubs, restaurants and cafes can open for seated service only, with up to 150 fully vaccinated people inside and 500 outdoors.
Weddings, funerals, and religious services can also host 150 fully vaccinated people indoors, and 500 outdoors.
Authorities advise people to work from home if they can though, allowing them to go to work if they are fully vaccinated.
Retail will also open at this point, while hairdressing, beauty, personal care services will be open for fully vaccinated people
All students will be able to return to school with additional safety measures in place, while on-site adult education can also return for fully vaccinated Victorians.
And then what?
Once 80 per cent of Victorians aged 12 and over are fully vaccinated, restrictions will align with Phase D of the National Plan, which has been informed by Doherty Institute modelling.
According to the National Plan, Phase D will see the opening of international borders, the end of restrictions and lockdowns, booster shots as necessary and uncapped inbound arrivals for all vaccinated people without quarantine.
On Sunday, Premier Andrews said Australians can look forward to the weeks ahead of Christmas Day, by which time Victorians will be able to welcome 30 guests to their home.
He also said Victorians can "look forward to 2022 with a justified sense of hope and optimism".
But he made clear that there was still a long way to go and Victorians should expect case numbers to rise as restrictions reduce.
"In the weeks and months ahead, we will see a peak in cases and we will see a peak in the number of people who are in hospital. And we will see people lose their lives to this," he said
"That will be a terrible tragedy. That will be incredibly difficult. For families, for loved ones, for staff in our health system.
"That is why getting vaccinated is so, so important."
For more information on the roadmap or to book a vaccination click here.
Source link