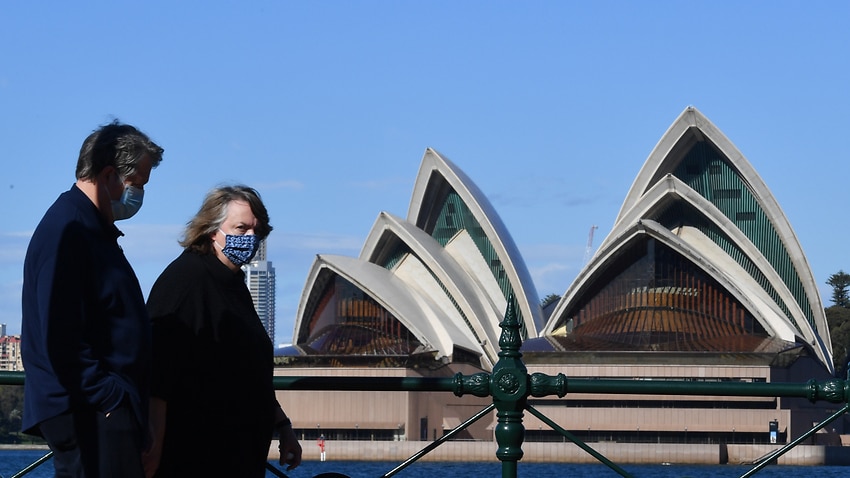 The New South Wales government has unveiled a roadmap to re-opening, with new freedoms on offer for fully vaccinated residents from 13 September.
It came on the same day the state marked another record jump in COVID-19 infections, with 1,029 new cases announced on Thursday, and as it was confirmed the state's regional lockdown would be extended.
The new freedoms, drafted by Chief Medical Officer Kerry Chant and Chief Psychiatrist Murray Wright, follow the state surpassing a milestone of six million jabs on Tuesday.
Here's a look at what's changing and when.
Regional lockdown extended
The lockdown across regional New South Wales, including Shellharbour and the Central Coast, has been extended by two weeks until 10 September.
While cases remain low in many parts of the state, deputy premier John Barilaro warned the state's regions were "sitting on a knife-edge."
"It's a tinderbox ready to explode," he said.
The deputy premier said the extension would give health authorities more data on how and where cases are spreading.
There is currently a surge in infections in the west and far-west of NSW, and positive sewage surveillance tests have been found in other areas of the state.
"If [the lockdown] needs further extension, we will make a decision early," he added.
"If it means a chance for regional areas to open, we will make a decision based on advice and data in front of us."
Small outdoor gatherings for fully vaccinated people
From 13 September, NSW residents will be allowed to gather outdoors in groups of up to five fully vaccinated people. Children are included in the cap of five but do not have to be vaccinated.
The gathering must take place within all attendees' local government areas or five kilometres from their homes.
For those who live in LGAs of concern, households where all adults are vaccinated will be allowed to gather outdoors for recreation, including picnics, for one hour a day.
This recreation time comes in addition to the one hour each day allowed for exercise. 
Residents will still have to follow existing rules in place for hotspot areas and must abide by the curfew.  Gatherings between households are banned in hotspot LGAs. 
"These steps are baby steps," Dr Chant told reporters. "I think it's important that we are allowing those interactions, that human interaction in an outdoor space."
Gatherings must be held in parks or public spaces – people are not permitted to gather in backyards.
More restrictions lifted at 70 per cent vaccination
As vaccination coverage improves, more restrictions could be lifted for those who have had both doses.
The NSW government says when 70 per cent of the population has been fully vaccinated, "a range of family, industry, community and economic restrictions" will be lifted for those who have had both doses.
The state is set to reach that benchmark by 23 October, according to data tracking website CovidLive.
Industry, economy reopens at 80 per cent vaccination
At 80 per cent full vaccination, further restrictions could be eased on industry, communities and the economy.
At current rates, the state will reach that milestone by 8 November at the earliest. 
Over the next few months, trials of certain industries are being planned to test how businesses can operate in a COVID-safe way while the Delta variant continues to circulate.
Dr Chant said the re-opening process at 80 per cent would be "phased and calibrated."
"[What] We would like to see is living with COVID, and very, very low levels of community transmission and what we would like to see is a very high rate of vaccination," she said.
Premier Gladys Berejiklian said residents in NSW would live much more freely at that point.
"Even at 80 per cent double dose, we will still have rules in place and restrictions in place, but it will be nothing like what we are living through now," she said.
Amendments to current health orders
Overnight, several small amendments to current public health orders came into effect after Health Minister Brad Hazzard signed off on small tweaks to existing restrictions.
Currently, residents can leave home for compassionate reasons to visit a person with who they are in a relationship with, but do not live together, or if they are caring for vulnerable people.
The amendment now allows those on compassionate visits to exercise or undertake outdoor recreation with the person they are visiting.
They must stay within the LGA or if leaving it, stay within five kilometres from the person's home.
In LGAs of concern, rules around gatherings have been amended to clarify that 10 people are allowed to gather outside for a small funeral or memorial service.
SBS is providing live translations of daily New South Wales and Victoria COVID-19 press conferences in various languages. Click here for more information.