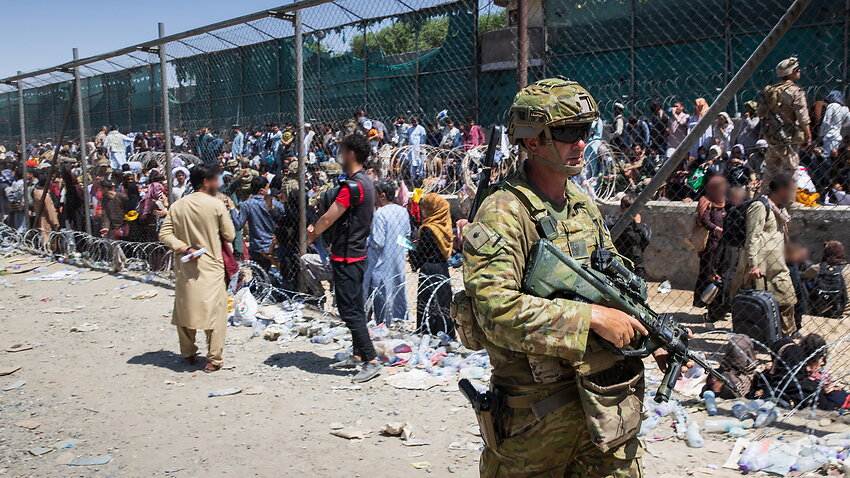 There are renewed calls for the federal parliament to be given the power to vote on the deployment of Australian troops overseas following the country's military exit from Afghanistan.
The Senate on Monday debated a bill put forward by the Greens that would require the government to seek approval from both houses of parliament before committing troops to war. 
At present, Australia's decisions to enter into armed conflict are made by the prime minister and cabinet.
The government and opposition have rejected calls for change to this approach.  
But Greens Senator Jordon Steele-John has warned parliament must be given the chance to scrutinise decisions to send Australian troops into military conflict. 
"This bill comes at a vital time as the Australian community looks on with sadness and with great frustration as a humanitarian crisis unfolds in Afghanistan," he told the Senate on Monday. 
"It is vital for us to immediately analyse how it came to this and take urgent steps to ensure we never again involved in a colonial war of aggression."  
The proposed bill would also require that the defence minister delivers regular intelligence updates around the legality and operational scope of deployments and when to end military missions overseas.  
Liberal Senator Eric Abetz criticised these aspects of the bill, expressing concern the public reporting could put troops from the Australian Defence Force in danger. 
"If one were to be an enemy of Australia, one would be salivating at the prospect of the Greens bill being passed," he told the Senate.
"Forewarned is forearmed – how could anything think that that is a smart, strategic idea."  
Labor Senator Kristina Keneally also said the bill risked bringing about too many "unforeseen and unintended consequences".  
"It is imperative that the executive have the power to act swiftly and decisively when deploying our troops," she told the Senate.
"The real world consequences of this bill would have meant while we were still here debating deploying troops the window to evacuate Australian citizens and visa holders would have shut." 
But independent Senator Rex Patrick said he strongly commended the aim of applying greater scrutiny ahead of military missions going ahead. 
"Engagement in military conflict overseas is a potentially momentous national decision," he told the Senate. 
"Such decisions should not be the exclusive reserve of the executive Government." 
The Greens' bill is modelled on a similar one introduced by the Australian Democrats in 1985, which also failed to gain the support of major parties.
Debate on the bill was interrupted to deal with other Senate business. 
Former diplomat and acting president of Australians for War Powers Reform Dr Alison Broinowski urged parliament to reconsider the way it approaches future wars.
"Thousands of people in Afghanistan are now facing imminent danger following the complete mismanagement of the withdrawal of troops, in a war that was never properly and transparently scrutinised in Australia," she said.
"We cannot continue to shut out the entire parliament when considering future wars." 
With reporting by AAP
Source link