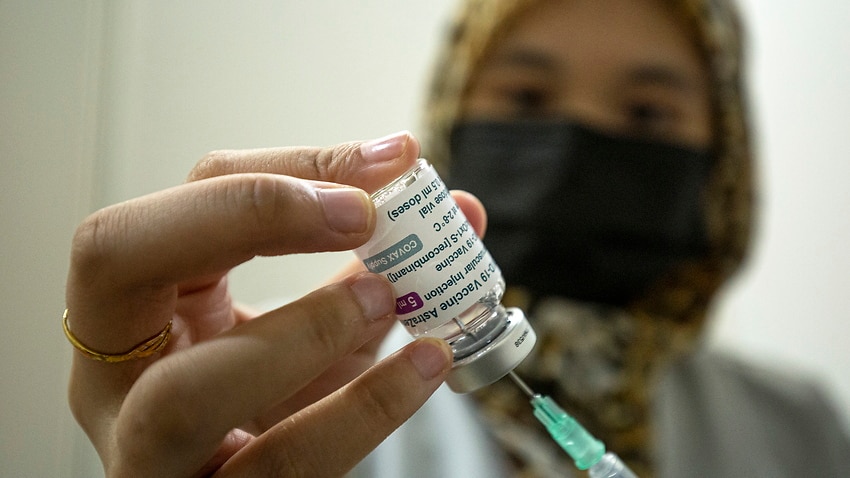 Australian regulators have uncovered six more cases of rare blood clots likely linked to the AstraZeneca vaccine, but say they are not unexpected as the rollout expands.
The Therapeutic Goods Administration (TGA) said four cases were confirmed and the other two were deemed probable.
The new cases include a 57-year-old woman from Victoria, a 53-year-old South Australian man and an 18-year-old woman in Queensland.
The teenager received the vaccine before health advice was changed to say Australians under-50 should get the Pfizer option.
An earlier case of a 79-year-old Victorian man has also been confirmed, while authorities are seeking more information on probable cases in two women aged 71 and 87.
The latest cases take the Australian total to 24 out of the 2.1 million doses of AstraZeneca administered in Australia.
"Overall, 21 of these cases are considered confirmed and three are considered probable," the TGA said on Thursday.
"Three of the four cases reported as probable in last week's report have since been confirmed as TTS (rare blood clots). The other case remains under investigation."
The 53-year-old South Australian man is in a serious condition in intensive care in Adelaide.
South Australia's Chief Public Health Officer Nicola Spurrier said the man had his first dose of the vaccine on 4 May and was admitted to hospital on 18 May with severe abdominal pain.
"It is a rare occurrence but because of the number of vaccines that we're giving across our whole community it was not unexpected for this to occur."
Professor Spurrier said given about 150,000 doses of the AstraZeneca vaccine had been administered in South Australia so far, the one confirmed blood clot case was within the expected range of about one in 100,000.
So far, regulators have found only 6.4 adverse reactions per 1000 doses delivered across the nation.
The most common problems following an AstraZeneca jab are headache, fever, muscle pain, fatigue and nausea.
In a statement on Thursday, the Australian Medical Association and the Council of Presidents of Medical Colleges (CPMC) said the benefits of vaccination far outweighed any risks.
"Vaccines, like other medicines, can have side effects and there have been a very small number of serious adverse events from COVID-19 vaccination that may understandably worry some people, CPMC chair Dr Kym Jenkins said in a statement.
"However, the community can be reassured by knowing these are extremely rare, and that the Therapeutic Goods Administration and Australian Technical Advisory Group on Immunisation have moved swiftly to address any safety concerns.
"Australia's frontline doctors, who know the risks of COVID-19, have come forward in large numbers to receive either the Oxford-Astra Zeneca or Pfizer-BioNTech COVID-19 vaccines."
Prime Minister Scott Morrison on Thursday also stood by the AstraZeneca vaccine, saying all those over the age of 50 should get the jab, which was authorised and approved by the TGA.
"My mum's had AstraZeneca, (wife) Jenny's had AstraZeneca, my mother-in-law's had AstraZeneca, (health minister) Greg Hunt's had AstraZeneca, and so have so many across the country," he said.
With SBS News.
Source link