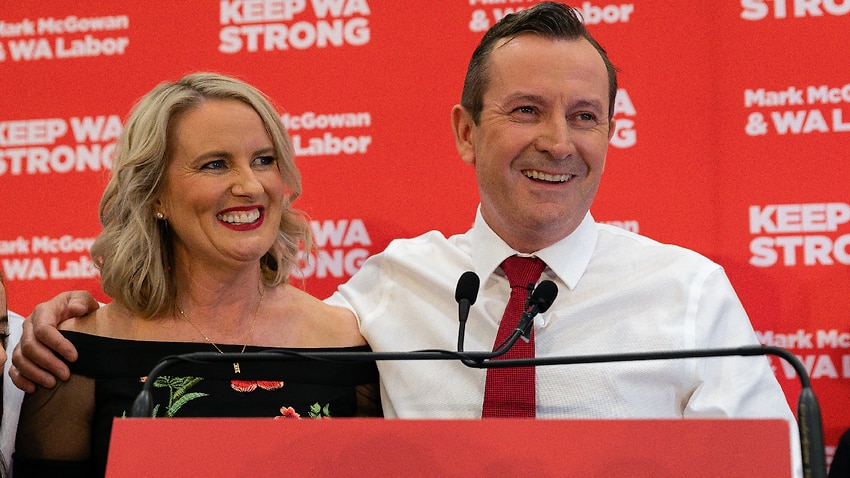 Mark McGowan has secured a second four-year term as premier. In his victory speech, he thanked voters for the "humbling" win. 
"I promise to work for everyone across Western Australia over these coming four years," he said. 
"You've put your trust in my government and I promise we won't let Western Australia down."
He said the result, coming after the year of the pandemic, shows that resilience will be rewarded.
"Today is an endorsement of perseverance, hard work, optimism and never giving in."
Mr McGowan said he would waste no time in getting back to work.
"Tomorrow, we get right back to work, continuing to build a Western Australia that is safe, fair and strong."
Opposition Leader Zak Kirkup officially conceded the election after losing his seat. 
"Obviously what has happened with respect to Dawsville is devastating and across the state," he said.
"It is a loss that will be difficult to bear. 
"It is a loss that all of us feel. But in so doing we must remember that 2021 is not an end but a beginning.
Mr Kirkup not only joined the likes of John Howard in the ranks of Liberal leaders to lose their seats at an election, but will likely see the opposition leadership transfer to the Nationals in WA.
Ironically, the 34-year-old's journey with the Liberal party started in the Midland Town Hall in 2004 when he saw Mr Howard and handed him a business card, which read: 'Zak Kirkup, future prime minister'.
"When I took up the leadership some 15 or 16 weeks ago, I did so knowing the risks," he told party faithful on Saturday night.
"I did so understanding what it may cost.
"We are now at a crossroads where we must rebuild."
With 25 per cent of the vote counted in his seat of Dawesville, first-term MP Mr Kirkup had attracted only 35 per cent of the two-party preferred vote to Labor's Lisa Munday on 65 per cent.
"He has been a fantastic power of strength and his resilience through this whole campaign has been really amazing," fellow Liberal David Honey told ABC radio.
Mr Kirkup told supporters he would not longer seek office for the Liberal party, as it was important to make way for a new generation.
"We must do all we can. The next four years will be the most difficult for the Liberal Party that we have ever experienced," he said.
"But we must not shy away from the task ahead of us because the people of Western Australia depend on it."
Liberal figures have called for reform as the party faces a wipeout, possibly holding as few as two seats – down from 13.
It also looks likely that the Nationals will become the official WA opposition, likely holding five seats.
Mr Honey would not say who would lead the Liberal party.
Former leader Mike Nahan said it would be a period of "cleansing" for the Liberals.
"It will be up to us to get our act into gear," he said.
"Unfortunately we (have) very few seats to work with."
A call by the Liberals to open WA borders while the state continued to deal with COVID-19 had done "immense" political damage, Dr Nahan added.
Retiring Liberal MP Dean Nalder said there were real concerns about the influence of conservative powerbrokers over the party.
"There seems to be this sense of anger (among voters)," he told Perth radio 6PR.
"Some people feel that we lost sight of our values as a Liberal party and we need to regain that."
Former Liberal MP Murray Cowper said the party would require a root-and-branch overhaul in the wake of the result.
"We have a house on fire – do we let it burn to the ground and rebuild from the ground up?," he told Seven News.
Dr Nahan said the party had failed to pull together as a team, potentially leaving it with nothing more than a "tennis team" in parliament.
Former premier Colin Barnett rejected suggestions the party had been doing well enough to win government before the pandemic struck.
"I doubt that was the case," he told ABC radio.
Source link