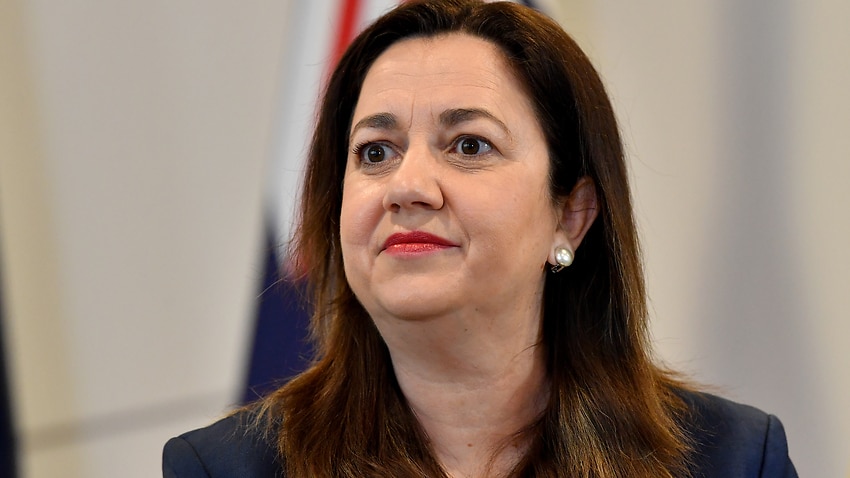 Queensland has recorded four new locally acquired COVID-19 cases, all of which are linked to existing infections, as it moves ahead with plans for a purpose-built quarantine hub.
One case reported on Sunday is a close contact of a worker at a Greek community centre in Brisbane, and another is their child.
The other two cases are the partner and a colleague of a 29-year-old man who tested positive after travelling to the Noosa area last week.
Premier Annastacia Palaszczuk says contact tracers have linked almost all active cases in the state.
"All of these are the Alpha strains, so another piece of good news is that we do not believe that the Delta variant is circulating in our community," the premier told reporters.
Most of the existing cases are related to a superspreader event at a Portuguese club, the Greek community centre or the Zeus Street Greek cafe at Westfield Chermside, Chief Health Officer Jeannette Young said
One of the cases, a man in his 60s linked to the Portuguese club, is now on a ventilator in hospital.
The only outstanding case is a DFO worker who tested positive two weeks ago, Dr Young said.
"I expect to see a few more (cases) still come through, which is why until we get it totally under control, we do need to continue to wear our masks, to check-in, that is so critical," she said.
The Queensland government has also provided Canberra with specifications for a new quarantine facility near Brisbane Airport.
The Commonwealth last month offered land currently occupied by the Damascus Barracks at Pinkenba for a hub, but the state has been pushing for an alternative site at Wellcamp Airport near Toowoomba.
Three days after convincing national cabinet to halve international arrivals due to leaks of the Delta variant of COVID-19 from hotel quarantine, Queensland is reconsidering the Pinkenba project.
The state wants a Brisbane facility to have 1000 rooms, initially able to host 800 people per fortnight and eventually rising to 1450.
Capital funding will come from the Commonwealth, and the state will provide the services once the facility is built.
Queensland will continue to also push for the 1000-bed Wellcamp facility, which together with arrangements at Pinkenba, would allow the state to double its intake of returned travellers.
Ms Palaszczuk said the Wellcamp facility could be "up and running" in two months, and building at both sites would eliminate the need to use quarantine hotels, which have been held responsible for cases entering the community.
Meanwhile Health Minister Yvette D'Ath urged people to be patient as Pfizer vaccine supplies are running low.
She said state clinics would be able to administer 10,000 doses of vaccine per day once supplies arrived.
""As long as the Commonwealth can guarantee that we'll be getting a lot more vaccines from October, we can start vaccinating a lot more people from October," Ms D'Ath said.
Three new cases were also reported in hotel quarantine.