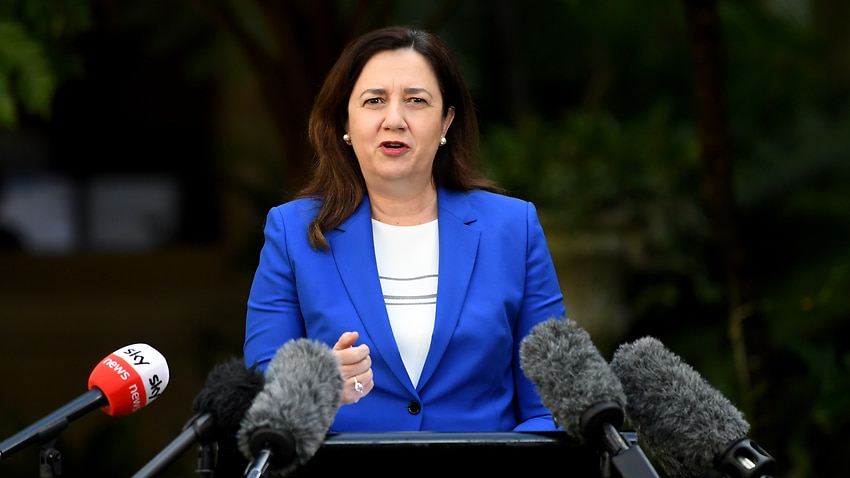 Queensland has no new cases of community transmission of COVID-19 but has identified a historical infection involving a nurse linked to one of two clusters.
Eight new cases have been identified, including seven in hotel quarantine and the historical case, which is believed to be the missing link in the recent spread of the disease.
The historical case has been identified as a nurse who contracted the virus from a man who arrived from Europe last month.
The traveller has now been labelled the superspreader who infected a doctor in Brisbane's north that sparked the latest Queensland outbreak.
Premier Annastacia Palaszczuk said the historical case is the missing link from the first cluster.
"That's fantastic news," the premier told reporters.
"Queenslanders, what a great effort – 35,357 tests in the past 24 hours. That is truly incredible. Great testing results."
Queensland's Chief Health Officer Jeannette Young said the nurse had been infectious from 10 to 23 March did not develop symptoms and had done nothing wrong.
"We managed to pick her up through being a contact of course, and we have done the testing and that's come back positive," Dr Young said.
"The nurse, again, through absolutely no fault of her own, has then gone home and transmitted to her partner, who is one of that group that we know who live in that north Brisbane area and a close social network.
"So then it spread within that network."
Dr Young said the cluster was under control.
Brisbane is celebrating the result after emerging from a three-day snap lockdown in time for the Easter break.
Several restrictions remain in place for the whole state during the next 14 days.
Queenslanders must wear a mask when indoors except when eating and drinking and must be seated in restaurants and pubs.
Gatherings in homes are capped at 30 people and visits to hospitals, aged care and disability facilities and prisons are not allowed apart from end-of-life situations.
The good news in Queensland allowed Acting Chief Medical Officer Michael Kidd to lift the Greater Brisbane national hotspot declaration.
As of 6pm on Thursday, the Victorian government shifted the Greater Brisbane area from from a red zone to an orange zone under its travel permit system.
This meant those in Victoria observing red zone permit conditions and quarantining for 14 days were designated orange zone arrivals and could end their isolation if they have returned a negative test result since arriving in Victoria.
However, it excluded primary close contacts linked to NSW and Queensland exposure sites, who must continue their self-isolation for 14 days since their exposure.
The ACT government has also reopened the national capital to people from Greater Brisbane without the need to fill out a declaration or exemption form.
People quarantining in the ACT were being advised directly by ACT Health about what to do next.
Tasmania is maintaining its travel restrictions with Greater Brisbane and will reassess over the weekend.
People arriving in the Northern Territory from a Queensland hotspot will no longer have to undertake supervised quarantine, and anyone in mandatory quarantine from a Queensland hotspot will be able to exit.
Western Australia has closed its border to all of Queensland until the eastern state goes 28 days without new cases of local transmission.
Deputy Prime Minister Michael McCormack urged Australians to do their patriotic duty and see the country.
More than 100,000 cheap tickets have already been booked on the first day of a federal scheme covering 15 locations over the next three months.
NSW Premier Gladys Berejiklian urged people to stay in their local area over the Easter period if they're in Ballina, Byron, Lismore and Tweed, but did not make it mandatory.
Meanwhile, the federal government insists the vaccine rollout is making progress, heading towards the one million mark in coming days.
Source link