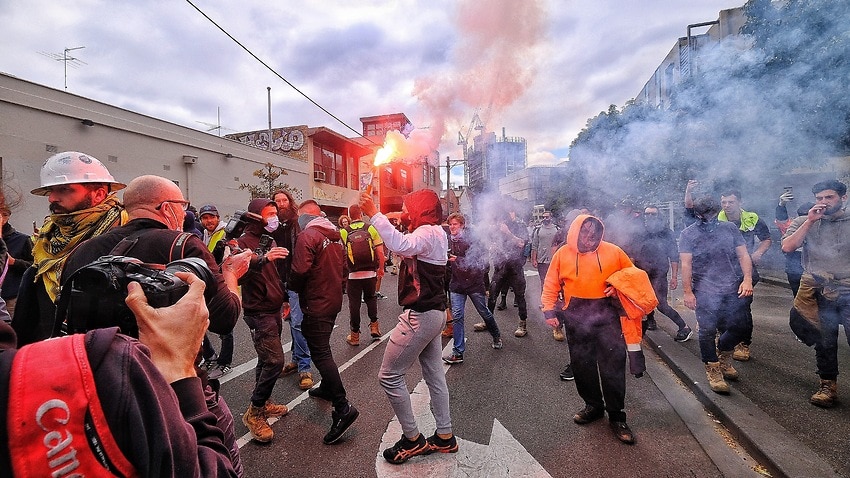 Police have permission to use crowd control force against anyone trying to repeat what Police Minister Lisa Neville called "cat and mouse" games seen in Melbourne on Tuesday.
Demonstrators, mostly men dressed in hi-vis workwear, have taken to the streets in the last two days voicing their distrust in the COVID-19 vaccine and anger at the state government.
While some attendees have been there to protest mandatory vaccinations for the construction industry, authorities say the demonstrators are not all union members or construction workers.
"We have seen groups that contain people from the construction industry but they contain a range of other people – people are being encouraged to put on high-vis gear, to put on workwear, to come in under the cover of a crowd," Victoria Police Chief Commissioner Shane Patton said on Wednesday morning.
CFMEU Victorian construction secretary John Setka has previously blamed "neo-Nazis and right-wing extremists" for hijacking the events.
A violent mob of thousands brought Melbourne and the West Gate Bridge to a standstill on Tuesday, and at one stage police fired rubber bullets and smoke rounds to keep them under control.
Victoria Police arrested 62 protesters, some for assaulting police, but most for breaching public health orders.
"I implore you to stay home," Mr Patton said in a press conference on Tuesday night. "Our tactics tomorrow will be different."
Daniel Andrews condemns demonstrations as Melbourne braces for more protests
---
Fronting another press confeence on Wednesday, he added: "I'm not going to talk about the tactics we'll deploy today but I'd be very surprised if you see any cat and mouse games today."
Minister Neville called for the "thugs" to stay away from the city.
"If you're thinking about coming into the city today to cause violence and harm, just know that Victoria Police will deploy whatever tactics they need to in order to ensure that you are held accountable," she said.
Victorian Police Chief Commissioner Shane Patton Source: AAP
---
'There for a fight'
Premier Daniel Andrews has launched a strident defence of construction workers, saying the people who have been turning up to "riot" were "there for a fight". 
"I have met hundreds and thousands of builders, hundreds and thousands of tradies who build this state … they're fine people, hardworking people. What we saw yesterday is an insult, an insult, to the vast, vast majority of tradies or people in the building industry who are not about wrecking, they're about building," he said on Wednesday morning.
"They did not reflect and should not be seen to reflect an entire industry. That would be unfair. That would be wrong."
The state government has shut down the construction industry for two weeks in metropolitan Melbourne, City of Ballarat, City of Greater Geelong, Surf Coast Shire and Mitchell Shire.
Mr Andrews said he was "gutted" to shut the industry for two weeks, but the move was forced due to the high number of COVID-19 cases in the sector.
"There are more coronavirus cases in construction than there are in aged care, more cases of coronavirus in the construction sector than there are patients with coronavirus in hospital across the whole hospital system," he said.
Victorian Premier Daniel Andrews looks on during a press conference in Melbourne. Source: AAP
---
Mr Andrews said nearly 90,000 people were vaccinated on Tuesday.
"The real demonstration yesterday was the demonstration of a state going and getting vaccinated," he said.
"Vaccination is our pathway out of this."
The ambulance union on Tuesday evening pleaded with protesters to think of others.
"The fight against COVID-19 is not in the street. For our health workers the fight is very real, very exhausting, very painful and very dangerous," the union said in a statement.
"You are thinking of yourself only. There has never been a more important time to match the selflessness of health workers, with your own."
Victoria on Tuesday reported 603 new COVID-19 cases – its highest daily tally in the current outbreak and since August 2020 – and one death.
With AAP.
Source link