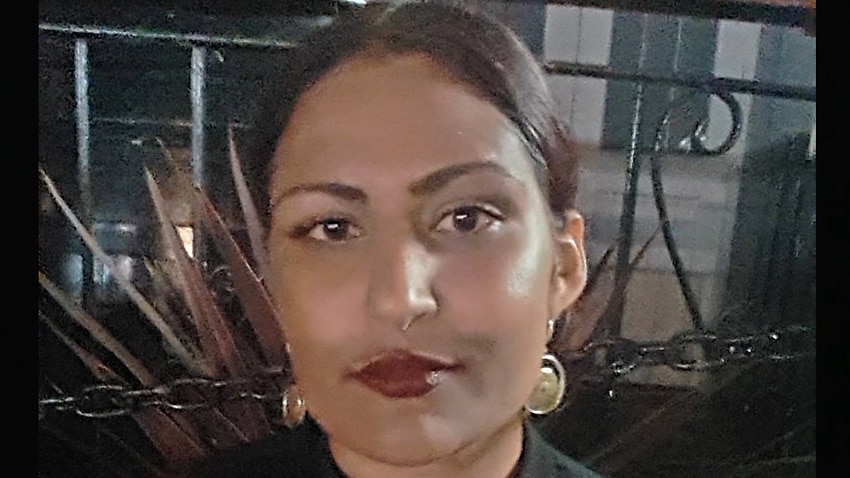 Police were responding after reports she had self-harmed and was experiencing a severe mental health episode.
WA Police Force Sergeant Jace Williams told the inquest in Perth on Thursday that after walking calmly with officers off the road, Ms Wynne became combative and tried to break free.
"She was very warm, very sweaty. I said to the other officers: 'we need to put handcuffs on her to control her'," he said.
Sergeant Williams, who weighed 115 kilograms at the time and was the most senior officer present, said he pushed Ms Wynne onto her stomach and placed his knee on her upper back, across both shoulderblades.
He said he did this to prevent Ms Wynne escaping and to allow officers to handcuff her arms behind her back whilst she lay face down.
Once the handcuffs were on, Sergeant Williams said he noticed Ms Wynne was holding a cannula needle in her right hand, which he believed was a syringe. Ms Wynne had retained the cannula from the ambulance.
Sergeant Williams told police investigators in 2019 that he applied a "pressure point" technique to force her to release it.
Photos of Ms Wynne, including one with her children Source: SBS News/Aaron Fernandes
---
On Thursday, he said Ms Wynne continued to "wriggle" and resist for the entire time that she was held face down on her stomach with his lower leg across her back.
"She was handcuffed but she was still moving … her torso, her hips, she was wriggling around," he told the inquest.
But when police lifted Ms Wynne off the ground, her head slumped into her chest and there were no longer any signs of life.
"I lifted her head up, then I knew instantly that something was wrong. Her eyes were rolled back, lips were blue, foam around the corners of her mouth," Sergeant Williams said.
Paramedics in attendance checked Ms Wynne for a pulse, but couldn't find one. They performed CPR for approximately ten minutes before signs of life returned.
An emergency physician told the inquest on Thursday Ms Wynne suffered a cardiac arrest while under the effects of methyl-amphetamine while being restrained.
"People who exert themselves to extremes, even in the absence of restraint, and are under the influence of methyl-amphetamine, may simply fall dead," Professor David Joyce told the court.
Professor Joyce could not exclude either the position of Ms Wynne or the force used to restrain her as contributing factors in her death.
"There are greater risks associated with some positions of restraint," he said.
"One might expect that those positions would also confer the greatest risk to someone who is methyl-amphetamine-exposed."
Professor Joyce described the levels of methyl-amphetamine found in Ms Wynne's system as low. He could not say at what point during her restraint by police that she went into cardiac arrest.
Sergeant Williams said he placed Ms Wynne face down and made the decision to put her in handcuffs in accordance with WA Police training, and he did not believe his actions contributed to her death.
He said he would not act differently today if presented with the same circumstances.
"Everything I did, I did to try and assist Ms Wynne and try to help her," he said.
Sergeant Williams said he was unable to monitor Ms Wynne's breathing to check for abnormalities while she was held down because he was busy doing "other things", including putting her in handcuffs and removing the cannula.
The inquest concludes on Friday.
Readers seeking support can contact Lifeline crisis support on 13 11 14, visit lifeline.org.au or find an Aboriginal Medical Service here. Resources for young Aboriginal and Torres Strait Islanders can be found at Headspace: Yarn Safe.
Source link