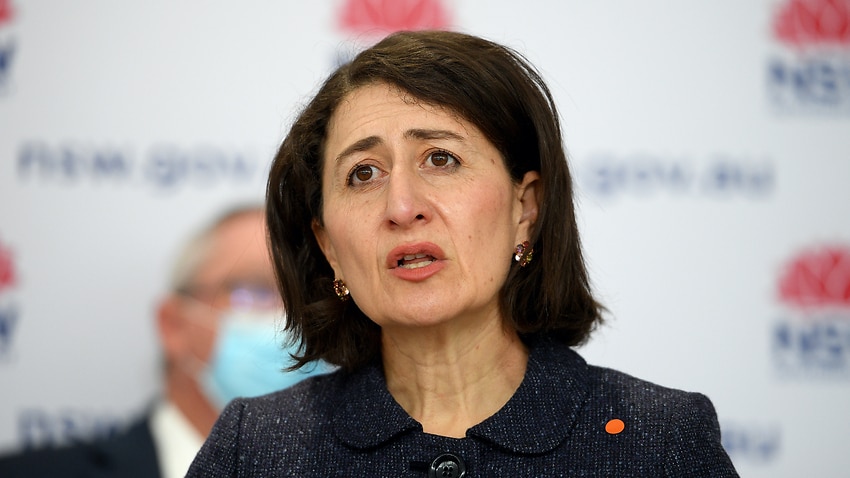 A 52-year-old COVID positive Sydney man who travelled to Byron Bay sparking a lockdown in the region will be charged in his hospital bed with breaching public health orders.
Zoran Radovanovic from Rose Bay in Sydney's east, will be served with a court attendance notice at Lismore Base Hospital on Wednesday, where he is being treated for COVID-19.
Police allege he travelled with his two children to the beach town on the NSW north coast from Sydney last month without a reasonable excuse and in violation of public health orders.
The man and his children were circulating in the area for days before testing positive for COVID-19. The cases plunged Byron Bay and surrounding areas into a seven-day lockdown on Monday with various exposure sites listed by NSW Health.
Radovanovic has been granted strict conditional bail and will appear in Lismore Court on 13 September.
It comes as NSW recorded 344 new locally acquired COVID-19 cases and two deaths, including a man in his 30s.
The northern Sydney man died at Northern Beaches hospital, while another man in his 90s from south west Sydney died at Concord Hospital overnight.
Neither were vaccinated, and Chief Health Officer Dr Kerry Chant said the younger man had "significant underlying health conditions".
Of the new cases reported on Wednesday, at least 65 were in the community for all or most of their infectious period.
NSW Premier Gladys Berejiklian said cases were starting to decline in the Fairfield and Canterbury-Bankstown local government areas (LGAs), but the adjoining suburbs and LGAs of Bayside, Burwood and the inner west were seeing an increase.
"In Canterbury-Bankstown, the cases are still the highest of any local government area, but we're starting to see a trend … and we know the intensified efforts we're doing in those areas are starting to bear fruit," Ms Berejiklian said.
She urged residents in the Bayside, Burwood and inner west areas to be on high alert, warning that they may be added to the list of "areas of concern" with increased restrictions if numbers didn't stabilise or decline.
There were 374 NSW COVID-19 cases in hospital on Wednesday morning, with 62 in intensive care and 29 needing ventilation.
Dr Chant said the ICU cases had "quite a young profile", with three in their 20s, seven in their 30s, six in their 40s, 14 in their 50s, 13 in their 60s, 16 in their 70s and three in their 80s.
Dubbo LGA goes into snap lockdown
Meanwhile, the Dubbo LGA has joined lockdown, as the Delta variant of the virus continues to spread from Greater Sydney.
The region has gone into a one-week lockdown until the beginning of Thursday, 19 August after two COVID-19 cases were recorded in the area.
The new restrictions apply to anyone who lives in the Dubbo LGA or has been there before or after 1 August.
Millions of people in Sydney and surrounds are now living under stay-at-home orders, with the Hunter, Byron Bay, Armidale and Tamworth areas also enduring snap lockdowns.
The premier said the Armidale and Tamworth areas had no extra cases as of Wednesday morning.
However, the Hunter New England Local Health District recorded 14 new cases, with 11 of them linked to previously reported cases and the source of three still under investigation.
Seven were in the Newcastle area, while six were in Lake Macquarie and one was in the Maitland area.
"So, Hunter does not look like it will come of lockdown later this week, however I'll await the health advice," Ms Berejiklian said.
There were also two new cases reported in the Central Coast local health district and one in the Shellharbour area.
Premier again urges vaccination
NSW Health administered 30,510 COVID-19 vaccines in the 24 hours to 8pm Tuesday, meaning the state has now administered more than 4,532,200 doses so far.
The premier has repeatedly referred to a target of six million jabs by the end of August.
"If we achieve that, there will be opportunities for us in some parts of the community, where case numbers are low and vaccination rates are high, to allow people to do more than what they do today," she said on Wednesday.
Ms Berejiklian said that if NSW maintained its current pace, it could see 70 per cent of the population fully-vaccinated around the end of October, and 80 per cent towards the middle of November.
She said the government was working to provide more walk-in vaccination opportunities and pop-up clinics to increase access to the jab.
SBS is providing live translations of daily NSW COVID-19 press conferences in Arabic, Assyrian, Cantonese, Khmer, Mandarin and Vietnamese. You can stream those live translations at SBS Arabic24, SBS Assyrian, SBS Cantonese, SBS Chinese, SBS Khmer, and SBS Vietnamese Facebook pages.
With AAP.