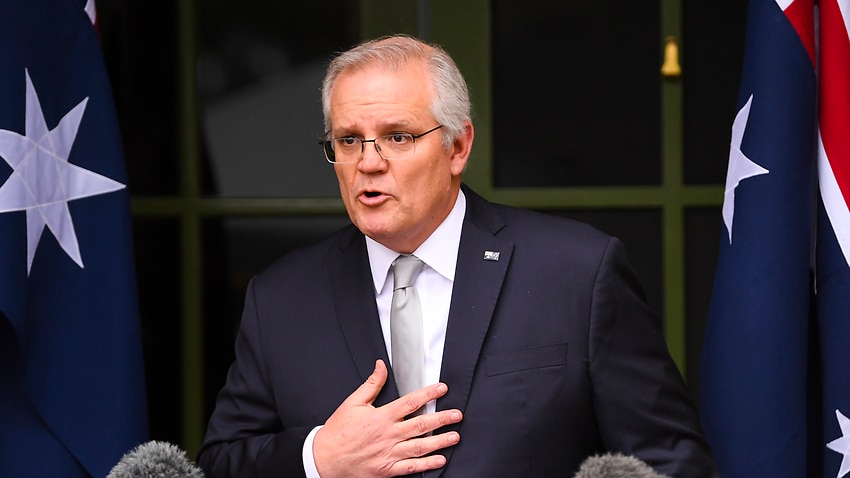 Australians will move to the next phase of dealing with the pandemic – potentially out of lockdowns and internal border restrictions – when 70 per cent of the eligible national population as well as each state and territory is fully vaccinated.
Prime Minister Scott Morrison confirmed the 70 per cent target after a marathon national cabinet meeting on Friday.
Australia is currently in Phase A, where lockdowns and quarantine are still required to deal with outbreaks 
"We will get to the next phase when Australia reaches 70 per cent of the eligible population who are double dose vaccinated," Mr Morrison said on Friday.
"We will get to Phase C when we hit 80 per cent."
"Australia will get this done by working together. The targets are there for us all to achieve and for us all to work towards."
"Special rules" for the vaccinated
Mr Morrison said lockdowns in phase B were less likely but still possible, and international border caps will remain, but inbound passenger caps, which were recently halved, will be restored back to around 6000 a week.
There would be a larger cap for vaccinated returning travellers coming to Australia in phase B.
The prime minister said there would be "special rules" for those who got vaccinated, where restrictions will be eased. The details of that are still to be worked through, he said.
"Because if you're vaccinated, you present less of a public health risk. You are less likely to get the virus. You are less likely to transmit it," Mr Morrison added.
Targeted lockdowns in Phase C
In phase C, Mr Morrison said lockdowns would only be "highly-targeted" and would not be imposed metropolitan-wide.
"Where there are vulnerable communities – they may be in remote communities, they may be in particular communities within a city, where there may be cultural elements that may be involved in this," he said.
"It may be a particularly vulnerable population then you need to leave yourself and the states and territories for public health reasons, they will need to leave themselves that option."
In phase C, there will be no cap on the number of fully vaccinated Australians returning to the country.
Caps will also be raised for students, economic and refugee visa holders.
Australians who've been fully vaccinated will be able to travel overseas in this phase, and there could be unrestricted travel to new countries that Australia launches a "travel bubble" with.
The final phase involves opening up international borders, and only high-risk inbound travellers will be required to quarantine.
"Once we get above the 80 per cent, the scientific evidence shows that we're largely then in a place where COVID can be managed consistent with other infectious diseases and of course, we don't apply those types of restrictions to the flu or many other things like that," Mr Morrison said.
In a reference to the UK, Mr Morrison Australia's plan was not about "freedom days".
"We've always been in Australia taking our own path to this."
The targets were there for every Australia to work towards, he said.
"So if you get vaccinated, you are taking Australia a step closer to where we all want to be.
"So I encourage Australians to take that step to be vaccinated immediately."
Source link