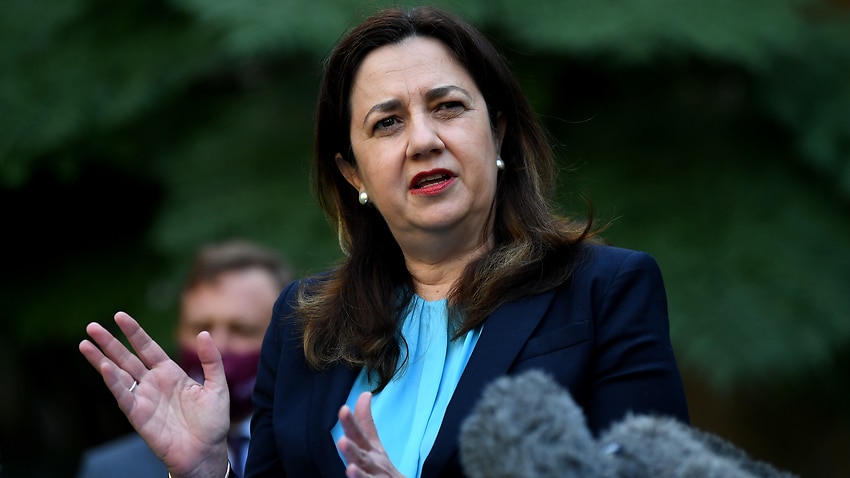 Other children, staff and visitors who were at The Boulevard Early Learning Centre on those days must be tested and then isolate for 14 days.
The positive case will also force some children who attend after school care at the centre into quarantine.
It comes amid concerns about two infected truck drivers and a family accused of making an illegal trip to Victoria and back. 
Earlier on Friday, Premier Annastacia Palaszczuk had good news for people waiting to get into Queensland after the state paused arrivals because the hotel quarantine system was overloaded.
From Monday, the state will have 680 rooms available, she told reporters. 
Those rooms are on top of 50 rooms that have already been opened up from Saturday. The people who will fill those rooms are being contacted.
"We did have that pressure cooker situation. Having that week of respite has been really good," Ms Palaszczuk said.
The Gold Coast family accused of making the illegal trip to Victoria is now co-operating with authorities after initially refusing to be tested.
They will have to serve 14 days in quarantine despite returning negative tests, which have allowed a school attended by children in the family to reopen from Monday.
Queensland chief health officer Dr Jeannette Young. Source: AAP
---
The premier also apologised over the recent influx of NRL players' families into Queensland. She conceded Queenslanders were angered by the arrival of about 100 partners and children of NRL players, along with some league officials, when there was a ban on interstate arrivals.
"I apologise, it was not the right thing to do when we had the pause," she said. "It shouldn't have happened. Unfortunately, it did happen, and I extend my apologies to the public about that."
But there was frustration during Friday's news conference when Dr Young was asked what level of COVID-19 deaths she would be comfortable with.
The question was asked in the context of Doherty Institute modelling the federal government is relying on to open up the country. It details the deaths that can be expected under different pandemic scenarios.
"Come on, can you please remember who I am?" Dr Young replied.
"I'm not comfortable with any deaths that are preventable, so that's why I want every single Queenslander to be vaccinated, because that is the best protection."
She said none of the public health decisions she was making had anything to do with politics.
"I'm not making political decisions. I am making … No, sorry, you've got me quite upset now."
Premier denies alarmism over kids
Ms Palaszczuk on Friday also denied "scaremongering" about reopening the country and says national cabinet is awaiting modelling on hospital capacity and children.
The premier read from articles from US publications about child hospitalisation rates in state parliament on Thursday as she warned about the impacts of opening to COVID-19 when 80 per cent vaccination coverage was reached.
Ms Palaszczuk says the Doherty Institute modelling shows testing, tracing, isolation and quarantine measures as well as potential lockdowns will still be needed to contain the virus going forward.
She says she wants national cabinet to have an "educated and responsible conversation" about the topic.
"Not at all, not at all, you know I think this is about protecting Queenslanders, and having a conversation about what will we need to do," Ms Palaszczuk said.
"And you know, there's measures that other countries are putting in place. For example, if the Delta variant is going rampant through a particular region or a city, the children in primary school wearing masks as a precaution. So what do we need to do."
Deputy Premier Steven Miles said the federal government was trying to simplify the conversation to being about those who wanted to open the country at 80 per cent and those that never want it to open.
Queensland's vaccination coverage, which is currently 51.6 per cent for one dose and 32.9 per cent fully vaccinated, is the second-lowest in the country.
Source link