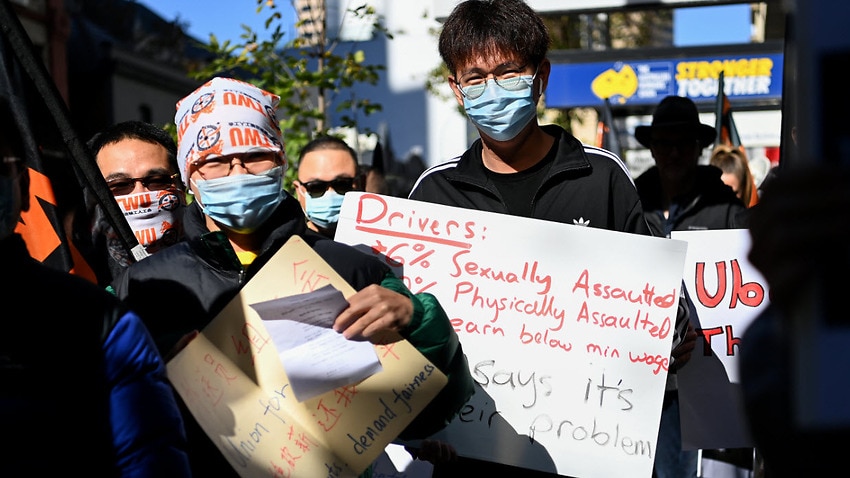 Food delivery platforms will need to provide workers in NSW with protective equipment and induction training under new proposed safety laws hailed by the state government as the toughest anywhere in Australia.
It comes after a spate of worker deaths last year over a short period, including four in Sydney, put renewed scrutiny on the industry and its working conditions.
The proposed laws, announced on Saturday by the NSW government, will also see workers issued with identification numbers and penalised for "repeated unsafe practices".
However, the laws have been slammed by the Transport Workers' Union, saying the "targeting and punishment of exploited riders" will add to the "deadly pressures" they face on the job.
A recent education and safety blitz found widespread non-compliance with road and workplace safety laws, NSW Minister for Better Regulation Kevin Anderson said, with almost nine in 10 riders not wearing high-vis clothing.
Some 40 per cent were also observed riding "in an unsafe manner", Mr Anderson said.
"Enough is enough," he said in a statement on Saturday.
"Following the tragic deaths of four riders late last year we immediately increased education and compliance to try to lift safety standards but we can no longer stand by while riders continue placing themselves and others at risk."
The reforms were recommended in the final report of the NSW government taskforce set up following the deaths in Sydney last year.
The state government says food delivery platforms have already committed to 50 actions to improve their riders' health and safety as part of the taskforce's work.
Consultation on the new regulations is set to start in September, the government says, and it expects to finalise them by November.
Advocates for food delivery workers have long called for the gig economy to be better regulated. 
Delivery riders have previously told SBS News they have been earning as little as $10 per hour and placed under extreme pressure to deliver food faster, and have accused platforms of bullying and being more focused on profits than worker's rights.
TWU National Secretary Michael Kaine said on Saturday the proposed NSW laws unfairly target riders "over the symptoms of an exploitative industry they cannot control" and they could further endanger the lives of its workers.
"These new laws are not about protecting the most exploited workers in our society. This is a shield for Silicon Valley behemoths and their sham business models which are literally killing riders on our roads," he said in a statement.
Mr Kaine said it was "disappointing" to see the NSW government "blaming" the deaths of the four riders in Sydney on the workforce, rather than the delivery platforms.
"Riders can lose their below minimum wage job in an instant if they cannot meet the unrealistic deadlines set by apps and algorithms – an issue the NSW Government has refused to listen to or address."
Advocates for migrant workers recently told a federal Senate inquiry into the gig economy businesses offering sham contracts are leaving migrant staff "fighting for crumbs" at the bottom of the employment chain. 
They also recommended the federal government provide information to migrant workers about gig economy workplace rights in their language.
Source link