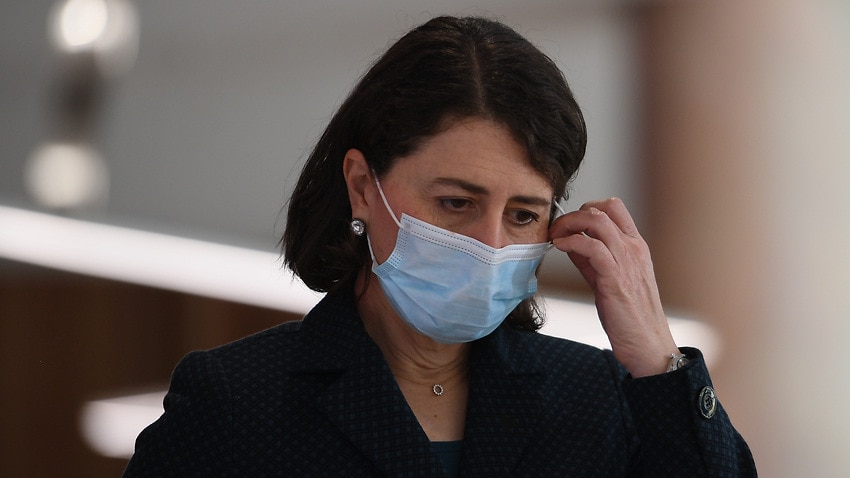 The majority of new cases continue to arise in western and southwestern Sydney. Of the new cases reported in the 24 hours to 8pm Thursday, 508 were from the South Western Sydney Local Health District and 424 were from the Western Sydney LHD.
There are now 979 COVID-19 patients in NSW in hospital – including 160 in intensive care and 63 on ventilators – but Ms Berejiklian said authorities were anticipating cases would rise in the next fortnight.
"The next fortnight is likely to be our worst in terms of the number of cases," she told reporters on Friday.
"But as I have said it is not the number of cases we need to be focusing on but how many of those cases and up are in our intensive care wards and hospitals and how many people we have vaccinated."
A person is seen in Fairfield in southwestern Sydney Source: AAP
---
In the regions, meanwhile, there were 60 new infections reported in the west and far west of NSW, including a record 11 in Bourke.
Seven new cases were recorded in the remote town of Wilcannia, which has a large Indigenous population, while infections are also rising in the Hunter New England LHD (11 new cases) and the Illawarra Shoalhaven LHD (13).
Thirteen new infections were reported in correctional settings, while 12 had not been assigned to an LHD as of Friday morning.
The Parklea prison outbreak now stands at 96 cases.
NSW reached a milestone of 70 per cent single-dose vaccination coverage in people aged 16 and over on Thursday. More than seven million jabs have been administered in NSW.
It all but guarantees NSW will soon enough reach double-dose vaccination for 70 per cent of the population, triggering the wider easing of restrictions.
NSW has now logged more than seven million COVID-19 jabs. Source: SOUTH WESTERN SYDNEY LHD
---
NSW Health said it administered 44,248 COVID-19 vaccines in the 24 hours to 8pm Thursday.
Earlier on Friday, residents of Sydney's coronavirus hotspots became allowed to exercise as much as they like within their curfew.
It's also been announced five schools in Sydney's west and inner west – Glebe Public School, Pitt Town Public School, Cambridge Park Public High School, Merrylands Public School and Hamden Park Public School – have been closed after members of the school communities tested positive to COVID-19.
A social housing unit block in Camperdown in Sydney's inner west and another building in Wollongong have also been locked down after some of the residents tested positive.
Meanwhile, seven men have been fined more than $30,000 for breaching public health orders by leaving Sydney and canvassing for work in the Lake Macquarie area.
NSW Police say they spoke with one of the arborists on Thursday after receiving tip-offs to Crime Stoppers about the group.
With AAP.
SBS is providing live translations of daily New South Wales and Victoria COVID-19 press conferences in various languages. Click here for more information.
Source link