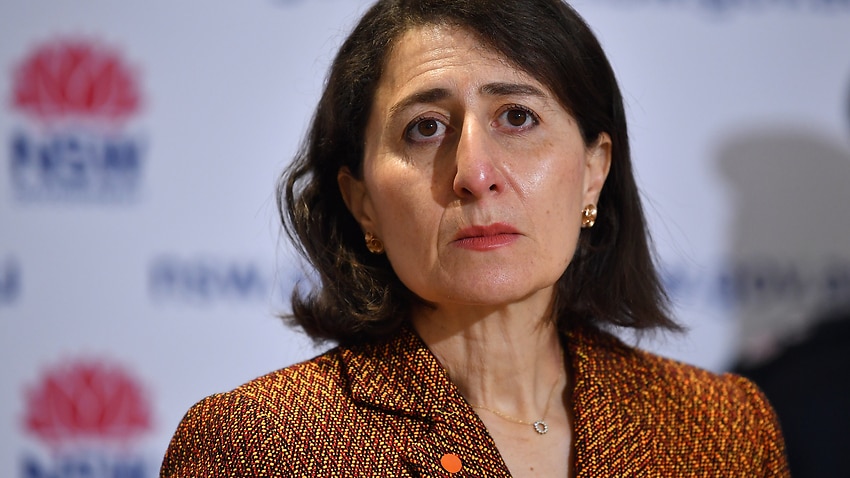 New South Wales has shattered another coronavirus case record, reporting 919 new infections in the 24 hours to 8pm last night.
One new death, a man in his 80s from Sydney's north, has also been recorded in addition to a 30-year-old western Sydney mother of three whose death was announced yesterday.
Of the new cases, only 178 are linked to current outbreaks and 106 were quarantined while infectious.
Three hundred and eighty seven are from the Western Sydney local health district and 247 are from the South Western Sydney district.
Forty nine new cases have been identified in the state's far west: 35 in Dubbo, seven in Bourke, one in Narromine, five in Orange, one in Walgett, six in Wilcannia and one in Broken Hill.
NSW Premier Gladys Berejiklian conceded the consistently high case numbers would be alarming for some people, but said "the most important figure moving forward is the rate of vaccination".
"I don't want to take away from the situation NSW is in … don't get me wrong, every day we want to see case numbers go down," Ms Berejiklian told reporters.
"They will bounce around a little: could go up, could go down. We need people to focus on what you need to do to keep yourself and your family safe and what all of us can do to reduce spread."
About 60 per cent of NSW residents aged 16 or older have had at least one shot, with 32 per cent fully vaccinated.
Overall, there were 149,252 COVID-19 tests reported in the 24 hours to 8pm last night. More than 45,000 COVID-19 vaccines were administered over the same time period.
The man in his 80s who died acquired his infection at the Greenwood Aged Care in Normanhurst. His is the third death linked to an outbreak at the facility, NSW Health said.
The mother of three that died, who a post on social media identified as Ianeta Baker Isaako, passed away at her home in Emerton. She is the youngest victim so far of the most recent outbreak.
The Penrith RSL Junior Rugby Union Club posted a tribute to Ms Isaako on its Facebook page. Her husband has also contracted COVID-19.
"Our hearts are breaking and our thoughts are with your beautiful children, loving husband and wider family. May you rest in perpetual light and love. We also ask that everyone keeps husband Sako Isaako in our thoughts and prayers as he is currently fighting illness in hospital," the club said.
A "yellow emergency" was declared at Westmead Hospital on Tuesday due to an overwhelming number of COVID-19 patients.
The hospital has reduced ambulance arrivals for COVID-19 patients for 24 hours and will transfer several critical patients to other Sydney metropolitan hospitals. An urgent critical care review is underway.
NSW Health data shows almost 4,000 COVID-19 cases have been diagnosed in the past four weeks in the Western Sydney local health district.
Greens MP Cate Faehrmann says the public health system "is shockingly unprepared to cope with the current outbreak, putting the health and safety of doctors, nurses and patients at risk".
NSW Health says it currently manages about 500 intensive care beds but has a surge capacity of about 2,000 if required.
Ms Berejiklian said she will announce "at least one" freedom for fully vaccinated residents under COVID-19 lockdown by the end of the week.
But the Australian Medical Association is urging the premier to stay the course on lockdowns while the health system struggles to cope.
NSW President Danielle McMullen says health must come first and "we cannot ease restrictions while our health system is struggling".
Some 645 people in NSW are in hospital with coronavirus, including 113 in intensive care.
Additional reporting: AAP
SBS is providing live translations of daily New South Wales and Victoria COVID-19 press conferences in various languages. Click here for more information.