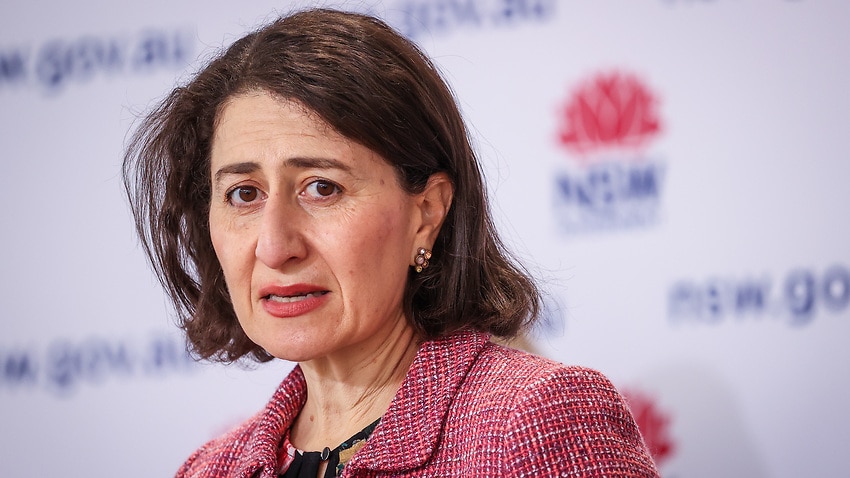 New South Wales has posted 478 new locally acquired COVID-19 cases and eight new deaths. It is the highest daily number of cases in the state since the start of the pandemic. 
NSW Premier Gladys Berejiklian said the case numbers were "disturbingly high".
"We can't stress enough how hard all of us have to work to reduce these numbers, to reduce the growth of the spread, and to make sure we're all staying home," she told reporters on Monday morning.
"It is important for us all to protect our loved ones and ourselves by getting vaccinated."
The deaths reported on Monday included a man in his 40s, a man and a woman in their 70s, and three men and a woman in their 80s.
The eighth person was a 15-year-old boy from south-west Sydney died at Sydney Children's Hospital.
NSW Chief Health Officer Dr Kerry Chant said COVID-19 was not the cause of his death.
"I can confirm that he died from pneumococcal meningitis and he was a COVID-positive case," Dr Chant said.
"He had been vaccinated against pneumococcal disease as a child." 
Only two of the eight people who died had their first dose of a coronavirus vaccine.
The number of COVID-related deaths to since 16 June now stands at 56, with the number of lives lost in NSW since the beginning of the pandemic at 112.
There are currently 391 COVID-19 cases admitted to hospital, with 66 people in intensive care, 28 of whom require ventilation.
Of Monday's 478 new cases, as many as 381 were active in the community while infectious.
'Unprecedented' police operation kicks off
The record case rise comes as NSW begins a heightened police operation in a bid to lift compliance with the stay at home order.
"We will see the numbers come down when people stay home and when people don't move about unless they absolutely have to," Ms Berejiklian said.
"Unfortunately, it only takes a handful of people to do the wrong thing and every day, through Crime Stoppers or direct involvement, the NSW police force has dozens of examples of people who are flagrantly just disobeying the rules."
From Monday, the 10-kilometre-from-home rule for people in Greater Sydney and other locked-down areas will be reduced to 5km.
It means people will only be able to shop, exercise, or engage in recreational activities in their LGA or within 5km of home.
People in Greater Sydney will need a permit to travel to regional NSW and single people will need to register their "singles buddies". 
Harsher penalties for those caught flouting the rules also came into effect at midnight on Monday morning. 
They include on the spot fines of $5,000 for breaching isolation rules and lying on a permit or to a contact tracer, and $3,000 fines for breaching the two-person outdoor exercise rule or rules around entry into regional NSW.
Around 1,800 members of the Australian Defence Force will help 18,000 officers enforcing health orders across the state, with a focus on LGAs of concern.
A test and isolate payment of $320 will also start this week for workers 17 and over who have symptoms of COVID-19 and live in government areas of concern.
Virus spread into regional NSW
Concern over the virus spreading further into regional NSW is growing, with fragments of the virus detected in the Bourke, Lennox Head, Parkes and Wallacia sewage treatment plants in recent days. 
With no known cases of coronavirus in these areas, authorities are urging everyone to monitor for symptoms and get tested immediately should they appear.
Of the 478 new cases on Monday, 35 are from western NSW.
The premier said she was "very concerned" about communities in far western NSW, in particular those in the Dubbo and Walgett regions. 
"We ask everybody to stay home and not to move around. I especially wanted to acknowledge and thank the staff working with our Aboriginal communities on the ground to protect those communities," she said.
Dr Chant said she was worried about the impact COVID-19 was having on Indigenous communities in Dubbo, given "Aboriginal vaccination levels are not as high as I would like to see them".
Of Monday's overall cases, there were 183 cases from western Sydney, 144 from south-western Sydney, 43 from Sydney LHD, 25 from south-eastern Sydney, 18 from Nepean Blue Mountains, 16 from Hunter New England, four from Northern Sydney, two from the Central Coast, two from Illawarra Shoalhaven and six cases are yet to be assigned.
The particular Sydney suburbs of concern, which were continuing to see escalating cases, were Marylands, Guildford, Granville, Blacktown, Mount Druitt, Yagoona, Greenacre and Bankstown, the premier said.
"These are the suburbs where the growth is continuing and we need people in those communities to just stay home."
There were more than 157,000 tests carried out on Sunday. 
More jabs for NSW COVID-19 hotspot workers
Meanwhile 100,000 healthcare and construction workers from Sydney's COVID hotspots will be given COVID-19 vaccinations this week.
Authorised workers from health, aged and disability care, construction, food production and school staff from the 12 Sydney local government areas of concern are being sent to the front of the vaccination queue.
The LGAs areas include: Parramatta, Liverpool, Campbelltown, and Penrith among others, while a unique link will be given to those required to bring photo identification and proof of their place of work.
It follows 10,000 workers in construction industries and university students who received either AstraZeneca or Pfizer doses at major vaccination centres on what was dubbed 'Super Sunday'.
Source link