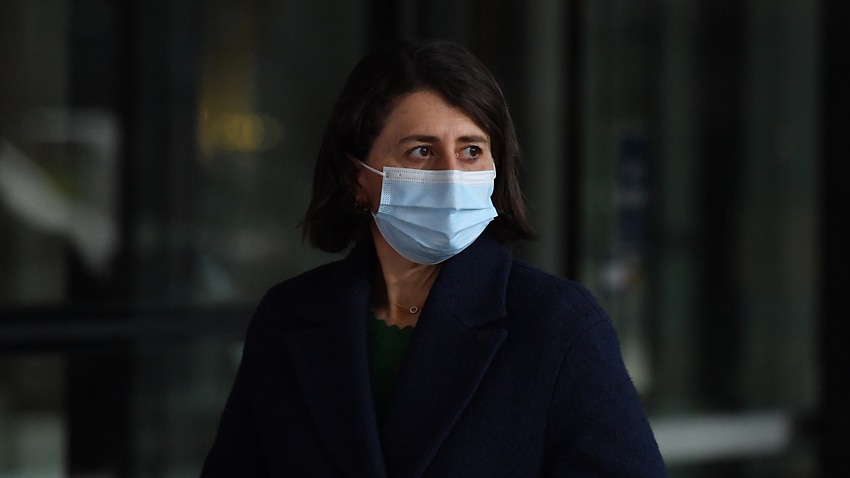 New South Wales has recorded 77 new local COVID-19 cases and one death as Greater Sydney enters its third week of lockdown.
A woman in her 90s from Sydney's southwest, who was a close contact of a locally-acquired case and tested positive for the virus on Friday, died on Saturday at Liverpool Hospital.
"Tragically, we've seen one older person die and I want to extend my deepest condolences to their families and loved ones," Premier Gladys Berejiklian said on Sunday, noting the person had acquired the virus in their household.
Chief Health Officer Kerry Chant said it's "understood" the woman was not vaccinated. 
Ms Berejiklian said she was anticipating the number of new cases in NSW would be greater than 100 on Monday, saying she'll be "shocked if it's less" and warning caseloads in the coming days will be "much worse than what we've seen today". 
"We can't stress enough the importance of not only following the rules but also realising the risk to the people who will suffer the most. Think about your closest family members, your closest people in your life. They're the people that are most impacted," she said. 
The premier said the majority of the new cases were from southwestern Sydney, where a large cluster has developed and the ramping up of police presence has drawn strong criticism.
Dr Chant said of the 77 new local cases, more than 50 were transmitted through family contact.
"This highlights the critical point around the importance of not putting yourself or your loved ones or your family and friends at risk. Please stay at home and that means staying within the one household," she said.
Asked whether southwestern Sydney's hospital system was equipped to cope with the rising infection rate, she said there "may need to be some minor operational changes".
"We have a fantastic integrated health care system. I think that's been one of [our] strengths. We'll work to support southwestern Sydney and some of the patients are distributed already across different sites."
There are currently 52 people in hospital, including 15 in intensive care and five on ventilators. Six people in hospital are under the age of 25.
"There are many people under the age of 55," Dr Chant said. "That dispels the myth that this is only for the elderly."
Asked when case numbers might go down, she said it was going to be "a number of days".
"The numbers might actually increase because we are ramping up testing to get ahead of the transmission curve," she said.
Dr Chant also called for people who have received their first dose of an AstraZeneca vaccine to bring forward their second dose, with a six-week period now considered viable for providing increased immunity.
Ms Berejiklian said she wants the community to be "prepared" for lockdown restrictions to be extended beyond their scheduled end date of 16 July.
"I think it's pretty plain to see that the numbers are not going in the right direction at this point in time and I want the community to be prepared for that," she said.
Social distancing restrictions were further tightened across Greater Sydney, the Blue Mountains, Central Coast, Wollongong and Shellharbour on Friday. 
Residents of these areas are only allowed to leave the home for one of four essential reasons: to obtain food or other goods and services; travel for work or study if it's not possible to do so from home; medical or caring reasons; and exercise.
Outdoor exercise is now restricted to only two people, and is allowed only within 10 kilometres of the resident's local government area. Carpooling between non-household members is also banned, and funerals are restricted to ten people.
Sydneysiders are now also required to wear masks in all indoor areas of construction sites and common areas of apartment blocks.
A full list of exposure sites is available on the NSW Health website.
NSW Police on Saturday issued 106 infringement notices due to public health order non-compliance, including to attendees of large gatherings in Marrickville, Sydney Olympic Park and Merrylands.
Meanwhile, NSW Treasurer Dominic Perrottet has acknowledged the state government will need to stump up significantly more financial assistance to businesses and individuals as the likelihood of a long-term Greater Sydney lockdown increases.
He said on Sunday the NSW government may also make use of federal income support platforms to administer state government-funded financial assistance, if required. 
"We're going to have to do more, that's just the reality," he told Sky News.
With AAP.
Source link