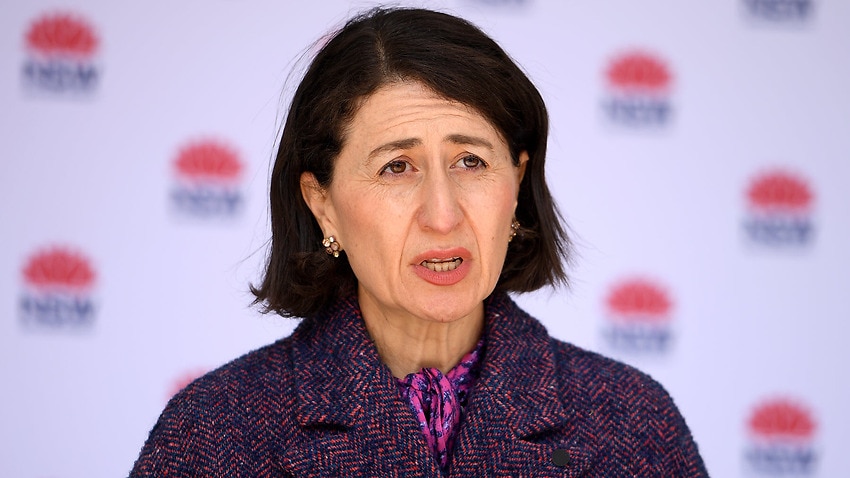 New South Wales has recorded 98 new locally acquired cases of COVID-19 as tough new restrictions, including a pause on construction, come into force to drive down infections. 
Twenty of the new cases in the 24 hours to 8pm on Sunday were infectious in the community and a further 17 were in the community for part of their infectious period. 
"Please remember, that is the number we are really keen to nudge," NSW Premier Gladys Berejiklian told reporters on Monday. 
"We need to get ahead of that number in order to reduce the cases in the community and the closer we get that number to zero, the sooner we can end the lockdown." 
Of the new local infections, 61 are linked to a known case or cluster, with 43 being household contacts and 18 close contacts. The source of infection for 37 cases is under investigation. 
There are currently 82 cases of COVID-19 in hospital, with 24 people in intensive care, seven of whom require ventilation. 
Ms Berejiklian said more than two thirds of the new cases are from south-western Sydney, with the virus continuing to spread among households. 
"We are seeing so many examples of entire households getting the virus, and in distress, because those that are closest to them are getting the virus because they have unintentionally or by mistake unfortunately spread the virus," she said. 
"So please, stick to your household, don't move between households. And please make sure you keep those you love the safest." 
The premier urged families who observe Eid al-Adha – the Islamic festival of sacrifice which is usually marked by large dinners and family gatherings – to stay at home this week. 
"I ask everyone to think about their loved ones… we need families to stay in their family home and not move from household to household," she said. 
People living in Greater Sydney have entered their fourth week of lockdown as the state government imposed a raft of new restrictions over the weekend. 
These include a ban on all construction and non-urgent maintenance work, and the closure of non-essential retail outlets, excluding supermarkets, pharmacies, banks and liquor stores, among others. 
Ms Berejkilian said on Monday that workplaces are the second highest example of virus transfer. 
"That is why we have put in those rules around workplaces in particular, that is why we have had to ask some businesses to [put] tools down until 30 July, because workplaces unfortunately not only spread the the virus to colleagues but potentially spread the virus to other communities," she said. 
Construction was 'too big a risk'
Tradies across Greater Sydney have now downed tools, with construction sites shutting for two weeks. 
When asked by a reporter if the pause on construction may be softened or lifted, the premier reiterated the decision was a difficult one, but that the threat was "too great". 
"Having the risk of thousands of people being mobile at one time, many of them coming from communities that have had cases, was too big a risk," she said.
"I expressed frankly yesterday it was the most difficult day in the office when we made that decision. But if we are serious about allowing individuals, families and businesses to bounce back as soon as we can, we must make these difficult decisions, which we did."
The premier said the state government is working with the construction sector on safe ways to restart business on 31 July.
She said she does not expect to see the effect of the harsher restrictions for another four or five days. 
Meanwhile, NSW Police will "double down" its efforts to ensure compliance and appropriate social distancing at Manly, Bondi Beach and other coastal areas. 
Deputy Commissioner Gary Worboys said police recieve inquiries and complaints from the public right across the state, and scenes from these areas require "a stronger, more visible presence". 
"I suspect down along the beaches, we will double down our efforts," he said.
"Police cannot be on every corner … but what we will do is repond to where the people are that are seemingly not taking those public health orders seriously."
It comes as a second mass vaccination hub has opened at Belmont in Lake Macquarie, with the capacity to vaccinate 20,000 people a week. 
NSW Health has administered 13,131 vaccines in the past 24 hours, including 5,164 at the Sydney Olympic Park hub. The total number of vaccines administered in the state stands at 3,064,158.  
Health minister denies 'sting' to find TikTok leaker
NSW Health Minister Brad Hazzard was also asked about TikTok comedian Jon-Bernard Kairouz, who has correctly predicted and announced the number of new COVID-19 cases in the state ahead of the government for five consecutive days. 
But he incorrectly predicted the number revealed by authorities on Monday. 
Mr Hazzard denied speculation NSW Health set up a "sting" to uncover who was leaking the daily numbers to Mr Kairouz. 
"Can I say it was a disappointing that something as serious as our messaging to the community in a pandemic, clearly someone in the system was feeling the need to disclose those figures to somebody who was not an appropriate person to be making commentary about it," he said.
"And so [NSW Health] looked at the issues around that. I saw someone saying on social media that it was a sting, no it wasn't.
"It was looking at what the issues were and making sure that the system was such that the information could be kept to the appropriate time."
Other restrictions coming into force
Under a public health order effective until midnight on 30 July, every employer across the state must require a worker to work from home unless it is not reasonably practicable. 
Residents of Fairfield, Canterbury-Bankstown and Liverpool are not permitted to leave their local government area unless they are an authorised worker. 
The premier first announced the only exceptions would be for workers in health and emergency services. But the list was expanded later on Saturday to include retail workers in shops permitted to remain open, along with teachers and freight drivers, among others. 
When Fairfield residents are authorised to leave their LGA for work, they're required to take a COVID-19 test every three days. 
Additionally, anyone who leaves their home must carry a mask with them at all times. According to NSW Health, they must be worn when working outdoors, by all school staff, by all people in outdoor markets, outdoor shopping strips and in an outdoor queue waiting for products such as coffee and food. 
Across Greater Sydney, carpooling is also not permitted unless among members of the same household. 
Source link