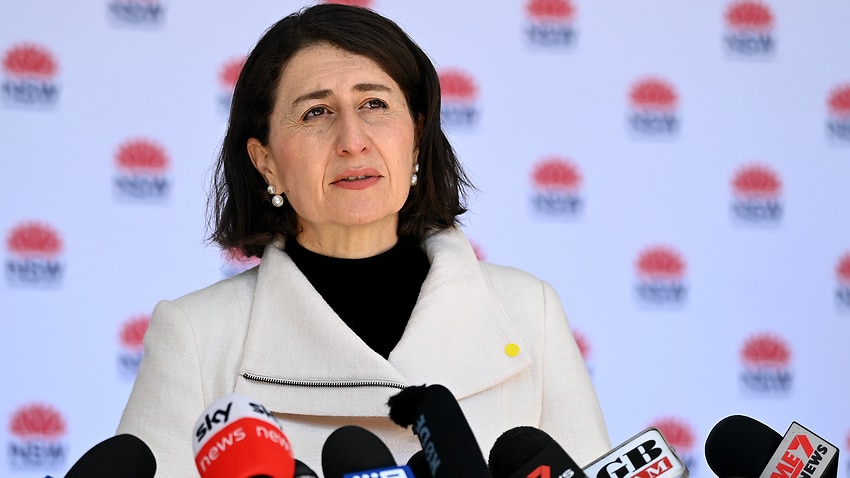 New South Wales has reported 97 new locally acquired coronavirus cases on Friday, bringing the state's total number of infections in recent weeks to 1,026.
Of the new cases, 29 were in the community the whole time they were infectious. 
Seventeen were isolating for part of their infectious period, while 46 were in isolation throughout.
The isolation status of the five other cases remain under investigation.
NSW Premier Gladys Berejiklian said "there is no doubt that the numbers are not where we would like them" and due to the high number of people in the community while infectious, she expected Saturday's numbers to be higher again.
She also hinted at the further tightening of restrictions.
"Please know that every day, on an hourly basis, we receive ongoing reviews and we make sure we review all the time the settings we have in place.
"If we need to go harder, of course we will."
Of Friday's new cases, 67 are from south western Sydney.
While the majority are household contacts and close contacts of previous infections, authorities are concerned about 34 new cases that are currently unlinked. 
NSW Chief Health Officer Dr Kerry Chant said that meant people in other parts of Sydney would need to remain on high alert.
"We need to remember that the cases we are seeing today reflect transmission evidence for five days ago up to 14 days ago, so anywhere you may have cases around you," she said.
"You can't go on the basis of where I have told you as a hotspot today. That may be different next week, so every time you leave the house, this weekend, please consider that the person you may come in contact with has COVID."
There are now 75 coronavirus patients in the state's hospitals, with 18 in intensive care units and five on ventilators. 
Of those in ICU, one is in their 20s, one is in their 30s, two are in their 40s, five are in their 50s, five are in the 60s, three are in the 70s and one is in their 80s.
Only one of the people in ICU has received one dose of the AstraZeneca vaccine.
More than 77,500 people got tested for COVID-19 yesterday. A full list of exposure sites can be found here.
Saturday will mark three weeks since all of Greater Sydney entered lockdown, but case numbers have shown no sign of decreasing.
The premier urged residents to abide by the lockdown over the upcoming weekend.
Police issued 164 infringement notices in the past 24 hours and more than 200 warnings to people who were not following the stay at home order. 
NSW Deputy Police Commissioner Gary Worboys said a number of those fines were issued to people trying to travel to regional NSW.
"We have spoken a lot about people moving outside Greater Sydney and trying to disguise that in some sort of business trip what it is really a holiday, trying to provide police with excuses as to why they have been found outside Greater Sydney and have a caravan they are towing or camping gear with them," he said.  
"If people want to travel outside the Greater Sydney area, they will be stopped by police… they will investigated where appropriate, issued personal infringement notices and will be returned or directed back to Sydney."
In recent days, there have been a number of transmission events in hospitals, medical clinics and pharmacies.
At least 70 paramedics are isolating, and cases have linked to two major hospitals and an aged care home.
"We look at those exposures and the reasons for those acquisitions closely and have extensively published that to be open and transparent," Dr Chant said.
"We look at each of those cases very intensively to see if there is any lessons learned about how we can better support our healthcare workers to stay safe."
Source link