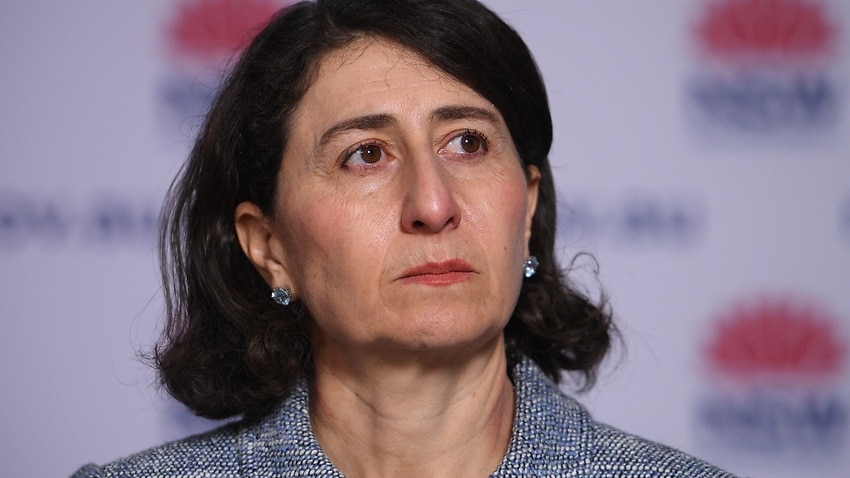 New South Wales recorded 818 new locally acquired coronavirus cases in the past 24 hours and three more deaths.
Of the new infections, 120 infections are linked to a known case. The source of 698 infections is under investigation. 
The number of COVID-19 patients in hospital is 568 with 100 people in intensive case and 32 people on ventilators. 
The three new deaths include a man in his 80s from southwest Sydney who died at Liverpool Hospital, a man in his 80s from Newcastle who died at John Hunter Hospital, and a woman in her 80s from southwest Sydney who died at Campbelltown Hospital.
All three had underlying health conditions.
Monday's figures mark the state's third consecutive day of recording a tally of local COVID-19 cases above 800. 
"I just urge people not to have the rollercoaster of emotions (from a narrow focus on) case numbers every day," NSW Premier Gladys Berejiklian said.
"It's so easy to go up and down, depending on how the case numbers are going. But what is really important for us is to focus on getting the vaccine numbers (to go) up."
Most of the new cases were in the local government areas under the toughest restrictions with 350 cases recorded in western Sydney and 237 in south-western Sydney.
From Monday, harsher measures come into effect, including a 9pm to 5am curfew for those who live in a dozen Sydney local government areas of concern, and statewide mandatory mask-wearing when outdoors, except if exercising.
Hardware stores such as Bunnings, office supply stores and other retail premises must close in hotspot LGAs – except for click-and-collect purchases. All exams and education activities will move online, except the HSC.
Twenty-four cases were reported in western New South Wales, with 14 in Dubbo.
New cases were also reported in Parkes, Mudgee and Orange.
Authorities have significant concerns over the spread in the state's far west.
Three new cases were reported in the region in the last 24 hours, but Deputy Premier John Barilaro foreshadowed a further 15 additional cases to be counted tomorrow.
"if you have visited Wilcannia or you live there, please get tested. It is very important we get in front of this," Mr Barilaro said.
NSW records 818 cases and three deaths
Ms Berejiklian said 738,000 people got vaccinated last week – a record for the state.
"An outstanding result. I want to thank everybody for coming forward. We are up to 5.9 million jabs in NSW," she said.
"I set a target of six million by the end of the month. We will be at least one week ahead of schedule."
The Premier says details on new freedoms for fully vaccinated residents will be released at the end of the week.
A plan for the return of school students for term 4 is also being devised, with the Premier waiting on "concrete advice" before providing details.
More than 200 children aged nine and under – who cannot yet be vaccinated – were among those diagnosed with the virus on the weekend.
"It is important for us to minimise any risk when they go back to school," she said.
"Please know that our health experts, in particular, are working with how the HSC can be done," she said.
NSW Police issued 590 infringement notices in the last 24 hours, including 31 fines for attendees of the Christ Embassy Sydney Church, after 60 adults and children were found gathering in breach of public health orders.
"Regardless of whether it is a soccer match, a church service. It doesn't matter. You cannot gather as they did," Deputy Police Commissioner Gary Worboys said.
Additional reporting: AAP
SBS is providing live translations of daily New South Wales and Victoria COVID-19 press conferences in various languages. Click here for more information.