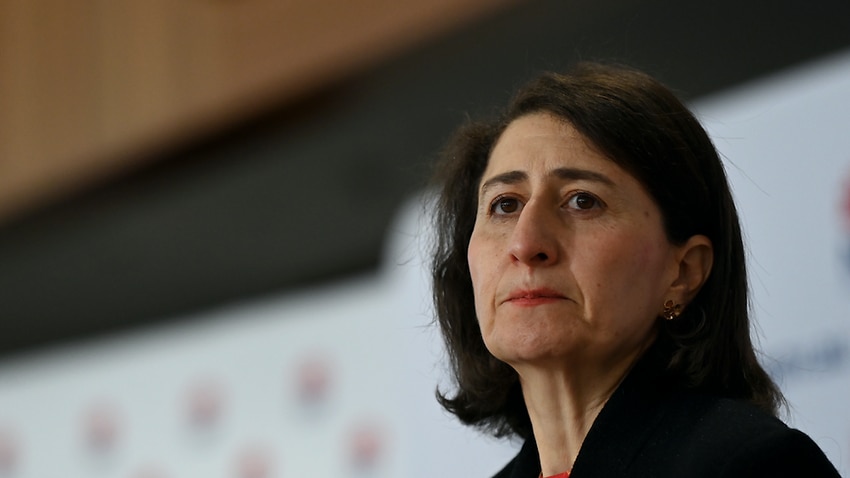 New South Wales has recorded another 452 new locally acquired cases of COVID-19 and one death, with authorities remaining very concerned about the spread of the virus through Aboriginal communities in the state's west.
Of the new cases announced recorded to 8pm Monday, 129 are linked to a known case or cluster, 105 are household contacts of a known case and 24 are close contacts. The source of infection for 323 cases remains under investigation.
Thirty cases were infectious in the community, NSW Health said, with the isolation status of 297 still under investigation.
Seventy-five per cent of the new cases were people under 40.
The new death was of an unvaccinated female in her late 70s, NSW Premier Gladys Berejiklian told reporters.
Ms Berejklian said there would be a Pfizer "vaccination blitz" over the next two-and-a-half weeks in southwest and western Sydney, where the majority of new cases continue to be found. People aged 16 to 39 in the local government areas of concern are set to be prioritised.
"We ask everybody in those suburbs to be especially careful, not to leave home unless you have to, and please come forward for vaccination," Ms Berejiklian said.
The Premier said life would be "much freer than what it is today" once the state reaches 70 per cent and 80 per cent vaccination targets, but conceded September and October would be "our most difficult months".
NSW Health said a record 36,817 COVID-19 vaccines were administered in the 24 hours to 8pm Monday, taking the total number of jabs given in NSW to 5,237,678.
Concerns for western NSW
Of the latest cases, 18 were in western NSW, bringing the total number of cases in the area to 116.
NSW Health's Jeremy McAnulty said that was "very concerning" given the high numbers of Indigenous people that live in the state's west.
"The majority of those [116 cases] have been in people who are Aboriginal," he told reporters in Sydney.
"We're working closely with the Aboriginal community to keep them safe, to make sure that people are getting tested and making sure that people who have been in contact with other cases are aware that they need to isolate."
"Special accommodation" is being set up for people to make sure they're kept safe, he added.
One extra case was found in Broken Hill after the 8pm cutoff time, who NSW deputy premier John Barilaro said had been infectious for "some days" in Broken Hill and Wilcannia.
Mr Barilaro urged people living in the region to get tested if they have symptoms and to book a vaccination appointment.
"We've got to get ahead of the curve," he said.
Fragments of the virus that causes COVID-19 have also been found in sewage at Lennox Head, in the NSW north coast, where there are currently no known cases of the virus.
Everyone in this area is urged to monitor for symptoms and if they appear to immediately get tested and isolate until a negative result is received.
Hospital staff shortages
Meanwhile, Sydney hospitals are dealing with staff shortages as COVID clusters close wards and send workers into isolation at Nepean and St George Hospitals.
A South Eastern Sydney Local Health District spokesperson said four inpatients and two staff had tested positive for COVID-19 in the oncology ward at St George Hospital.
The two staff members who tested positive are both fully vaccinated, while three patients have had one dose of the vaccine and one patient has not been vaccinated.
"The staff [at both hospitals] are really concerned that they're keeping patients safe so they're taking all the actions they can to work with patients, follow contact tracing and health advice and making sure that their patients are safe," Dr McAnulty said.
Health Minister Brad Hazzard said while there was "no question that the hospital system is under enormous pressure", all staff across the network are doing an "incredible job".
"We're in a pandemic and people will have to be taken offline and we will have to have some inconvenience in that sense, but overall the health system is still extraordinarily good," he said.
Four COVID-positive inmates are also being housed at the remand centre of Silverwater Jail, including two cases uncovered over the weekend. Their source of infection is being investigated.
NSW posted a record 478 new locally acquired COVID-19 cases and eight deaths on Monday. 
A three-week police blitz came into effect on Monday to enforce new regulations, with almost 18,000 police officers supported by 800 members of the Australian Defence Force.
NSW police issued nearly 600 infringement notices to people flouting tough new health orders on the first day of the crackdown.
With AAP.
There are a multitude of ways you can access in-language information from SBS about the latest on Australia's coronavirus situation. Click here to find out more.
Source link