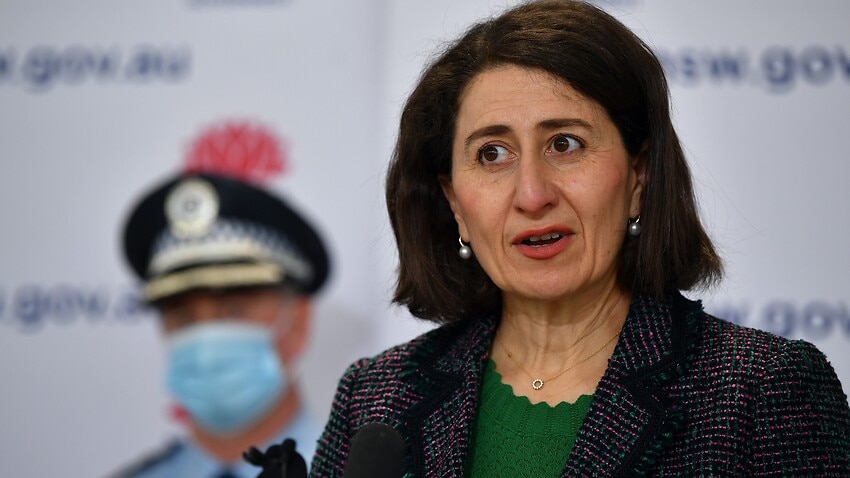 New South Wales has recorded 390 new local COVID-19 cases, including 25 new cases in Dubbo, and two more deaths.
One woman in her 40s, who wasn't vaccinated, died at her home in southwestern Sydney. A man in his late 90s, who was vaccinated, died in palliative care in the Hunter, New England area.
Of the new cases to 8pm last night, 138 are from western Sydney, 123 are from south-western Sydney, 47 are from Sydney LHD, 32 are from Nepean Blue Mountains, 30 are from south-eastern Sydney and seven are from northern Sydney.
Outside Sydney, six are from Western NSW, five are from Hunter New England and two are from the Central Coast.
There were no new cases in Tamworth, Armadale and the Northern Rivers regions. 
NSW Health's Dr Maryanne Gale confirmed western NSW was "en evolving situation", with new cases in the region now totalling 25, with some of the new cases among Indigenous people.
Premier Gladys Berejiklian said Dubbo was "becoming a big challenge health-wise" and said the government was considering what further support they could offer.
"The New South Wales government has been liaising with our federal colleagues as well to make sure that we get support to those communities in western New South Wales in far western New South Wales, and what we may need to do further in that area is being considered during the day today," she said.
Ms Berejiklian said cases across the state were expected to remain high in the coming days.
"I anticipate, given the large number of cases we have had in the last few days, but unfortunately this trend will continue for at least the next few days. It means all of us have to work harder to make sure we start and follow the rules," she said on Friday.
In Sydney, the main challenges remained in the city's western and south-western suburbs, with Blacktown and Mount Druitt and adjoining areas the main places of concern.
"We have seen ongoing stabilisation in Fairfield and Canterbury-Bankstown and the cases are not going the way they were in the last few weeks, which is a positive," she said.
She urged people living in Blacktown and Mount Druitt and those adjoining suburbs to come forward for testing and stay home.
NSW Health's ongoing sewage surveillance program has detected fragments of the virus that causes COVID-19 in the regional sewage systems in Tamworth, Bomaderry, Bathurst, Parkes and Bourke sewage treatment plants.
With no known cases of COVID-19 living in these areas, NSW Health urges local residents to be particularly vigilant for the onset of symptoms and if they appear, to immediately get tested.
State eyeing vaccination targets
The premier said NSW expected to reach its target of 70 per cent of the eligible adult population doubled dosed by the end of October, and its target of 80 per cent by mid-November.
The premier has set a target of six million jabs by the end of August.
 "We are looking forward to hitting those milestones, because we know that the higher percentage of us that are vaccinated, the opportunities we have in the future and the greater opportunities we [will] have to live more freely and safely.
"Once we get about 80 per cent double dose in November, once the nation gets to about 80 per cent double dose, living with COVID will be very different to what some states are experiencing today."
Around 105,000 people across NSW received a vaccination on Thursday, while 15,000 HSC students in the LGAs of concern have received a jab in the last five days.
Friday's figures follow 345 new local cases reported across the state on Thursday and two deaths from the virus, both Sydney men in their 90s.
NSW Health announced on Friday morning a number of new venues of concern across NSW, including a number of Sydney bus routes that are associated with confirmed cases.
A full list of NSW COVID-19 exposure sites can be found here.
More to come.
SBS is providing live translations of daily NSW COVID-19 press conferences in Arabic, Assyrian, Cantonese, Khmer, Mandarin and Vietnamese. You can stream those live translations at SBS Arabic24, SBS Assyrian, SBS Cantonese, SBS Chinese, SBS Khmer, and SBS Vietnamese Facebook pages.