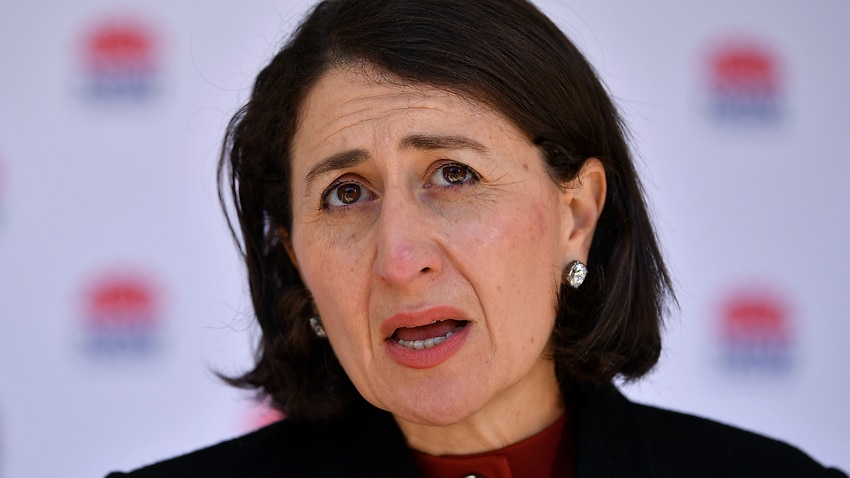 Two aged care residents are among 35 new local cases recorded in New South Wales, with the state recording a spike in infections on Monday.
The number of infections linked to existing clusters stands at 33, with 20 considered household contacts.
Of the 35 new cases, 24 were in isolation during their infectious period, with 11 people out and about in the community.
The number of cases linked to the Bondi outbreak has now grown to 312, with four patients currently receiving treatment in intensive care.
While the number of infections is a sharp increase on Sunday's figures, Premier Gladys Berejiklian remained confident lockdown measures were having the desired effect.
"I foreshadowed a few days ago that the numbers were likely to bounce around, that is what we have seen overnight," the premier said.
"I can say that the lockdown certainly has been effective in not doubling and tripling the figures that we were worried about."
Chief Health Officer Kerry Chant praised high testing numbers but said it was too soon to determine if the region would exit lockdown at the week's end.
"I'm really pleased to see that we've had some people come forward for testing over the weekend, which has allowed us to link unlinked cases," she told reporters.
"The more certainty we have that we have tracked down every single case of transmission, that really does provide us with a lot more confidence."
Aged care cluster grows to five
The number of cases among residents at the SummitCare Baulkham Hills aged care facility has risen to five, with two new infections overnight.
Both were women in their 70s, one of whom was not vaccinated, having entered SummitCare in mid-May after the initial rollout was completed.
All five residents are asymptomatic and have been transferred to Westmead Hospital, along with one close contact who has since tested negative.
The cases are believed to have been directly infected by a single staff member, who was not fully vaccinated.
SummitCare Chief Operating Officer Michelle Sloane told reporters she was "extremely disappointed" the outbreak had occurred.
Ms Sloane said that up until last week, when the federal government announced vaccination would be mandated for residential aged care workers, the facility had been unable to insist staff get vaccinated or compel them to say if they had been immunised.
"If we said to all of our unvaccinated staff, 'don't come to work' then there'd be no one to care," she said.  
"That is not just us, but every aged care business across Australia and every hospital across Australia.
"We would have liked to it be mandated earlier."
Ninety six per cent of residents have been fully vaccinated with the Pfizer vaccine and the chief health officer told reporters no cases had been reported in unexpected areas of the facility.
"My understanding is the cases are arising in the area where we would expect the cases to occur and that there's quite robust infection control measures put in place," Dr Chant said.
"There is a lot of attention to doing everything we can to prevent any further transmission, but…until we're passed that 14 days since those residents were last exposed to the infectious staff, we are not out of the woods," Dr Chant said.
Waterloo gathering under 'intense' investigation
Five new infections have been linked to Virgin Australia flight VA524 on Saturday, 26 June, while another two infections are linked to the birthday party at West Hoxton, putting that cluster at 45 cases.
Three cases are the result of a small "gathering" on 26 June at Meriton Suites in Waterloo, held when local stay-at-home restrictions were in force.
"We are going to be looking intensively at that event. Putting the puzzle together takes a little bit of working through," Dr Chant said.
"We are pleased that individuals have come forward to get tested. That is my message. Please come forward to get tested."
NSW Health is urging anyone – including guests, staff and contractors – who was on any level of the Meriton Suites for any amount of time between 7pm on 26 June until 8am on Monday to immediately get tested and isolate until further information from authorities. 
An alert for a Sydney train and bus route was also issued on Monday afternoon. A full list of exposure sites can be found here.
Deputy Police Commissioner Gary Worboys said 125 fines were issued over the 24 hours for breaking lockdown rules.
Seventeen fines were issued after police intercepted a group from Bankstown in South West Sydney, who had travelled to Newnes near Lithgow with motorbikes and all-terrain vehicles.
A group of NRL players was also caught breaching restrictions to attend a house party. On Monday afternoon, the NRL fined the 13 St George Illawarra players a combined $305,000 and issued match suspensions for breaking stay-at-home orders. 
"When you hear of parties going on in the middle of a lockdown, you have got to say, 'what is the thinking of some of these people?'" Health Minister Brad Hazzard said.
"I would say that those people who are thinking that the rules are somehow not for them, that they are more entitled than the rest of us not to listen, you actually have to listen because you may be the people who spread this and keep us in lockdown for a lot longer than the rest of the community would like."
Over 1,000 calls were made to report lockdown breaches over the weekend.