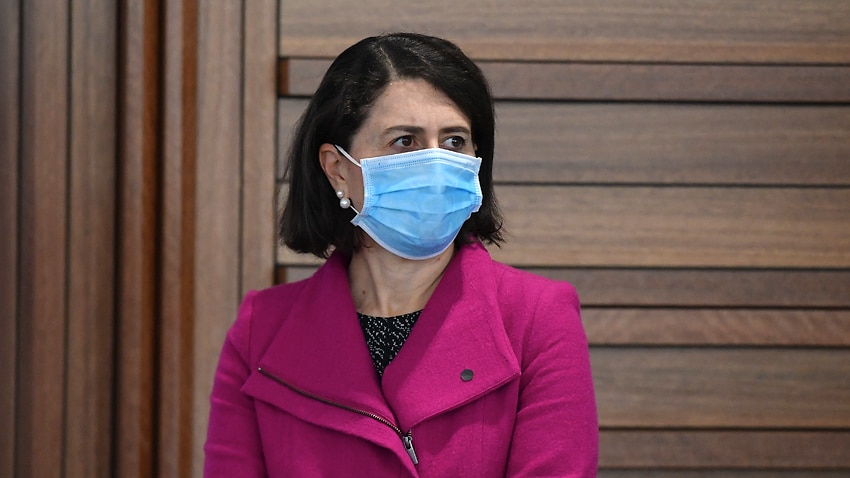 NSW has recorded 283 new locally-acquired COVID-19 cases and one death. 
A woman in her 90s with COVID-19 who was in palliative care died overnight, NSW Premier Gladys Berejiklian said on Monday.
"Our deepest heartfelt condolences to her loved ones, all deaths are horrible during this time," she said.
Ms Berejiklian urged those in the Canterbury-Bankstown local government area and surrounding suburbs to remain vigilant, as it remains "the epicentre of the virus in NSW and Sydney".
At least 64 people were in the community for their entire infectious period, with another 42 in the community for part of their infectious period. The isolation status of 71 cases is under investigation.
Virus spreads from Newcastle to Tamworth, prompting snap lockdown
Meanwhile, the Tamworth local government area will go into a one-week lockdown from 5pm Monday, after an infected person from Newcastle visited a number of locations.
Dr Kerry Chant said the young lady who arrived in Tamworth on 5 August was not aware she had the virus at the time and is now isolating in Newcastle. 
"There aren't any cases there yet, but we do know the person went from Newcastle to Tamworth and visited a number of locations," Ms Berejiklian said.
The ICU director at the Royal Prince Alfred Hospital, Dr Richard Totaro, urged people to get vaccinated, saying it would ease the burden on hospitals. 
"The striking thing is that there is no one in the ICU after having had two vaccines," he said.
He urged young people to also be aware of the risk.
"We have had people (in ICU) who are physically fit and well and had no underlying health conditions."
The number of COVID-19 patients in the hospital is 349. There are 67 people in intensive care, with 29 people needing ventilation.
Meanwhile, NSW Health officials are urging people in Byron Bay to come forward for testing, after a male resident was infectious in the community for a number of days.
"He had symptoms for several days. we are quite concerned. and we will be monitoring that very closely," Dr Chant said.
Push for more essential workers to be vaccinated 
Up to 24,000 Year 12 students from the eight LGAs in western and southwestern Sydney are being vaccinated at Sydney Olympic Park today. 
Ms Berejiklian said the state government is considering opening more hubs. 
"We are increasing the points of access as fast as we can."
"Once we reach 70 per cent vaccination rates, we'll be talking about hospitalisations instead of cases," she said. 
She said she wants to see more essential workers in the eight LGAs vaccinated.
"We have confidence, once we get the jabs up, we will have the confidence to open up – depending on vaccination rates and where the cases are."
"I want NSW to be the first state in Australia to hit all those targets of vaccination."
On Sunday, NSW Health vaccinated almost 2,000 supermarket and food distribution workers with AstraZeneca at Sydney Olympic Park.
Ms Berejiklian said disability workers are also a population that officials are trying to get vaccinated. 
"Dr Chant said we're concerned about disability workers who might be unvaccinated and the challenges that's posing we have noticed in the last few days.
"While you have authorised workers that have high rates of non-vaccination, that is a risk to all of us."
A total of 133,000 COVID-19 tests were conducted yesterday.
More details to come.
Source link