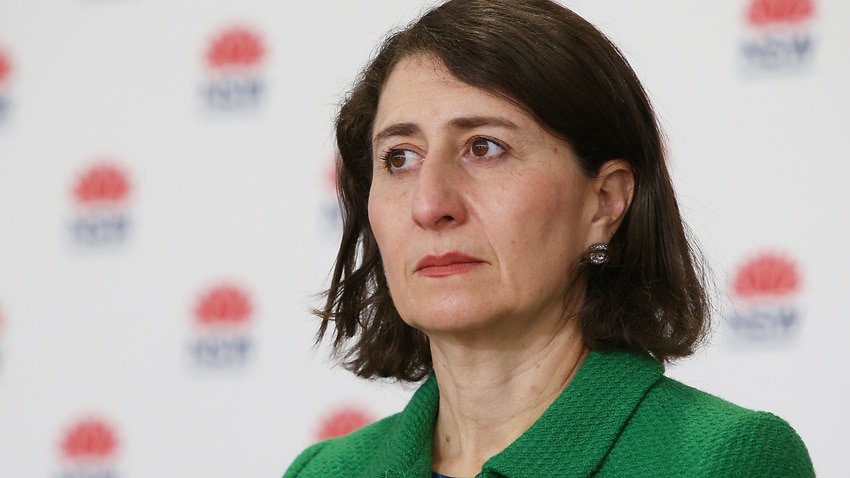 NSW recorded 207 new local COVID-19 cases on Monday, with at least 50 of those infectious in the community.
The main form of transmission remains workplaces and households.
117,000 people came forward to get tested.
NSW Premier Gladys Berejiklian urged people to get vaccinated. She said no COVID-19 patients in the state's ICU wards had received both doses of the vaccine.
"Can I stress that August is the month where we all should come forward and get vaccinated," she said.
"It will be a combination of seeing where the case numbers are in a month's time, as well as the rate of vaccination, that determines what August 29 looks like.
"I have been saying for some months that 80 per cent of the adult population vaccinated would get us freedoms beyond no more lock downs, and that is 10 million jabs."
A man in his 90s from south-western Sydney has died at Liverpool Hospital. 
Chief Health Officer Kerry Chant said he had received one dose of the AstraZeneca vaccine in April.
"My condolences to his family and his friends," Dr Chant said.
"This highlights another point, that two doses of the vaccine are more effective. Even one can provide protection, so there is an opportunity to bring forward your doses.
"Please, anyone who has had an AstraZeneca shot with a spacing of four weeks, come forward and get vaccinated."
There have also been four new cases at the Wyoming Nursing Home in Summer Hill.
Dr Chant said 18 patients and two staff have been impacted in that aged care facility.
"The positive patients have been removed from that facility and as a precaution, the remainder of residents of that facility are also being removed from hospital," she said.
"The outbreak is occurring on that top floor."
"We need to get jabs in arms"
With a goal of rolling back the Greater Sydney lockdown by the end of August, the NSW Premier said the easing of restrictions will depend on "how close to zero we get with the infections in the community [and] the vaccination rate."
Ms Berejiklian said the government's priority is to get students back to school and people back to work, with a focus on getting "jabs in arms as quickly as possible."
"Once you have 80% of the adult population vaccinated, you can look forward to living life freely and keeping the case numbers at a manageable level," Ms Berejiklian said.
"That is the best advice confirmed through National Cabinet processes. Until that time we will live with some level of restriction."
"Lock down and restrictions are important to manage COVID but you can't live with COVID … you can't live with the Delta strain or what is around the corner unless you have those high rates of vaccination."
New South Wales Health Minister Brad Hazzard said that state has an "abundant amount" of the AstraZeneca vaccine.
"Dr Chant, the Premier and I have all had AstraZeneca," he said.
"If you have, even the first jab of AstraZeneca you have around about 90% chance – a 90% safer situation with regard to hospitalisation and death."
Workplace transmission
Dr Kerry Chant urged workplaces to check their Covid-safety plans, pointing out that staff kitchens and tea rooms are an obvious place for transmission.
"What we are seeing, sadly, is a number of transmissions in work places, some as many as 30 colleagues in some work places that have been infected," Dr Chant said.
"It is critical that people don't work whilst they have got symptoms but also you can take the proactive step of choosing to get vaccinated.
"That will protect you, your loved ones and also your colleagues at work."
Dr Chant said the government wants to target workers in high-risk settings such as meat processing plants, distribution centres, freight companies, anywhere that needs to be operational to support us.
"We want to pre-emptively get into those work places, those high risk work places and vaccinate them and also call out for young people," she said.
"This outbreak in south-western Sydney has been largely a very young demographic which reflects the fact that the majority of people are staying at home but those that have to work in those essential industries are going out and they tend to be younger. 
"That is what is driving the transmissions, both back into the household and in the work places."
ADF checks
The Australian Defence Force has been deployed to bolster the efforts to control virus transmission.
Deputy Commissioner Gary Worboys said police with the assistance of the ADF are checking on people that were subject to positive cases and also subject to orders.
"My understanding is well over a thousand checks have been made already," he said.
"That will continue this week and will be ramped up."
Source link