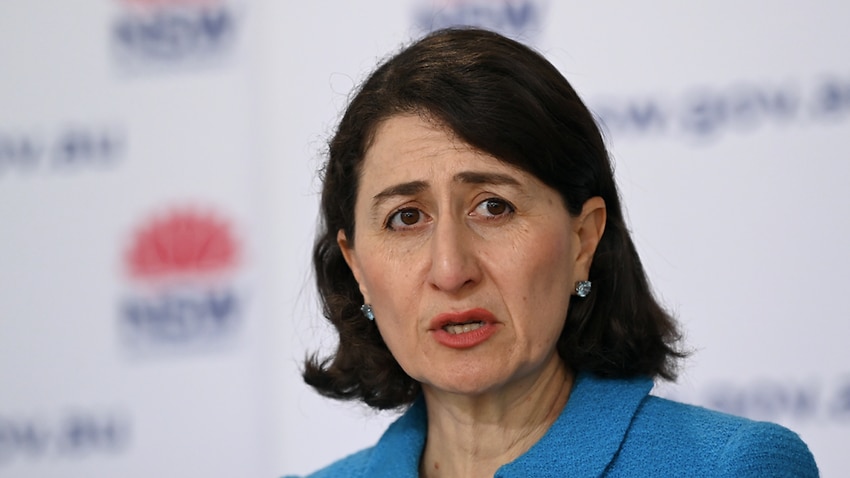 "We will get to 70 per cent double-dose when people get their second dose, when people come forward to get vaccinated and these freedoms will come into place the Monday after that occurs," she told reporters on Thursday.
"We don't want to put a specific date on that." 
Ms Berejiklian said while the roadmap is being announced, the state is "not out of the woods", with case numbers likely to peak "in the next week or so" and the hospital system facing its greatest stress next month. 
"However, we also know that living with COVID means you have a cautious and staged reopening, once you get to the high rates of vaccination in your adult population," she said. 
"I also want to stress that at this stage the roadmap that any person who is 70 per cent double-dose vaccinated, is able to participate in the freedoms that come forward from that time.
"However, at any stage if there's a concentration of disease in any suburb or local government area or a constant outbreak, that wasn't anticipated, health [department] can restrict movement and give advice to [enforce restrictions], if it is going to put too much pressure on our hospital system."
NSW Health said the deaths reported in the 24 hours to 8pm on Wednesday include a woman in her 40s from south-western Sydney, two women in their 70s and two men in their 80s. 
There are currently 1,175 COVID-19 cases admitted to hospital, with 202 people in intensive care, 80 of whom require ventilation. 
Lockdowns will also from Saturday be lifted for parts of regional NSW deemed low risk, but not for large parts of western NSW. 
More to come. 
SBS is providing live translations of daily New South Wales and Victoria COVID-19 press conferences in various languages. Click here for more information.
Source link