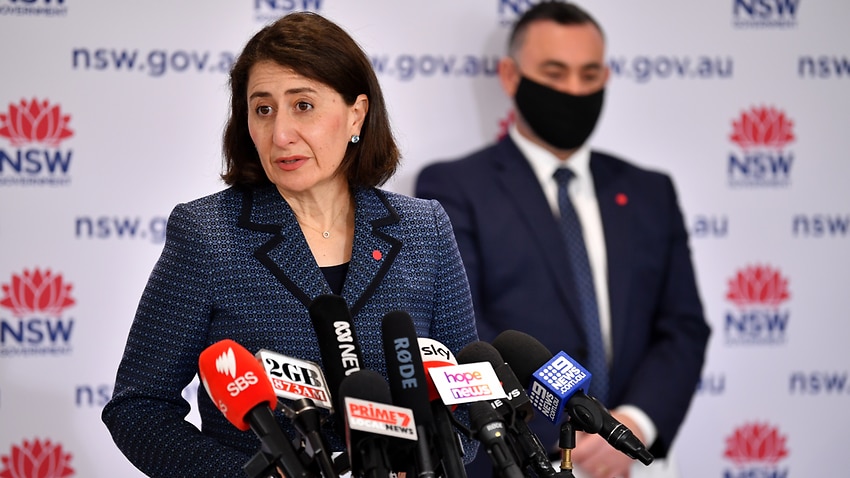 "We certainly don't want to have to use of all those beds and staff, because we know what pressure it will put on the system, but we want everybody to be reassured that the capacity is there."
The Premier also released modelling she received late last week, which indicates COVID-19 cases are likely to peak next week. 
"Therefore a likely peak in the intensive care beds required [will be] around early to mid-October. So that is what the best modelling tells us at this stage," she said. 
"I do want to qualify that by saying that a number of variables are associated with that modelling."
Of Monday's new cases, 831 were in Sydney's west and south west, 44 in the Western Local Health District and seven in the Far Western Local Health District, which includes the small town of Wilcannia. 
There were five more deaths, including a man in his 90s who was a resident of St George Aged Care Facility in Bexley and acquired his infection there.
A woman in her 80s from northern Sydney died at Ryde Hospital, while two women died at Westmead Hospital, one in her 50s and the other in her 80s. 
A man in his 60s from the Southern Highlands died at home.
In the past 24 hours, 31,903 people came forward for a vaccination, taking the state's total to 7,543,522.
More than 40 per cent of the New South Wales population aged over 16 is double vaccinated. 
SBS is providing live translations of daily New South Wales and Victoria COVID-19 press conferences in various languages. Click here for more information. 
Source link