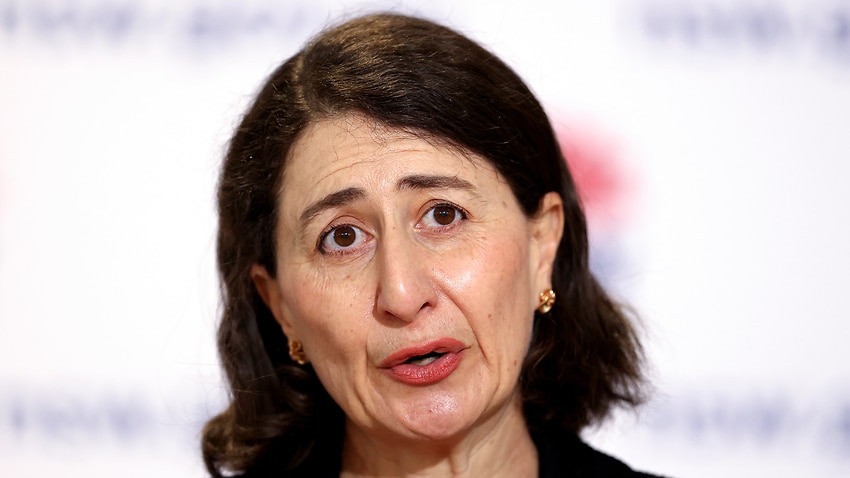 "I was always scheduled to do today because of the key milestones we announced – obviously today is the first day many people have freedoms they didn't have before," she told reporters. 
"I want to stress that nothing has changed from my comments from last week. I'm on the job 24/7."
The seven people who died include two men in their 90s, a woman in her 90s, three men in his 80s and a woman in her 60s. 
There have now been 184 deaths in NSW since the beginning of the Delta outbreak in June. 
There are currently 1,189 coronavirus patients in the state's hospitals. Of those, 222 are in intensive care and 94 are on ventilators. 
'Slight slowdown' in vaccination rate
Ms Berejiklian said she was concerned there has been a "slight" slowdown in the state's vaccination rate, following impressive turn outs at GP clinics and vaccination hubs in previous weeks.
Across the state, 46.2 per cent of people over the age of 16 are fully vaccinated, while 78.5 per cent have received their first dose.
The premier warned unvaccinated residents would not necessarily be included in further easing of restrictions when the state reaches the 80 per cent double-dose mark.
"I don't want people to think they can sit back, let everybody else do the hard work and then turn up when it's 80 per cent and get everything else that vaccinated people are," she said.
"That's not the right message. I want to say it clearly – that if you're not vaccinated, you will not have the freedom or the freedoms that vaccinated people have even when we get to 80 per cent double dose."
NSW records 1,257 new local COVID-19 cases
---
Ms Berejiklian said the 12 LGAs of concern were some of the areas with the highest vaccination rates across the state, whilst the City of Sydney and some regional pockets of the state were lagging behind.
"Parts of south-western Sydney went from 19 per cent when the outbreak first started to nearly 90 per cent now," she said.
"For people who got over their fear of getting vaccinated, over their hesitancy, and now they're leading the state, I just say a huge thank you." 
New 'freedoms' for the vaccinated
Meanwhile, the government's new "freedoms" for Greater Sydney residents came into effect on Monday morning.
Groups of five fully vaccinated adults who live outside the 12 LGAs concern can now gather outside, as long as they are all within five kilometres of their home.  
In the 12 LGAs of concern, fully vaccinated households can gather outdoors for recreation for two hours outside curfew hours and within five kilometres of home.
Members of the public exercise along Manly Beach in Sydney. Source: AAP
---
Ms Berejiklian urged residents not to let their guard down despite the slight easing of restrictions.
"It's way too early for any of us to get complacent and we are concerned that an unexpected event, a super spreader event can suddenly have a major setback," she said.
"So, whilst people start enjoying some things they couldn't enjoy last week, I urge the community, please do not get complacent. Do not let your guard down." 
The NSW-Queensland border bubble is also operating again, allowing people in northern NSW who aren't locked down to travel north of the border for essential work, school or medical reasons.
From Monday, vaccinated people with a Queensland border pass can also travel north of the border to provide compassionate care or essential shopping if they come from 12 northern NSW local government areas that came out of lockdown on Saturday.
The border pass is not available for social reasons, like attending weddings or funerals or visiting family or friends.
Signs of stabilisation in hotspots 
Ms Berejiklian said public health officials were beginning to see signs of case numbers stablising in some of the key areas of concern. 
"We suspect and hope, fingers crossed, it's because the vaccine rate is starting to kick in, but we can't tell you. It's too early. We need to at least get to the end of this week before we can make any of those conclusions," she said.
"However, we have seen also an increase in cases, as we mentioned yesterday and the day before, in the inner city areas of Glebe and Redfern, and we ask communities in those areas to please come forward and get vaccinated, but also to make sure they're sticking to the COVID restrictions."
Of the new cases announced on Monday, 427 are from South Western Sydney Local Health District (LHD), 314 are from Western Sydney LHD, 181 are from Sydney LHD, 127 are from South Eastern Sydney LHD, and 78 are from Nepean Blue Mountains LHD.
Fragments of the virus have been detected in waste water near Yass, Eden, Tamworth, Dunbogan, Karuah and Gerroa.
With no cases detected in those areas, residents are being asked to remain on high alert and present for testing should symptoms arise.
With additional reporting from AAP.
Source link