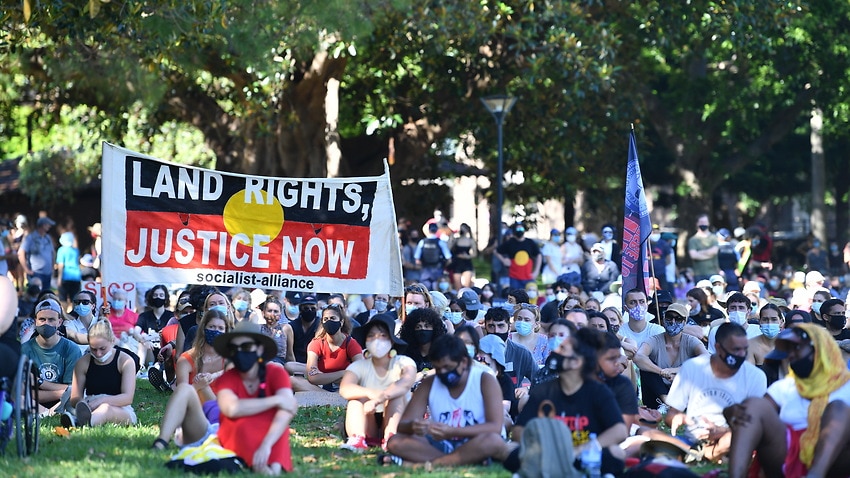 Police say they have arrested five people in Sydney after a largely "well-behaved" Invasion Day rally attended by up to about 3,000 people. 
Thousands of socially-distanced and mask-wearing protesters turned out at the Domain on Tuesday morning, despite public health orders limiting gatherings to 500 people. 
NSW Police Assistant Commissioner Michael Willing said police had negotiated with rally organisers to allow it to go ahead by cutting down the length of the protest and having attendees break into socially-distanced groups of 500 "as best as they could". 
LIVE: Protest and celebration as Australia Day marks the moment 'this land changed forever'
In response, organisers cancelled the planned march throughout the city and called on protesters to leave the area following a number of speeches.
"We reached some agreement with protest organisers, taking into account the heat that is obvious today, the potential disruption to the city and traffic and, indeed, the safety of all persons whose are wanting to express their views as part of this protest," Commissioner Willing told reporters on Tuesday afternoon. 
"That largely occurred and I want to thank the protest organisers for doing what they did to ensure that happened."
He said police estimated between 2,000 and 3,000 people attended the rally. Attendees were well behaved with the exception of a small group who were not part of the organised event, he said. 
Police said no issues arose at the protest and the crowd began to disperse just after 11am, before a "large group" attempted to start a march in nearby Hyde Park. 
Four people from that group were arrested, including three men and one woman, "following a scuffle during which a police officer was assaulted", police said. 
The 27-year-old woman from Islington will be charged with hindering police and failing to comply with COVID-19 directions. A 28-year-old man from Wollongong will be charged with assaulting police and failing to comply with COVID-19 directions. 
The other two men, a 30 year old from South Penrith and a 22 year old from Katoomba, were each issued a $1,000 fine and released. 
A fifth person, an 18-year-old Hill Top man who was not part of the organised event, was arrested for disruption of the peace.  
Despite the arrests, Commissioner Willing thanked organisers for their efforts in ensuring a safe and largely peaceful rally went ahead. 
"I think at the end of the day, people were able to express their views, get in and out of that protest zone safely as possible and move on," he said. 
"Let me tell you, these are difficult things to police … I think that the protest organisers abided by the agreement, police facilitated as best they possibly could to ensure that people were in groups of less than 500 and distanced.
"We are pleased at this point." 
Police had earlier warned a "highly visible and mobile … operation" would be launched to ensure all protesters were complying with COVID-19 restrictions. 
Police Minister David Elliott had also warned attendees would face fines and imprisonment for breaching COVID-19 rules. 
Rally organisers, represented by the Aboriginal Legal Service, reportedly submitted a request to Health Minister Brad Hazzard for an exemption to the 500-person cap late on Monday. Mr Hazzard formally refused the exemption before a court hearing went ahead. 
"We urge all people who support our cause to still turn up," the 'Fighting in Solidarity Towards Treaties' group said on its Facebook page. 
"We have done everything in our power to make this rally safe from both the pandemic and police." 
Rally organisers are calling for Australia Day to be abolished and for justice for First Nations people.
"They're out there celebrating this day like it's a birthday or Christmas," Paul Silva, nephew of David Dungay Jr who died in custody, said.
"(Today is) the day when our ancestors were murdered."
With AAP.