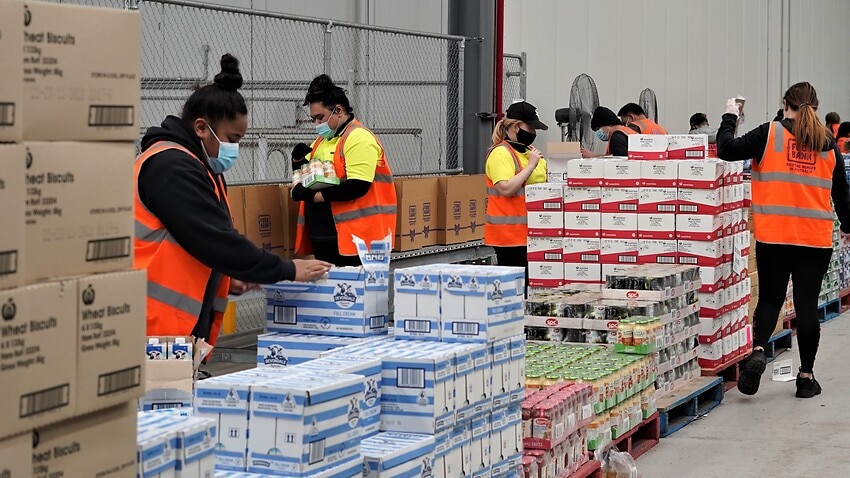 Thousands of emergency food relief hampers are now being packed and delivered every day in New South Wales, with a leading charity saying demand has surged by more than 200 per cent during the Greater Sydney lockdown.
Foodbank says it has helped provide more than 10,000 emergency relief hampers for people in areas across Greater Sydney, the Blue Mountains, the Central Coast, and Wollongong since the lockdown was announced on 26 June – an increase of 210 per cent.
Between 2,500 and 3,500 hampers are being packed each day.
"We have seen a massive increase in demand for food relief," Foodbank NSW CEO John Robertson told SBS News.
"For tens of thousands of people in NSW right now the brutal reality of having no money to buy basics to feed themselves or their families is devastating." 
The relief hampers are also being sent to people in need in Canberra and remote areas in NSW with Indigenous communities.  
"Greater Sydney may be in lockdown but the impacts are felt state-wide," Mr Robertson said.
"When the first round of lockdowns occurred last year we also saw food insecurity, but the spike is more noticeable this time – and with non-essential retail and construction closed we expect demand to rise further later in the week.
Foodbank is supporting more than 170,000 people this month in partnership with more than 1,000 charities and schools, Mr Robertson said.
"We are struggling to keep the supply going out to families, and Foodbank is buying most of the goods, including rice, crackers, tinned meat and vegetables, as donations cannot keep up."
'Significant crisis'
Neha, an international student who recently became unemployed, is among those currently surviving on Foodbank hampers. 
"I lost my job twice due to lockdown and have been out of work since 29 June," she said.
"My parents live in India and we used all our savings in the last 10 months."
Australia is one of the world's most food-secure countries, producing far more food than the population can eat and exporting around 70 per cent of agricultural production.
Yet Foodbank estimates 65 per cent of NSW and ACT residents have accessed food relief since COVID-19 hit last year, with families struggling to cope in different ways.
"Mums and dads may decide they won't eat but they'll feed their kids, or a whole family might eat two meals a day or only one meal a day because that's all they can afford," Mr Robertson said.
"Many are now seeking food assistance for the first time. It is not because they have made poor choices in life, but they live pay packet to pay packet.
"This is a significant crisis. A lot of people have found themselves in a situation they could never have imagined." 
Wayside Chapel CEO Jon Owen said many people are anxious about where their next meal will come from.
"We care for people who are doing it tough and many are living rough on the streets," he said.
"What we're seeing this time is many families tipping over the edge, and unable to make ends meet."  
He said the lockdown has led to increased levels of anxiety and depression and is urging those feeling low to help care for others less fortunate.
"This is a difficult few weeks. But the greatest path to mental health and wellbeing is to care for others is to get outside of your own world."
Neha said she is grateful for the Foodbank hamper and hopes eventually to return the kindness.
"I hope one day to repay this by helping someone in need like me."
Those wishing to make a donation can do so at foodbank.org.au.
Readers seeking support with mental health can contact  Beyond Blue on 1300 22 4636. More information is available at Beyondblue.org.au. Embrace Multicultural Mental Health supports people from culturally and linguistically diverse backgrounds.
Source link