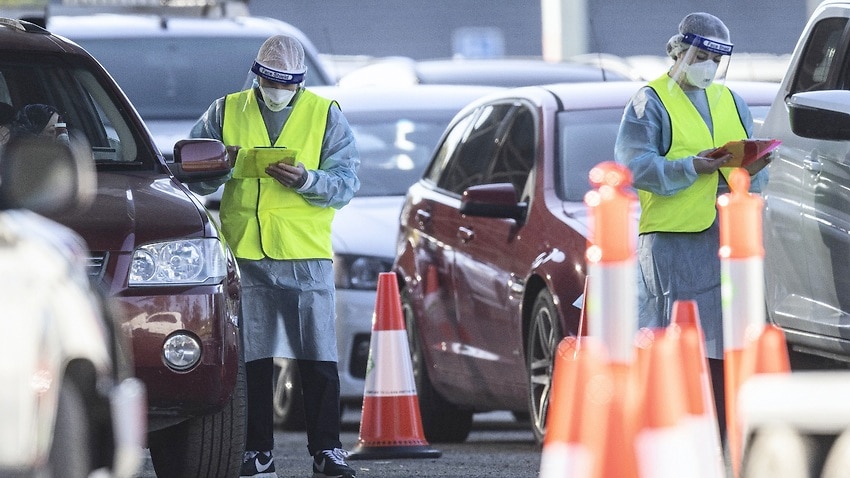 Victoria's health minister says a lack of supply is continuing to hold back the vaccination program, as Melbourne GPs try to demonstrate they can deliver more jabs.
"While we continue to see increasing levels of supply forecast in the coming weeks and months, what we really need is the supply to meet demand now," Martin Foley told reporters on Saturday.
He said he wants the Commonwealth to pay for GP clinics to be open later and on weekends.
The health department has been trialling handing out extra jab supplies to a handful of Melbourne clinics which have set up bigger vaccination facilities, and Mr Foley says the trials have shown clinics have the capacity to deliver more vaccines.
"We are demonstrating, because someone has to, that the GPs can do more," he said.
More exposure sites generated as 64 new COVID-19 cases recorded
The news comes as contact tracers are dealing with a new cluster in Port Melbourne, which COVID response commander Jeroen Weimar said is "of some concern".
There are four fresh cases in the area, with exposure sites at a Fisherman's Bend supermarket and a carwash and auto warehouse.
Victoria has added 64 new COVID-19 infections to its caseload on Saturday, 28 of them involving community exposure.
Health authorities say 49 of the cases are linked to current outbreaks and 36 were in quarantine throughout their infectious period.
The state now has more than 700 active cases.
More help arrives in Shepparton
Meanwhile, more help has arrived for COVID-hit Shepparton as the regional town's outbreak worsens and spreads close to the NSW border.
Authorities and the Red Cross have conducted more than 1600 compliance and
welfare checks in the region.
Hundreds of food packages were delivered to vulnerable members of the Shepparton community on Friday, while Coles has donated two semi-trailers full of products to a local food share agency.
Then outbreak has also spread to nearby towns after an aged care worker in
Echuca, an hour's drive from Shepparton, became infected by her partner.
About 16,000 residents are self-isolating in the region, sparking staff
shortages for food distributors, supermarkets and pharmacies.
Victoria managed to administer 35,753 vaccine doses in the 24 hours to Friday evening and conducted 55,333 tests for the virus during the same period.
SBS is providing live translations of daily New South Wales and Victoria COVID-19 press conferences in various languages. Click here for more information.
Source link