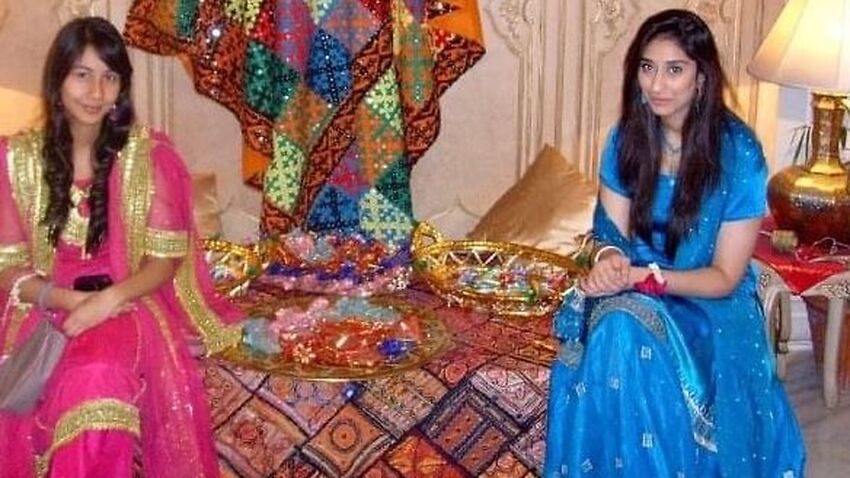 Content warning: this article contains descriptions of violence.

Rabia Masood woke up one morning last week to a phone full of messages. 
"They didn't tell me what happened, they just said: 'I love you much, I'm so sorry,'" the 26-year-old says. 
She would soon discover her childhood friend Noor Mukadam was dead, aged 27.
"The first place my mind went was [Zahir]. Either he had killed her or did something horrible to her," Rabia says.
"That's not where your mind should go. Perhaps a car accident, something far less incomprehensible, but that's the kind of society we live in."
The day before, on 20 July, Noor's body was found tortured, shot and beheaded at a house in an upmarket neighbourhood of Pakistan's capital, Islamabad. 
Pakistan-US national Zahir Zakir Jaffer – who Rabia says Noor had previously been in a relationship with, without her parents' knowledge – was arrested at the site of where she was found. 
It is also alleged his parents and two members of their household served as accomplices and tried to hide evidence, according to local media reports. 
Rabia met Noor when she was 13.
As daughters of Pakistani diplomats, they were living similarly unique lives, moving from one country to another every few years while remaining part of a very tight-knit community back in Pakistan.
Initially, both girls lived in the foreign office's lodges for families in Islamabad.
"I remember I was over at her house all the time, and her mum is a really good cook, so I would just run off and stay there," says Rabia, who now lives in Melbourne. 
"Her house was always the one where you'd find three or four of us girls in bed, having a sleepover."
After that, their friendship was forced to continue long-distance and they formed a strong emotional bond. 
They'd always find themselves meeting again in person at pivotal moments in their lives; as teenagers, on the cusp of adulthood, and while navigating adult relationships. 
Their WhatsApp messages to each other would see Rabia tell Noor: "Can't tell you how much I needed this wholesome girly downtime with you".
Noor would tell Rabia: "You always have a home in whichever part of the world I'm in".
"It was always so organic when we met again," Rabia says. "We would sit on our beds, talk about everything. We understood that time and distance are just part of our recipe book." 
But their messages would also document their struggles with navigating their relationships and their identities.
"Don't worry about all the life tingz (sic), I have so much confidence you're going to get through it all just fine. Love you," Rabia told Noor. 
"I will definitely try and visit you in Australia," Noor said. 
Rabia says navigating the cultural differences between their generation and their parents' – especially after having been educated in western schools – was tough for the young women.
And the challenges went deeper than just misogyny.
"There's an intergenerational gap and a society which says girls and boys shouldn't be hanging out," Rabia says. 
"You hide things from your parents, and can end up finding yourself in compromising situations."
While Rabia says Noor felt she couldn't always talk to her parents, she insists she was not rebellious. 
It's a sentiment shared by friends of Noor around the world. 
Minah Rathore, who now lives in Islamabad, said she was "the kind of person your parents would want you to hang out with; the good influence, the good kid". 
Another friend, Imaan Haider who lives in Toronto, said she always thought Noor was "an angel. The girl did not have a malicious bone in her body".  
Noor remained faithful to her culture and religion, too. 
The last time Rabia hung out with her in person, in Pakistan in 2020, Noor was fasting for Ramadan. She even excused herself to go and pray. 
"We had all these existential conversations about our upbringing and how it was affecting us in our adulthood. We decided though, that despite the confusion, we wouldn't exchange the richness of our upbringing for anything else." 
Noor broke her fast – they ate pizza and samosas together – and they spontaneously went to a park they used to hang out in as children. 
"We were so sick of being inside because of COVID. So we went out to the park and sat on the swings, laughing and feeling carefree, like children again."
It was a moment she now treasures. 
Rabia describes Noor as "one of the kindest, purest, most beautiful souls I know".
"On top of that, she had this layer of innocence and naivety because she just saw the best in people, anywhere from her friends, her family, stray animals, to, unfortunately, murderers," she says. 
Vigils for Noor have been seen not only in Islamabad but from Dublin to New York. If COVID-19 restrictions allow, Rabia hopes to hold one in Melbourne soon too. 
Noor's murder has renewed calls for changes in the Pakistani legislative system, so it can better protect women from violence. 
Rabia also hopes it will catalyse a societal change too, and encourage young women and their parents to communicate more. 
"I think Pakistani society at large needs to bridge intergenerational gaps. We need to start communicating with our parents," she says. 
"[Noor's] name literally means 'light' and that is what she is. I keep telling people she is going to be a beacon of light for hope and justice for women in the future." 
Rashna Farrukh is a Pakistani Australian freelance writer based in Melbourne. 
If you or someone you know is impacted by violence, call 1800RESPECT on 1800 737 732 or visit 1800RESPECT.org.au