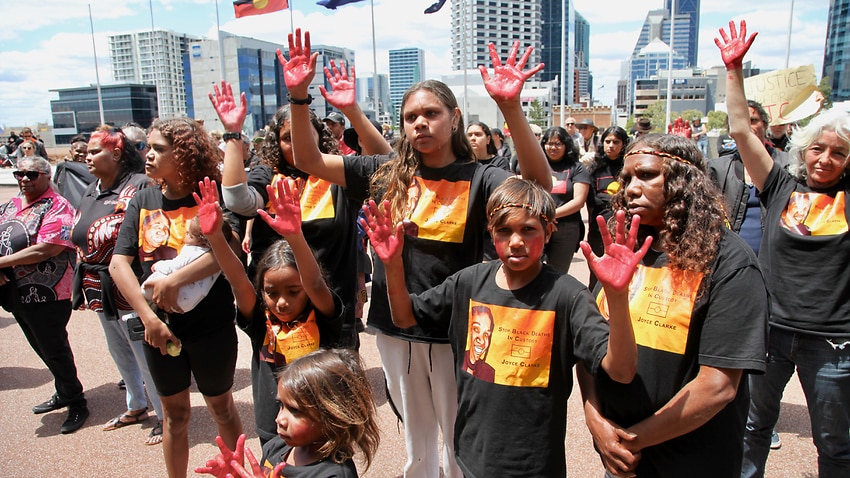 "We want justice for JC in a proper manner. She deserves to be resting in peace. I want the world to know that we never got justice in a fair way," she said.
JC's sister Bernadette Clarke spoke at the Perth rally. Source: SBS News/Aaron Fernandes
---
Rallies were also held in other Australian cities, including Geraldton, Sydney and Canberra.
"Everybody is angry and broken as much as my family is broken. Our hearts bleed, their hearts bleed. We are one as a nation (of) Aboriginal people," Ms Clarke said.  
The 29-year-old mother was killed by an officer, who cannot be identified under a court order protecting his identity, on 17 September 2019, after a member of the public reported seeing her carrying a knife on a suburban street.
Eight officers arrived at the scene and one officer drew his firearm and shot JC in the abdomen. The officer was found not guilty of murder and not guilty of manslaughter and may return to duties in the Western Australian Police Force. 
Demonstrators painted red hands on the steps of WA's parliament. Source: SBS News/Aaron Fernandes
---
The trial heard that JC had extensive mental health and substance abuse issues and recently been hospitalised for a psychiatric assessment.
The demonstrators issued a list of demands, including for an independent body to investigate Aboriginal deaths in police and prison custody as well as increased funding and support for Indigenous-lead community programs. 
Megan Krakouer said her organisation, the National Suicide Prevention and Trauma Recovery Project, was working to establish a class action to hold governments across Australia accountable for Aboriginal deaths in custody.
A large police presence including around one hundred uniformed police officers were at the march. Tempers flared briefly when police prevented the demonstrators from approaching parliament house.
Around 100 police flanked the march outside parliament house in Perth. Source: SBS News/Aaron Fernandes
---
TV personality and Yamatji man Ernie Dingo joined the protest, which saw demonstrators paint red hands and 'Black Lives Matter' on the steps of parliament. 
JC's sister Bernadette Clarke says her family will continue to campaign in the wake of the not guilty verdicts. 
"I want this not to happen to anybody else in this world. We need it to stop. We need to feel safe in our communities around police, around hospitals. In the shops in the streets. We're feeling very uncomfortable with the outcome of not guilty," she said.
Source link