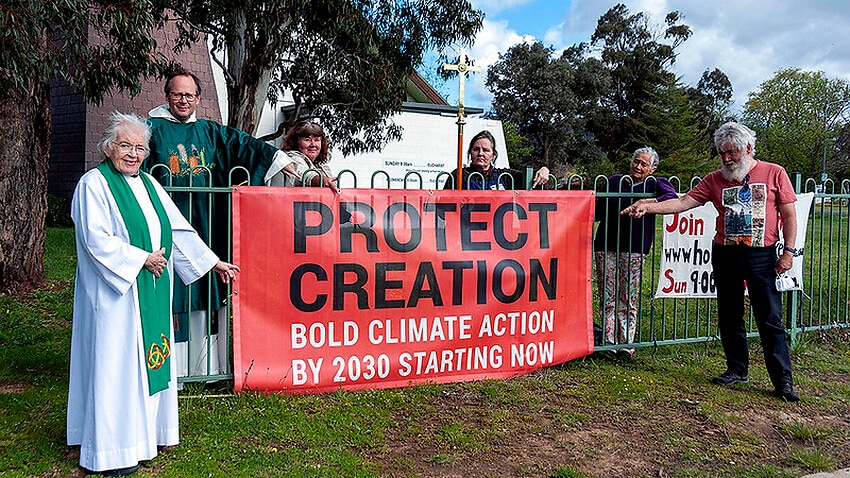 The events, organised by the Australian Religious Response to Climate Change, aim to send a message to Mr Morrison that diverse faith communities want him to take a strong climate policy platform to the United Nations climate summit in Glasgow, which will run from 31 October to 12 November.
Father Robert Riedling, Dean of St Patrick's Cathedral in Parramatta, said while much is being made about net zero emissions by 2050, organisers are calling for targets by 2030.
"The Catholic Church has an evolved tradition of social justice. We know that those most affected by climate change tend to be the marginalised and disenfranchised, so we as a church along with other churches and other faith traditions are hoping that we can highlight what needs to be done and demand that the government takes action on this issue," Father Riedling said.
A sign outside Gosford Anglican Church, NSW, Australia, calls for Prime Minister Scott Morrison to act on climate change. Source: Supplied/SBS News
---
"The reduction in carbon emissions is the first step towards having some bold action on climate change. The only way we can achieve bold action is by having a unified vision."
Rabbi Shoshana Kaminsky, spokesperson for the Assembly of Rabbis and Cantors of Australia, New Zealand and Asia, said faith groups were urging Mr Morrison to match the ambition of other nations like the US, UK and EU and to start implementing those plans immediately.
"Australia should also fulfil its promises under the Paris Accord to contribute to the Green Climate Fund. It's only fair that, as a wealthy country that has profited from exporting fossil fuels, we should be contributing to adaptation finance for climate-impacted countries."
The federal government is yet to commit to net zero by 2050. Australia's current commitment is to reduce emissions by 26 to 28 per cent below 2005 levels by 2030 as part of the Paris Agreement.
The Morrison government has said the nation is on track to "meet and beat" the target, promising to provide an update on what it expects to achieve ahead of the United Nations' COP26 global climate conference in Glasgow.
Negotiations between the Liberals and Nationals have been in overdrive in recent days with the prime minister trying to lock down the policy ahead of the summit.
Pentecostal Pastor Rob Buckingham of Bayside Church in Melbourne said he was appealing to the prime minister, a fellow Pentecostal Christian, "as a man of faith" to ensure the earth's environment is protected for the generations to come.
"We share the concerns people have for regional communities but the world is moving away from fossil fuels. It is actually more compassionate to assist these communities to diversify their local economies. Otherwise, we abandon them to an uncertain and bleak future.
Congregants at Cooma Uniting Church, NSW, Australia, hold a rally to call for bold action on climate change. Source: Supplied/SBS News
---
"Especially so because people in the regions are also bearing the brunt of fires, floods and droughts made worse by climate change."
Venerable Sujato, a Buddhist monk and the Director of Sutta Central, said "the ethical path is one which is ultimately life-giving".
"Mr Morrison has a choice. He takes Australia on a life-giving path of helping conserve the Earth's climate stability, which also happens to hold the promise of a cleaner, more jobs-rich future. Or he continues down this death-dealing path which protects, not life, but particular sectors which stand to gain by holding back progress."
On Monday morning, multi-faith vigils will take place outside various officers of MPs, including that of the prime minister.
Similar protests were due to take place in hundreds of locations around the world on Sunday, including in New York, Nairobi, Santiago and London.
Source link