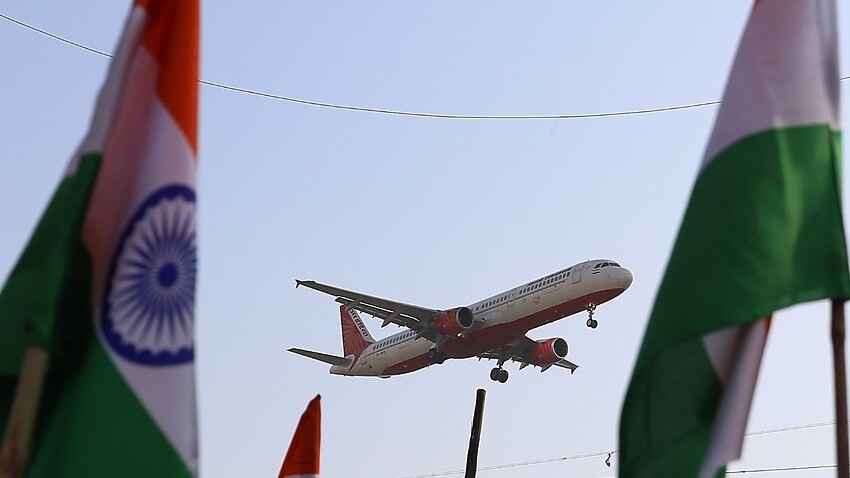 More than 70 passengers will be unable to board the first repatriation flight home from India after either contracting coronavirus, or coming into close contact with someone who had. 
More than 40 people have been prevented from boarding the flight after testing positive to COVID-19, and some 30 people can't board because they are close contacts of identified cases. 
The federal government is now scrambling to find other passengers to fill their empty seats on the aircraft, which is due to leave New Delhi for Darwin Friday night local time and arrive Saturday morning. 
Passengers must return a negative COVID-19 test result prior to departure, including a Rapid-Antigen Test, in order to board the government-organised repatriation flights. 
More people could be barred from the flight when more tests are returned on Friday evening.
There are about 9,000 Australians, permanent residents and their immediate family members seeking to return home from India with around 900 considered to be vulnerable. 
The first plane carrying stranded Australians comes as the federal government's travel ban on India expires on Friday night – however commercial flights from the country continue to be banned.  
The plane will return to Darwin, where those on board the flight will be transported to the Howard Springs quarantine facility.
The aircraft is able to carry 150 passengers.   
Efforts to fill seats
The Department of Foreign Affairs and Trade is working to put other passengers on the flight but it may prove difficult given the testing requirements.
Melbourne man Sunny had booked on the flight with his elderly mother, but tested positive for the virus.
He has been trying to contact the DFAT, without any luck.
"We just want to know what is going on," Sunny told the ABC on Friday.
Sunny and his elderly mother have been stuck in India since last May after facing multiple flight cancellations.
"If I die the Australian government will be responsible."
Australia's High Commissioner to India Barry O'Farrell is disappointed those who tested positive won't be able to get on the flight.
"My team has worked hard across India to get them bookings on this flight because they are vulnerable," he told the ABC.
"Regrettably those people will have to return home and deal with the COVID that they have, or continue to isolate to prove that they don't have COVID.
"Until such time that they test negative they won't be able to fly on one of these facilitated flights."
With AAP
Source link