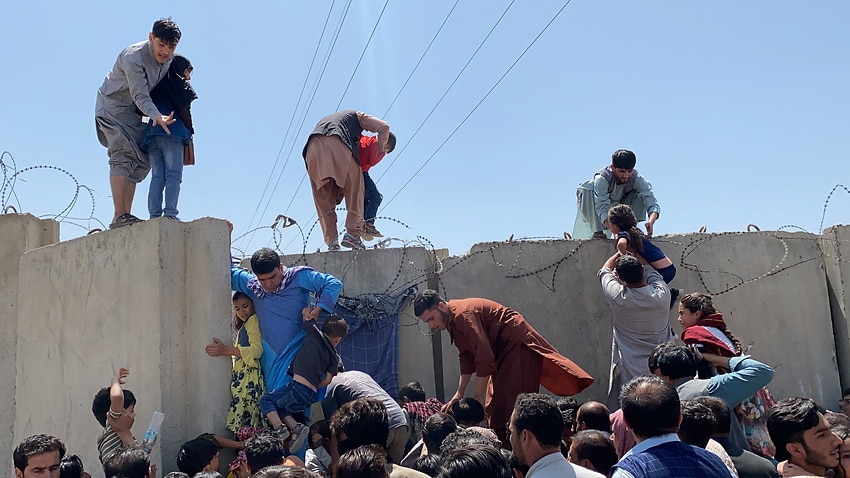 More than 100,000 people – including prominent academics, community leaders, and lawyers – have signed an open letter and petition urging the Australian government to dramatically increase its Afghan refugee intake in the wake of the Taliban's takeover.
Among the signatories as of Thursday afternoon were Australian Council of Trade Unions Secretary Sally McManus, actor Bryan Brown, lawyer Mariam Veiszadeh and more than 300 organisations.
Following the Taliban's return to power, the Australian government announced it would provide visas for about 3,000 Afghans this financial year.
However, the visas will come from Australia's existing refugee program capped at 13,750 places a year.
The move also falls short of commitments made by other nations.
"After almost two decades of intervention and promises to the Afghan people, promises of protection for persecuted groups, women, democratic freedoms and rule of law, Prime Minister Scott Morrison has a moral obligation to act in response to the humanitarian crisis in Afghanistan," the open letter reads.
"Australia has a moral duty toward the Afghan people and should not abandon them, particularly in light of alleged war crimes committed by Australian soldiers as documented in the Brereton Report in November 2020." 
The letter goes on to urge the government to create an additional 20,000 refugee spots for Afghans, as Canada and Britain have committed to doing over the coming years, to quickly resettle the remaining Afghans who worked with Australia's military, and to grant amnesty to all Afghan nationals currently in Australia. 
Amnesty International Australia's Refugee Advisor, Graham Thom, has described Australia's humanitarian response as "wholly insufficient".
"We've seen Canada and the UK stand up and do their bit by each announcing emergency intakes of 20,0000 places and the Australian government really has no excuse for its current humanitarian parsimony, especially when we have been so closely involved in Afghanistan over the past 20 years," he said.
"Australia has resettled very few refugees over recent years due to COVID, so we have the capacity to at least match the humanitarian resettlement commitments of Australia's allies."
Prominent Afghan Australians have also expressed their disappointment at the government's offerings.
Shabnam Safa, chair of refugee-led advocacy organisation NRAAG, urged the Australian government to follow Britain and Canada's lead.
"Australia has an ethical and moral obligation to help the people of Afghanistan and we must act now," she said.
"These are extraordinary times and we must take extraordinary measures. We have done it before for the people of Syria, we can do it again." 
Australia opened places for an extra 12,000 refugees from Syria and Iraq in 2015, which were additional places on top of its existing intake.
Human rights lawyer Arif Hussein said Australia should have even more motivation to help this time around, given the two decades Australian forces spent in Afghanistan. 
"Right now Australia can commit to an increased one-off humanitarian intake of the most vulnerable Afghans, especially minority groups such as the Hazaras and women and children, grant permanent protection to all refugees from Afghanistan in Australia right now, and expedite family reunification applications of Afghans living in Australia," he said.
"Australia could today be the lifeline to the Afghan community it promised to be 20 years ago." 
Immigration Minister Alex Hawke has defended the government's move and said the number of visas offered could rise as the situation unfolds.
"What we do is announce figures that we believe we're actually going to place and then we increase them," he told Sky News on Thursday.
"There are other countries who've taken different approaches," Mr Hawke added, referencing Canada and Britain's announcements.
Source link