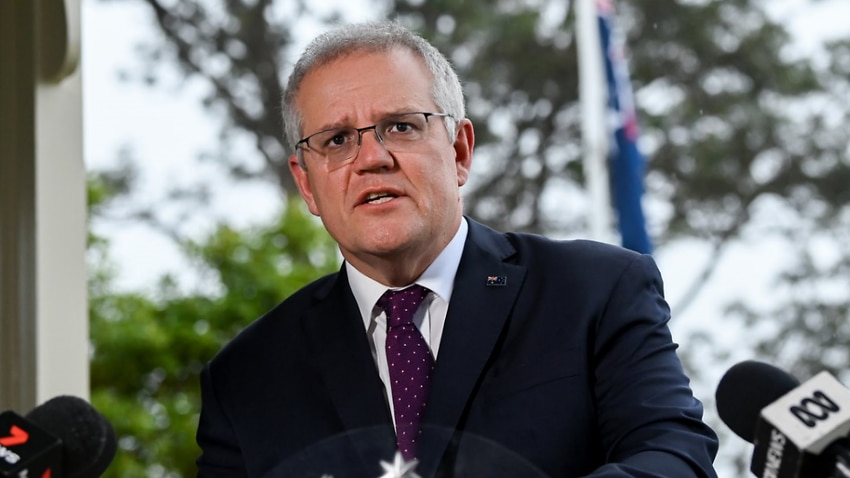 More money will be handed to people who have lost work and cash grants will be delivered to businesses struggling in Sydney's extended COVID-19 lockdown. 
Prime Minister Scott Morrison announced the additional support measures on Tuesday after finalising the details of the deal with the NSW government.  
The COVID-19 disaster payment for workers will be increased from $500 to $600 each week if a person has lost 20 or more hours from next week.  
People who have lost between eight and 20 hours will have payments increased from $325 to $375 each week. 
Mr Morrison said the temporary measures were aimed at delivering support as quickly as possible. 
"You don't have to have lost your job, you don't have to have left your employer. It doesn't matter who you're employer is. If you are lost those hours, you can access that payment right now," he told reporters.
The COVID-19 disaster payment will also be made a recurring payment for as long as restrictions remain in place. 
The payments are designed to keep workers who have lost hours still connected to their employer, in a similar vein to the previous JobKeeper model.  
"This is a next level of partnership that's necessary to ensure the sacrifices that have been made across Greater Sydney and across New South Wales are going to get the results that we're looking for," Mr Morrison said.
NSW reported 89 new locally acquired cases of COVID-19 on Tuesday with the state's Premier Gladys Berejiklian declaring there would be no end to lockdowns restrictions until cases get to "zero or close to zero." 
Ms Berejiklian said the economic support would help efforts to encourage NSW residents to comply with health restrictions.
"It gives us the freedom to do what we need on the health side by asking everybody to respect the advice that we're providing," she told reporters.
More support for small to medium businesses will also be introduced under a 50/50 cost sharing arrangement between the Commonwealth and NSW. 
From week four of the lockdown, businesses who have lost at least 30 per cent of their revenue will be eligible for the additional support.  
These businesses will be able to access 40 per cent of their NSW payroll payments, through payments equating to a minimum of $1500 and a maximum of $10,000 per week.  
The new small to medium business support payment will be available to NSW businesses, including not for profits, with an annual turnover between $75,000 and $50 million.
To receive the payment, business will be required to maintain their full time, part time and long term casual staffing level as of 13 July.
The new arrangements would also apply to other states and territories who face extended lockdown restrictions.
Source link